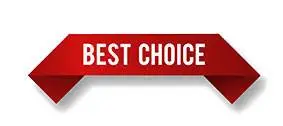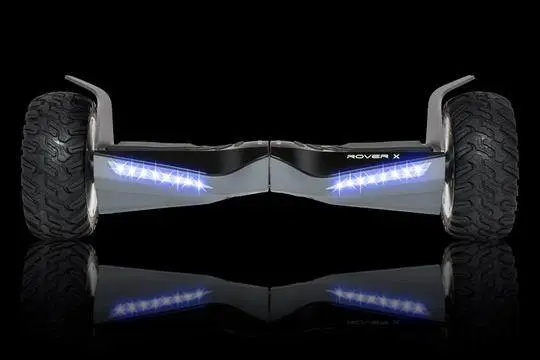 Designed & Based in USA

Safe & Reliable

US Government Approved UL Certification
Hoverboards, it's safe to say that most of us have dreamed of having those nifty self-balancing scooters. At some point in our lives or at least something remotely close to that.
But it seems that it took companies and inventors quite some time to come up with such futuristic personal transportation platforms. Although they don't exactly hover over the ground as the name suggests, they do actually make for decent and fun devices to wander around from one place to another.
Hoverboards are basically two-wheeled motorized electric platforms that look like skateboards. They allow for personal transportation controlled by how riders distribute their weight on it, and they rely on rechargeable electric batteries for fuel.
However, as any new inventions are known to mankind, hoverboards had their fair share of difficulties and troublesomeness when they were first introduced. It's no secret that they have been responsible for many public accidents, some may be due to bad piloting.
But some have reported that their faulty hoverboards have literally burst into flames and ignited a fire in their houses. It's said that these incidents were likely caused by batteries overheating in some of the old and low-quality models.
But worry not! Companies and manufacturers have made sure to step up their game and create new models that ensure both users' safety and comfort. As well as delivering a delightful hovering experience.
We, in turn, have dug deep, saved you the trouble of doing the research by reviewing the top products. And got you covered with the best hoverboard that money can buy according to your needs and budget.
So here are our top 10 picks for the best Hoverboards in 2022 in no specific order:
We picked these products based on the following factors, safety, speed, battery durability, weight, price, and some additional features. So make sure to choose the one that fits your bill, whether you want to use it yourself or for your kids.
[toc]
Best Hoverboards 2022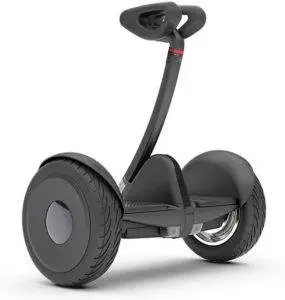 The Segway Ninebot S is the best choice for those whose main purpose is commuting, as it is very compact, user-friendly, and packs one of the highest ranges amongst the products listed in this guide.
Powered by powerful 400 watts dual motors, this device is capable of reaching a remarkable maximum speed of 10 mph. The smart BMS lithium ion battery will give you up to 13.7 miles range on a single charge, which is plenty for most riders and especially commuters.
In terms of its build, the Segway Ninebot S has a sturdy and durable construction, it weighs in at roughly 28lbs with max load of 220lbs, and it has an IP54 rating which makes it water proof and the perfect ride for cold and rainy days. On top of that, it features a Knee-control bar that sets it apart from its competition by easing off the strain and giving you more control over the hoverboard when travelling for longer distances. Not to mention, it is equipped with strong LED lights for riding at night.
Moreover, its shock absorbent properties are outstanding thanks to its 10.5 inch pneumatic tires, they will allow you to ride comfortably and smoothly even on the bumpiest of terrains.
Finally, it comes with an array of handy Bluetooth and intelligent app management features such as; speed adjustment, self-diagnose, remote control, and even anti-theft function.
Pros
10 miles top speed

Very long range

Very convenient build and design

Intelligent Bluetooth apps and features
Cons
Potential steering issues for inexperienced riders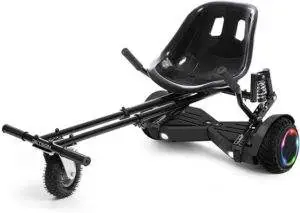 Usually, off-road hoverboards are bulky, chunky, and heavy, but the Jetson Aero off-road hoverboard is a completely different breed, it is compact, slim, and has a quite light feel to it.
At only 15lbs, the Jetson Aero off-road feels like you are walking on air and it is easily one of the lightest off-road and smooth terrain hoverboards out there. Its super lightweight also makes it very portable and easy to maneuver and steer. 
This self-balancing scooter comes with a pair of 6.5 rubber tires which handle the toughest of roads and turn them into smooth rides. The 300 watts dual motor can push to a top speed of 7mph as well as a range of 7 miles, which is not the fastest but it isn't the slowest either.
On the flipside, The Jetson Aero battery can last for one hour of riding, which means that you will have to charge it more often. Also, it doesn't feature a Bluetooth speaker but it does come with LED headlights and light up wheels, which makes it very lit and very pleasing on the eye.
Although this hoverboard was designed for adults, it actually makes for a perfect ride for kids, as it is simply light, slim, and neither goes too fast nor too far. In addition to that, it is very stable and safe to ride thanks to the Active Balance Technology and internal sensors.
Pros
Featherweight

Well-equipped to handle all types of terrains

Aesthetic lights

Great for kids
Cons
Short range

No Bluetooth speaker
3. SWAGTRON T580: Safest Hoverboard with High-tech  Features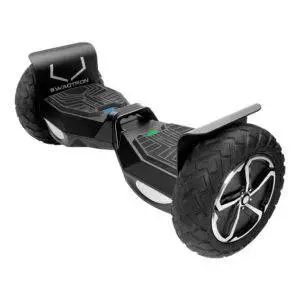 The Swagtrong T580 is the best hoverboard for 2022 & it's top priority is safety. Therefore it has undergone and passed numerous maintenance and safety tests before being released in the market. It even comes with an incombustible casing and a sentry shield technology, with smart battery management for multi-layer protection against fire.
With the battery lasting up to 8 miles per charge, it weighs only 20 pounds and supports riders that weigh up to 220 pounds. Also, this model offers IPX4 water protection and features a durable casing.
The max speed of this hoverboard isn't that impressive compared to its other hoverboards counterparts, but it sure does provide a comfortable and slick performance and it is able to climb inclines up to 30 degrees.
In addition, the T580 has a zero-emission engine which makes it an eco-friendly device if you're one that cares about the well being of the environment and people surrounding you.
When it comes to design and build quality this model excels thanks to its futuristic and eye-catching look. Last and not least. This device comes with a Bluetooth connectivity option that enables you to connect with an app so that you can navigate maps, check battery life, and control music.
So despite the Swagtron T580 being considerably slow it still holds its own as one of the best hoverboards in today's market thanks to the other amazing features that it has.
Pros
Eco-friendly with zero emissions
IPX Water Protection
Equipped with a Bluetooth App
Best For Children
Cons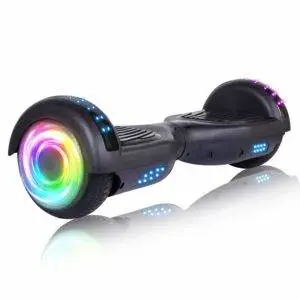 The Sisigad is fairly new to the hoverboard market but they managed to hit the world by storm, thanks to their affordable yet top-quality and high-end performance model that is suitable for kids and adults alike.
Boasting 300-watt hub motors, this hoverboard is capable of reaching an impressive maximum speed of 9 miles per hour, as well as handling hills and inclines with ease, which is uncommon when it comes to most 6.5 inch hoverboards. What's more, it is fitted with a 36V lithium-ion battery that gives it a decent range of 6 miles, not bad considering its asking price. So it's safe to say that the Sisigad doesn't slack in terms of performance.
Regarding its design and build quality, it has a sturdy build with cool LED lights that can support a maximum load of up to 260lbs, it features 6.5-inch tires made with high-quality rubber to ensure smooth riding on grass, paved and mud terrains, and a non-slip and shock absorbing platform that will give you a stable ride in bumpy roads. In addition to that, this hoverboard meets UL2272 safety standards and has patented multi-layer protection.
The Sisigad was made for all ages and experience levels due to its easy to learn Self-Balancing Control System. As for the connectivity features, it comes with Bluetooth and a wireless speaker that is compatible with both iOS and Android.  The only issue with the Sisigad is the fact that it isn't waterproof so you want to avoid riding it in the rain, other than that, this hoverboard is a steal.
Pros
Beginner-friendly
Appropriate for kids and adults
Strong performance
Decent connectivity features
Cons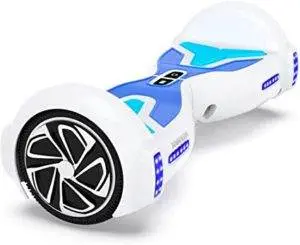 Featuring a colorful and beautiful design with a convenient 4.2 Bluetooth connection for improved music output, the Tomoloo is certainly worthy of your attention if you want a fun hoverboard to cruise the roads.
Starting off with one of its main selling points, which is the amazing Bluetooth and App capabilities, it has the latest Bluetooth 4.2 stereo speaker technology which will enhance your listening experience by a lot. On top of that, it has an outstanding mobile application control that allows for LED color customization, lighting brightness adjustment, as well as controlling the speed of the hoverboard, or turning it or off.
Speed-wise, it has a built-in 500-watt motor that enables the Tomoloo to reach a top speed of 7 hours per mile and climb inclines of up to 20 degrees, with a maximum traveling range of up to 6.2 miles on a single charge. Nevertheless, the 165lbs weight-bearing capacity means that this hoverboard is not meant for larger and heavier people.
The Tomoloo sports a solid design thanks to its high-standard quality materials, it comes with 6.5-inch wheels with strong holding tires, and it provides a lot of stability and safety when riding as it is UL2272 certified, and features Self-balancing technology along with integrated gyroscopes and acceleration sensors.
Pros
Very convenient app
Colorful and fun riding experience
Sturdy build
Safe and stable
Cons
Very limited weight capacity
6. SWAGTRON T3: Best Budget-friendly Hoverboard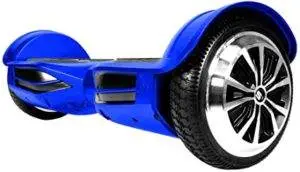 The Swagtron T3 hoverboard gives you the best bang for your buck as it is reasonably priced and doesn't fall short when it comes to safety and it offers an astounding riding experience.
it comes with a carrying strap for convenient carrying when needed, rubber bumpers to help protect from scratching and scuffing of the outer shell.
The shell is made of polycarbonate making it incombustible and fire-retardant.
On top of that, the Swagtron company didn't forget to include the high-end tech features that modern-day riders prioritize and require. So the T3 model contains a built-in self-balancing system that allows for easy maneuvering and accelerating on inclines and rough terrains, the foot grips are non-slip as well which enables the rider to make hairpin turns without any risk of falling, it also has LED lights that serve as movement indicators, of course without forgetting the built-in high-quality Bluetooth speaker.
Performance-wise, The T3 has a top speed of 8 miles per hour with a 12 miles range, it can support individuals that are 220 lbs and has a pretty durable battery with 3 hours battery life and it charges in only 1 hour.
It's hard to pinpoint a major downside in the Swagtron T3 however the top speed leaves a bit to be desired, overall the T3 lives up to the hype and it's a wonderful choice for those who are on a tight budget.
Pros
12 miles range
Self-Balancing feature
Fast charge
High-quality Bluetooth speakers
Cons
7. GoTrax Hoverfly ECO: Most Aesthetic Hoverboard for Beginners.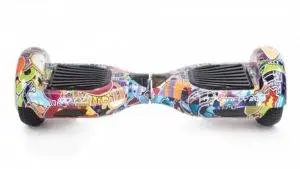 If you're new to the hoverboard world and want a safe and easy learning experience as well as an eye-pleasing hoverboard, The GoTrax Hoverfly got you all covered thanks to the learning mode installed within this product, the latter limits pad flexibility and speed for a safe first riding experience until you get the hang of it. Additionally, it comes with lunar LED lights, a variety of cosmic colors, and it's made of high-quality hover skateboard materials.
As far as security and safety go, all the electrical battery and charging systems used are tested and certified UL2272 safety standards. Moreover, it can reach speeds up to 7.4 mph with powerful dual 250W motors and it feels like you're floating in zero-gravity for a range up to 12 miles, the weight capacity is 220 lbs, finally, it charges super fast and it has a battery light which will indicate when it is time to go home for a recharge.
Overall the GoTrax Hoverfly isn't the fastest compared to other models, and it also lacks Bluetooth connectivity which is its biggest drawback but don't let that hinder you from the fact is a very reliable and safe platform especially if you're just getting started.
Pros
Light and portable
12 miles range
Features a learning mode for beginners
Cons
No Bluetooth
4 mph Maximum speed
8. SWAGTRON T6: Best Off-Road and Capacity Hoverboard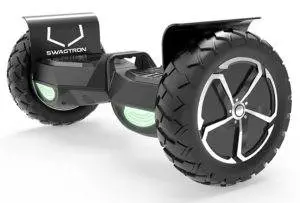 By now it's no secret that the Swagtron Company has come up with some amazing and exceptional hoverboard models that are classified as the best in the market today, and the T6 is no different. This is the only hoverboard in the market that can support a weight of 400lbs which makes it stand out from the other products, it has a very strong casing which is made with hard Aluminum and ABS plastic, it also has a built-in carrying handle for simple transportation.
In addition, it comes with a 5-Level LED battery indicator that accurately displays battery life, a Bluetooth speaker, front and rear LED lights that serve as movement indicators, and metal foot guards to protect riders' feet. The Swagtron T6 is UL2272 certified thus safety isn't an issue.
When analyzing performance, it's really hard to find a hoverboard that competes with the T6 model. With that being said, it is capable of reaching a top speed of 12 miles per hour as well as a range of 12 miles in a single charge. Finally, it is equipped with an Ultra-High torque that enables it to roll over bumps and climb inclines up to 30 degrees.
This hoverboard is an absolutely incredible performer but unfortunately with high performance comes high pricing which is the only downside to it, despite its high price-tag undoubtedly all experts agree that it's worth every penny spent on it.
Pros
Impressive 400lbs capacity
Best Off-Road scooter
12 miles range
Cons
9. Gyroor Warrior: Best Hoverboard for Kids
Riding a hoverboard is all about confidence and safety, when you power on the Gyroor Warrior it self-balances itself.
This model provides full control, stability, and comfort and that's what every parent want in a hoverboard to buy for their off-springs. With that out of the way, let's examine the other features that come with this hoverboard.
It is designed to roam on all terrains and comes with a large shock absorbent solid rubber tires to conquer obstacles, it is  IP54 certified water-resistant and has a Bright front LED headlights to illuminate the ground, and also comes with Bluetooth speakers.
Moreover, this model has a sturdy, strong, and flexible structure and it is made of 90% aluminum and some ABS parts, and as expected the Gyroor Warrior is UL2272 certified, and has LG/Samsung battery cells that strictly accord with safety standards. Not to mention that it carries a weight of up to 280 pounds.
The Gyroor can travel up to 11 miles on a maximum speed of 10 miles per hour, it can even climb inclines of 50 degrees which is very steep, the battery fully charges in 2 hours and has some decent longevity.
Although The Gyroor Warrior has some minor inconveniences such as Bluetooth connectivity issues and minimal usage instructions, if you have been on the fence whether you should or shouldn't get a hoverboard for your kids then look no further, this will give you the solution you've been looking for.
Pros
Suitable for all ages
270lbs weight capacity
High durability body
Climbs up to 50 degrees inclines
Cons
Issues with Bluetooth connectivity
Vague instruction manual
10. Razor Hovertrax 2.0: Best Advanced Technology Hoverboard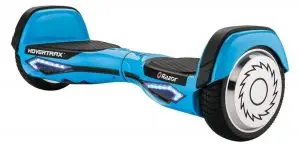 Razor Company claims that the Razor Hovertrax 2.0   is the smartest and most advanced hoverboard in the world and perhaps rightfully so.
This hoverboard is packed with some of the coolest features. You can ride it for 15 continuous miles which is the longest range of all the hoverboards we're reviewing in this article, and it has an attachable 36V battery so you can extend your ride for even longer, and can hold up to 220 lbs individuals.
It also offers an impressive cruising top speed of approximately 9 mph thanks to its dual 350W silent motors.
Another cool feature is that the 2.0 comes with Razor's own EverBalance technology, through this technology, the hoverboard can actually level itself and allows the user to easily stand on it and ride it when ready. Additionally, it comes with two modes, normal and training, and it also has stylish a Blue LED light bar mounted on it to give it that extra fancy look at night time. As far as safety goes, the Hovertrax 2.0 meets all of UL2272 safety standards.
The fact this hoverboard is not water-resistant is holding it back from being the best in the market today, in spite of this it is still an awesome Hoverboard if you don't get caught in the rain that it J.
Pros
Long battery life
Powerful Engine
EverBalance technology
Sleek design
Cons
The Origins of Hoverboards:
Ever since the hit movie 'Back to the Future' was released back in 1985, companies and individual inventors have raced to create hovering and levitating transportation devices. The original idea was to invent something that does not require any wheels or contact with the ground. However, this concept is still beyond reach. Or is it?
As a matter of fact, there are some companies including the Japanese company Lexus that have taken a major step forward by making Hoverboards that actually hover above the ground. These boards function by harnessing the powers of magnetic levitation as it's packed with magnets, superconductors, and liquid nitrogen. Unfortunately, though, these engineering marvels are limited to be used only in magnetic tracks, and Lexus has no plans to make these platforms a commercial product. So we might just have to stick to traditional self-balancing scooters for now.
Do you need an electric skateboard, electric scooter, or a hoverboard?
Having an electric skateboard means you will have more momentum. So when you pass by pebbles and cracks, also curbs it's going to be easier for it to go smoothly. bear in mind that you need to choose the best electric skateboard to have the highest quality of riding before you buy one. Since you are interested in outdoor gear, we would like to invite you to visit our best electric scooter guide & our best roller skates guide. Anyway,  if we talk about distance, skateboards are more likely to last longer with a comfortable ride. Also, they are not limited by the battery size of its shape. When it comes to safety electric skateboards are safer than any hoverboards out there
 Criteria for Choosing a Hoverboard:
There's a wide variety of hoverboards to choose from in today's market, and finding the best hoverboard for you can be challenging. Having said that, prior to buying any hoverboard or any product for that matter, you need to pick one that suits your taste and requirements. Therefore, you have to consider the following factors and ask yourself a number of questions related to each factor in order to determine which one deserves your hard-earned money.
Weight: Is it too heavy for you or your kids to carry around?
This is especially important if you run out of battery life; you don't want a heavy and cumbersome to carry all the way back home. Fortunately, most hoverboards available out there are not that heavy and there are plenty of options out there are light, durable, fast, and most importantly safe.
Safety: Is it UL certified? Is it equipped with protection features?
Safety is mandatory and it should be in your top priority list. You should never consider purchasing a hoverboard that is unstable and shaky, have a subpar braking system, or don't meet the UL 2272 safety standards.
Battery life: How far can you go without needing a recharge?
If you plan on traveling for longer distances, a hoverboard that offers an extended battery life will do the trick, the more battery life, the more range you'll have.
Weight Capacity: Are you buying it for yourself or your kids?
This is dependent on how much you weigh or whether you want it for you or your kids or both you and your kids. Pick a hoverboard that can support your weight if you plan on using it yourself. If it's for your kids pretty much any weight capacity will be more than enough.
Speed: Is it too slow or too fast for you?
If you're a beginner or you're buying it for your kids, we highly recommend you start with something a bit on the slower side, so that you don't get overwhelmed by high speeds. On the other hand, if you're an advanced rider and a speed enthusiast, you'll appreciate a fast hoverboard. you might be interested in a higher speed product, then grabbing the best electric bike would be the perfect way to solve your problem!
Climbing Angle & Off-road capabilities: Can the hoverboard climb steep inclines and handle tough terrains?
If you happen to live in a place where you're surrounded by hills and muddy terrains, ideally you need a hoverboard with a powerful motor that provides sufficient speed and acceleration to climb hills, as well as a solid set of wheels to deal with bumpy roads and off-road terrains.
Price: Can you afford to buy the hoverboard without hurting your wallet?
Generally, the more you pay the better you get. However, it's not always the case, as there are some hoverboards that are expensive but have received a lot of negative feedback. On the other hand, there are plenty of options that are very affordable yet very reliable and get the job perfectly done. So don't always get caught up in the hype by buying the most expensive one hoping that it's the best one. Of course, there are some pricier options that are worth every dollar, and some cheaper models that are flat-out garbage. Luckily, in our list, we included the best hoverboards from both ends of the spectrum, and all you have to do is pick the one that fits your bill.
Please, we invite you to check our other home related article reviews: