The era of wired headphones with their troublesome and annoying wires is slowly coming to an end. Thanks to the never-ending rise of technology, we now have wireless Earbuds. So if you're the kind of person that loves listening to music when you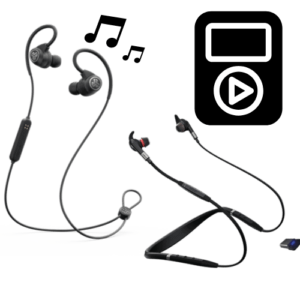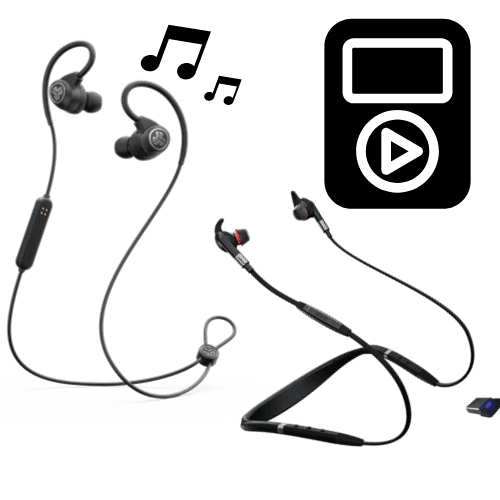 work out in the gym when jogging, going for a walk outside, gaming, and a variety of other activities. Without having to worry about those old-fashioned earphones cords getting in your way, you're definitely in need of a pair of wireless earbuds. For a more comfortable and worry-free listening experience.
Wireless earbuds are basically tiny rechargeable ear devices, that are tailored to transmit music or audio from your phone via Bluetooth. There are different types of earbuds; True earbuds and regular earbuds, the former doesn't include any kind of cables or connectors between the earphones. Thus, you can put them on and move your head around with complete freedom.
Best Wireless Earbuds 2022
In this day and age, there seem to be a plethora of earbuds options available in the market, and choosing the right ones can be frustrating especially if you're not familiar with them. Hence, in this article we are going to cover the best of both wireless and true wireless earbuds in-depth, and classify them in terms of performance, price, comfort, durability, and more, so you can pick the ones that are the best fit for you. Without any further ado, let's jump to it:


There's no doubt that these earbuds from Jabra are already a remarkable piece of work but the company didn't stop there. With the newly redesigned successor the Elite 75t, they introduced a new pair of earbuds that improved on the previous set on nearly every aspect; from battery life to audio quality, along with comfort and fit.
To begin with, the Jabra Elite 75t is a very tiny low profile true wireless earbuds. Besides the small size, they're very comfortable and fit nicely on the ears you can barely tell they're in. Just like the Elite 65t, the newer model is sweatproof and they come with intuitive and easy-to-use controls, making them ideal for working out. However, they're not fitted with sensors to track workouts.
Perhaps one of the biggest upgrades of these earbuds is the sound output, as Jabra made sure to add more bass and compression to allow for more bass coming through, giving you balanced overall audio with a massive booming bass if you're into that. If not, you can always lower the bass using the Jabra app.
Even though the charging case is smaller, it still gives you an increased battery life compared to the Elite 65t, offering 7.5 hours with an additional 21 hours out of the case, and they also feature quick charging. Not bad for a case with such a small size.
One downside both the Elite 65t and the 75t have in common is the lack of active noise-cancellation, but it shouldn't be a huge deal unless you want to take them on an airplane.
Pros:
Very small and comfortable fit
Sweat-resistant
Balanced audio with a super-powerful bass
Tiny charging case with improved battery
Quick charging
Cons:
No fitness sensors
No noise-cancellation
2- Samsung Galaxy Buds Plus: Best Overall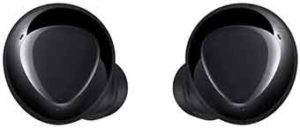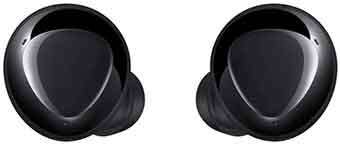 Samsung went all-in with the Galaxy Buds Plus and decided to go for iOS integration, which gives apple devices' owners access to the many amazing exclusive features, customization options, as well as the premium audio experience that these top-notch true wireless earbuds possess.
Right off the bat, you'll notice that the Galaxy Buds Plus sport a sleek and tiny build which makes them comfy to wear while staying sealed tightly as they're built to wear for elongated periods of time. Couple that with the 11 hours of nonstop music play, and you won't have to worry about taking off your earbuds or charging them ever again.
Thanks to the AKG technology which includes a woofer and tweeter on each bud, you can listen to your preferred music, audiobook, or podcast with upgraded audio fidelity. On top of that, the sound quality is noticeably enhanced in comparison to their predecessors due to their dual-driver design that highlights mid frequencies and gives an emphatic base, and they produce a smooth sound regardless of what music genre you prefer.
Moreover, the Galaxy Buds Plus enables you to personalize the EQ tuning according to your liking by utilizing Samsung's companion App which is compatible with both Android and iPhone devices.
Ultimately, the Galaxy Buds Plus comes with no active noise cancellation and they're only splash-resistant, but they have plenty of other things to offer, especially given their reasonable price tag.
Pros:
Designed for long use
Very long battery life
Two-way drivers
Customizable EQ
Compatible with iOS
Affordable
Cons:
Only limited o splash-resistance
Lack noise cancellation
3- Jabra Elite Active 65t: Best True Earbuds in 2022 for Working out
To start off, we have the Jabra Elite Active 65t true wireless earbuds. it almost feels like these earbuds are specifically made for gym lovers. But in fact, they are suited to deliver in every other activity as well.
Their elegant and mature design will blend in with any kind of style, whether you rock a sports attire or a professional look, you will look good either way. The Jabra Elite Active 65t fits in nicely in the ears with great security. More stability, and comfort, thanks to the premium quality materials it is made with.
These earbuds come with integrated motion sensors. which gives you the ability to track your workout performance. Furthermore, the Jabra Elite is completely dust and sweatproof.
Meaning you can have the sweatiest of workouts and not the slightest of worry about the earbuds being ruined. In terms of battery, it offers an exceptional 15 hours of constant use with the charging case and 5 hours without it.
The built-in customizable equalizer allows you to adjust the sound according to what you prefer in addition to the noise-reducing technology. These earbuds also produce high-quality audios with a full and rich bass remaining clear and undistorted within a range of 33 feet. To conclude, the Jabra Elite is compatible with both iOS and Android systems and has a microphone enabling you to use voice commands via Alexa, Siri, or Google assistant.
In regards to the drawbacks, the Jabra Elite can be a bit too tight for some people ears and Alexa needs some improvements. All in all, with all the amazing features and conveniences, the Jabras are definitely worth a try.
Pros
Pros:
Sleek and neat design
Sweat-proof
Built-in microphones on both earbuds
Decent battery life
High-quality sounds
Audio customization
Cons
Cons:
Alexa assistant could be better
Earbuds don't fit all sizes
Bose company is known for making pretty neutral and balanced products with good sound quality and solid performances, the Bose SoundSport Wireless is no different despite being slightly oriented for sports and athletes.
The SoundSport Wireless earbuds rely on Bluetooth and NFC technology for a fast and easy pairing experience as it establishes a stable and fluid connection with your devices.
It also comes with sweat-resistant StayHere+ tips that are so comfortable and stay put during workouts making them the ideal earbuds for fitness lovers. The design is also so modern and pleasing on the eye, The battery can last you up to 6 hours on a full charge, so they don't fall short on that department especially compared to their competitors.
When it comes to sounds and audio quality, thanks to the Bose Active EQ, the SoundSport earbuds deliver consistently balanced and clear sounds. Moreover, the featured free mobile app in these earbuds is very user-friendly as it allows you to personalize and adjust various audio settings to achieve a custom sound that goes with your taste and preference.
The fact that these earbuds are pricy and they lack noise isolation is a bit disappointing. However, the price-tag can be justified due to the great features that the SoundSport offer especially if you're into fitness.
Pros
Pros:
Outstanding Connectivity
Sweat-resistant
Comfortable and trust-worthy wear
Good design
Decent audio and can be customized
Cons
Cons:
Expensive
No noise isolation feature
3- Apple Airpods: Best for Apple Devices Users
Next up is a product from the all popular iPhone brand, the Apple Airpods is specifically designed for Apple devices biggest fans, whether you own an iPhone, Ipad, Ipod these earbuds got you completely covered.
The Apple Airpods boast dual beamforming microphones for filtering out background noise for crystal-clear and high-quality sounds with no distortion or interference in addition to a full and rich bass from the low to the high range.
They also feature Quick Charge technology to provide you with 3 hours of listening time with a quite impressive and very short charging time of 15 minutes. Furthermore, the Apple company made the pairing process very easy and convenient thanks to the One-Tap setup feature as they detect when they're in place and set up properly and automatically connect with your mobile device to start playing audio.
These earbuds have a built-in microphone that enables you to access Siri-Assistant and make calls on the go. The optical sensors that come with the Airpods allow you to use a single piece separately and conveniently switch between devices. Last but not least, the Airpods have a simple and solid design and they're waterproof.
On the downside, for some people, the Airpods look a bit funny and they don't sit firmly on their ears, also not being compatible with other devices gets a vote down from many users. Regardless they're still a great option Apple mobile devices owners.
Pros
Pros:
Quick and easy pairing
Fast charging
One-Tap setup feature
Can switch between devices
Each earbud can work on its own
Cons
Cons:
Can look dorky for some
A bit shaky in the ears
Only works with Apple devices
4- Xiaomi Mi Airdots:  Best Budget-friendly True Wireless Earbuds
With the Xiaomi Mi Airdots, you don't have to break the bank in order to get true wireless earbuds with as good of a performance as any other expensive ones with a fraction of their price.
Despite being pretty affordable and made in China, the Airdots from Xiaomi excel when it comes to building quality and design, as they rock a stylish yet simple design that will please most people, even the charging case looks aesthetic.
Moreover, these earbuds have a splash-proof, light, and compact build which makes them so comfortable to wear especially for fitness enthusiasts. The Bluetooth 5.0 technology in the Airdots provides great connectivity and a slick fast pairing process with little to no interruptions while you're listening. As far as the battery goes, the earbuds themselves have a 4 hours lifespan and that can be extended to another 12 hours thanks to its charging case.
The audio quality is amazing for such an affordable model, as it is equipped with 7.2mm drivers on each side that produce a punchy bass in all ranges. Last up, the Airdots have built-in microphones meaning you can use them to take calls or give voice commands.
Unfortunately, the touchpads on these earbuds can be annoying and hard to control sometimes and they're also not completely water-resistant. Other than that, the Xiaomi Mi Airdots undeniably give you the best bang for your buck.
Pros
Pros:
So affordable
Bluetooth 5.0
Sleek and solid design
Comfortable wear
Long battery life
The decent audio quality for its low price
Cons
Cons:
Touchpads are a bit lackluster
Not fully waterproof
5- More True Wireless ANC: Dual Drivers and Versatile Controls
So far we haven't come across a pair of earbuds that completely nails it in terms of control versatility. However, the 1More True Wireless ANC has done that and then some. These are feature-packed and got even the nitpicky audiophiles covered, with hybrid active sound cancellation, next-level sound quality, and plenty more.
First and foremost, the 1More ANC has dual drivers with one being a hybrid dynamic driver for punchy bass and the other is a balanced armature driver that focuses on producing detailed mids and highs. These will also provide you with an impressive range that no other earbuds can cope with. Also, these come with the latest Bluetooth 5.0 and a Qualcomm 3034 chip for much-improved connectivity, as well as establishing a stereo plus connection that will allow you to connect to each earbud separately.
Another major plus of the 1More ANC is the fact that they have pass-through audio, and both active noise-cancellation and environmental noise-canceling. Therefore, that will give you noise canceling when you're taking calls, and listening to music as well.
As far as the battery and charging features go, these earbuds feature USB type C cable charging and wireless charging, they can last up to 6 hours of use and 5 hours with noise canceling. With the charging case, you'll get around 22 hours and a quick 15 minutes of charge will get you 2 hours worth of use.
Last but not least, the 1More ANC is splash and sweat resistant, very lightweight, and they're designed to sit comfortably inside the ears without going so far into your ear canal. It's worth mentioning that instead of relying on one single method of control, these earbuds have both convenient touch and button controls.
According to our first impression, the only drawback of the 1More ANC is the lack of complete water resistance so you don't want them with you swimming. Other than that, you don't wanna miss out on this amazing pair of earbuds.
Pros
Dual drivers and great sound quality
Touch and button controls capabilities
Outstanding noise cancelling features
Wireless charging
Cons
6- Edifier TWS6: Clear Sounds with a Strong Bass
The Edifier TWS6 true wireless earbuds took it up a notch when it comes to sound quality. Unlike other earbuds who sacrifice clarity for punchy bass, these ones actually are geared towards giving you the best and most immersive listening experience by combining both sound clarity and rich bass.
Whereas the TWS5 caters a little more towards the heavy bass side, the TWS6 still gives you all that, but it feels more refined and polished thanks to the Knowles balanced armature drivers. So if you like to enjoy a detailed sound and feel a bass this is an excellent choice. Another standout feature is the mids and the vocals as they always seem upfront and super clear.
Moving over to the connectivity features, the Edifier TWS 6 use Bluetooth 5.0 and a Qualcomm chip that it has aptX playback. Thus, these pair definitely got you covered when it comes to having a more stable connection.
In terms of battery life and charging capabilities, these earbuds come with a Type C charging case and they feature Qi wireless charging too. The battery is estimated to last around 8 hours on the earbuds only, and 32 hours with the case which pretty remarkable.
Furthermore, they are IP55 rated so they're not 100% waterproof but are still reliable if you get caught in the rain or if you sweat heavily. In addition, the Edifier Package includes a variety of silicone tips for different ear sizes, and they also include two pairs of foam ear tips along with wingtips.
Regarding the cons of the TWS6, they suffer tremendously in terms of controls as they seem lackluster and the charging case has no indicator lights which is another minus, Outside of that, we have no complaints and we absolutely recommend you get a hold of these.
Pros
Polished sounds with a rich bass
Seamless connection
One of the longest battery life out there
Wireless charging
Cons
Lackluster controls
The charging case has no battery indicators
The SoundPEATS is another great option for those on a tight budget and still, wants to own a decent pair of earbuds that give them a similar kind of performance and conveniences that you would expect from pricier models.
The SoundPEATS wireless earbuds come with a set of customizable items and accessories when purchased, including 3 pairs of regular tips, a hook, and two additional sizes. They're also made from silicon materials which make them comfortable, they have noise-canceling capabilities, they're sweat-resistant.
They're magnetic so they can be hung around the neck, and they have an overall solid build which makes them a good choice if you're a regular gym-goer. As for the battery, the SoundPEATS can be used for 8 hours straight before they run out of battery life with a single charge. they have an astonishing 100 hours of standby time, and they only take about 1 to 2 hours to be fully charged and ready to go again.
Furthermore, they feature an inline microphone and control buttons for hands-free calls, adjusting volume, and skip soundtracks easily. When it comes to connectivity, pairing them is so easy and they have a range of 30 feet. Finally, these earbuds produce crisp and rich audio quality and high fidelity sound thanks to the 10 mm drivers they are equipped with.
On the flip side, the remote controls need some polishing and the earrings could use some stiffness, but considering their price, these are hands down one of the best budget earbuds money can buy.
Pros
Pros:
Budget-friendly
The battery has a decent lifespan
Magnetic and durable
Good sound for its cheap price
Comes with many accessories
Cons
Cons:
Remote controls are a bit lackluster
Although the Sennheiser Momentum earbuds are more expensive than Apple Airpods, they actually exceed them in every way especially in terms of audio quality, not to mention that they're compatible with all mobile devices.
The Sennheiser Momentum true wireless earbuds are unrivaled when it comes to the sounds they produce, as they deliver a quite impressive, well balanced, pure sound with almost no flaws, the bass drop is rich, deep, and full from the lows to the highs.
You can download the Sennheiser app to accurately control the earbuds or you can just use the basic touch controls to modify sounds and take calls, the latter feels completely natural. The build quality of the earbuds and the charging case is so eccentric and luxurious thanks to the premium materials they're made from.
In addition to that, the Sennheiser Momentum earbuds come with a battery that can last up to 4 hours and 11 hours extra with the charging case. As far as the wireless performance goes, these earbuds support the aptX Codec that offers low latency, as well as Qualcomm true wireless RodioPlus technology for excellent connection.
It's hard to pinpoint a major flaw in the Sennheiser Momentum earbuds except for the high price tag but some users reported some issues in the touchpads. All in all, if you can afford these, don't have second thoughts.
Pros
Pros:
One of the best when it comes to sound quality
Stylish and luxurious design
Amazing connectivity features
Can use Sennheiser app
AptX support
Cons
Cons:
So expensive
The touch controls are a little unintuitive
9- Anker Zolo Liberty:  Great Earbuds with Amazing Battery
The Anker company has built quite a name for itself with its quality devices that offer outstanding value for its price, and the Zolo Liberty earbuds represent just that, as they deliver great design, sound quality, and battery without asking for a lot.
The Zolo Liberty boats a black and elegant design that will please even the pickiest of buyers, with a black glossy body and a classic soap shaped charging case. Both of the earbuds and charging cases are IPX5 rated meaning they're water and sweat resistant so you can use them when jogging or working out with complete security and comfort.
Another great thing about the Zolo Liberty is the battery life, they deliver 8 hours from the earbuds and 16 more from the charging case which is top of the class. Regarding wireless connectivity, it is excellent without any interference and interruptions, these earbuds also are easy to pair with other devices and they instantly connect once they're removed from the charging case.
Moreover, the built-in microphone in them picks up the sounds clearly and it enables you to receive calls and video calls easily. As for the sound quality, the audio quality is pretty impressive, giving a good overall sound output from the lows to the highs.
The Zolo Liberty has some letdowns like the hissing sound that generates due to the connectivity and the absence of noise-canceling, but if you manage to see past that, these earbuds are highly recommended.
Pros
Pros:
Affordable
Top of the class battery
Sweat-resistant
Solid build
Decent connectivity
Cons
Cons:
Constant hissing
Lacks noise canceling
10- Samsung Gear IconX: Premium Earbuds with Storage and Fitness Features
If you want earbuds that can help you with your fitness journey, give you the best listening experience as well as additional storage for your favorite songs, you simply can't go wrong with the Samsung Gear IconX.
The Samsung Gear IconX earbuds' battery delivers 5 hours of continuous Bluetooth streaming along with 7 hours of MP3 playtime and 4 hours of talk time.
These earbuds also enable you to use voice commands via Google Assistant and voice to take phone calls, stream music, skip tracks, pause and play, and adjust the volume to your liking even with iOS mobile devices.
Fitness features in these earbuds make them stand out, they have a calorie tracker and a pedometer as they work with the S Health app to provide you with accurate fitness tracking. Additionally, they have tremendous sound quality with powerful and punchy bass, these earbuds also come with multiple ear and wingtips that fit all sizes and shapes of ears.
Another great feature in the IconX is the built-in 4GB of storage that will let you store up to a 1000 song. As for the negatives, these earbuds aren't really waterproof and the touch controls seem to be problematic at times. However, fitness tracking and storage features make them the best choice for those who love to stay in shape all year round.
Pros
Pros:
Fitness tracking
4GB of storage
Compatible with iOS
Good audio quality
Variety of tips
Cons
Cons:
Not completely water-resistant
Faulty touch controls
Bose is known for making top-notch noise-canceling earbuds, and the QuietControl 30 are no different. Thanks to the featured active noise-canceling controls you can adjust or eliminate the background sound coming through like never before.
The QuietControl 30 earbuds have a neckband style that ensures you won't drop them when exercising or doing other activities and they're also sweat-resistant. In addition, when you buy them, you'll receive a CD shaped hard shell carrying case, a micro USB  charging cable, and 2 extra sizes of ear tips.
The QuietControl 30 live up to their name as they barely leak any outer background sounds and the Bose app allows you to modify the leakage rate according to your preference when you're listening to music or using the microphone.
Furthermore, the audio quality is decent overall, the sound is well-balanced and consistent, and the bass is deep, full, and punchy. Battery wise, the QuietControl 30 can last you11 hours of runtime on a single full charge. As for the wireless performance, they support NFC pairing and offer enough range for most usage situations.
Regarding the drawbacks, the QC30 can be expensive for some people and the neckband style might not suit everyone. Other than that, if you want one of the best noise-canceling earbuds on the market looks no further than the QC30.
Pros
Pros:
Active noise-canceling controls
Decent battery
Good connectivity and pairing
Impressive audio output
Cons
Cons: 
Expensive
The design might not suit everyone
Last up we have the Tribit X1 True Wireless earbuds, if you're looking for a low profile pair of earbuds that tick all the boxes without draining your pocket, these are made for you.
The Tribit X1 earbuds are very small, discreet and sleek looking, if you don't dig the pencil style like the Airpods style, this is the way to go. Since they're sweat-proof and stick deep in the ears thanks to their seal they're actually ideal if you want to take them with you to the gym or when going for a run. The charging case is made of plastic and has a cube shape to it and it's a bit on the thicker side, it also uses a Micro USB charging cable.
Moreover, the X1 earbuds come with easy-to-use multimedia keys to stop, play, and change tracks as well as receive calls. As far as sound quality goes, they're pretty decent especially with the seals, you will feel utterly isolated with no background sound leakage.
Also, the vocals are loud and clear and the bass is deep and full. Additionally, connectivity isn't that bad with 30 feet Bluetooth range and once they're taken out of the case they start the pairing process. As for the battery life, it is rated at 18 hours of playtime in total.
As every product the Tribit X1 earbuds have some issues, the simple black design can be unattractive for some and the battery life of the earbuds is short with only 3 hours. In spite of this, if you don't want to spend big and still want amazing earbuds, you can't go wrong with these.
Pros
Pros:
Lightweight
Low profile
Easy to use control buttons
Comfortable and fit nicely on the ear
Sweat-proof
Cons
Cons: 
3 hours battery life on earbuds
doesn't please everyone in the terms of the design
Things to Consider Prior to Buying Earbuds
When it comes to earbuds, there is an overwhelming number of options to choose from coming from a wide variety of electronic brands. Some try to label their products under different names and others strive to rise above the rest by implementing new and exclusive features and technology. But no matter how cool the name is or how flamboyant the features are, there are some essential things that should be on the higher end of your priority list depending on your needs. That said, in the section down below we are going to talk about the most important things to consider about earbuds and help you decide which ones hits all your checkmarks. Stay tuned!
Wireless vs. True Wireless
We're heading into a wire-free world and earphones are no different. You can choose either a wireless or true wireless set of earbuds, but it can be confusing at times especially if you don't know the difference.
Wireless
The name implies that there are no wires, but this isn't exactly the case. They can be paired to your device wirelessly via Bluetooth. However, there's always a wire that connects the two pieces together as a form of a neckband or using a cable tightener. These will come in handy if you're the type that is very active and moves around a lot, as you won't worry about losing a piece when moving or just let them dangling when you're not using them. Also, having a wire between the earphones provides space for a microphone and controls.
True Wireless
Not only do true wireless earphones connect to your device with no wires, but they also connect wirelessly to each other which means you'll have complete freedom. This also makes them extremely comfortable and convenient. Furthermore, they come with their own carry case, which keeps them safe and serves as portable charger.
Size & Build Quality:
The size of the earbuds is usually a matter of personal preference. Though, a lot of people feel more comfortable with a smaller fit that sits tightly on the ears for long hours or a low profile set that they can barely feel on their ears. Also, some bands include different sized silicone tips in the package in case you need a better grip in your ears.
As for build quality, the main thing that you should be concerned with is the IP rating of the earbuds. Some models are designed to be fully water-resistant, meaning they can be completely submerged with water and still function properly whereas some are only limited to splash or sweat resistance.
Battery life & Charging case
Needless to say, the longer the battery life the better. For the most part, earbuds are charged using charging cases and the battery life varies from one brand to another. Some companies claim that batteries last an eternity. But generally, the best way to know whether the battery life does the job or not, is to make sure to check the reviews of other customers. In addition to that, quick charging is also a nifty feature that you should be mindful of if you want to recharge your battery pretty quickly. There some earbuds out there that give you 2 hours of runtime with only 15 minutes of charging.
Sound quality& Bass
The loudness of the sound output heavily depends on the driver size. So namely, the bigger the driver is the louder the earbuds sound. Nonetheless, there's more to sound than just loudness, some people prefer clarity and a well-balanced audio over a more powerful and punchy bass. Luckily, the quality of the sounds transmitted is way better nowadays, giving you the best of both worlds with loud and clear audio. On top that, many earbuds enable you to customize tunes and the audio output according to your preference and favorite music genre.
Connectivity
With the absence of wires, wireless earbuds rely on Bluetooth to transmit audio from either your device or one piece to another. When wireless earbuds were first introduced there were a lot of issues regarding connectivity. But with the latest Bluetooth 5.0 we can hopefully kiss all those issues goodbye, as the connectivity was features were improved drastically with the latter. Bluetooth 4.0-4.2 versions still work fine but we don't recommend any earbuds that go any lower than this.
How to Pick Wireless Earbuds According to Your Needs
Finding the right pair of wireless earbuds and sticking to one can give you a hard time due to the abundance of products available on today's market. So before you buy any, you need to put into account what type of person you are and pick accordingly.
1-Average Joe: If you're someone that lives a modest life and just likes to casually listen to music, you should go with budget-friendly options with decent features for daily life conveniences.
2-Athlete: Athletes usually tend to make so much of effort and move around a lot so they sweat a lot in the process. Hence why, if you happen to be one you're better off choosing earbuds that are water and sweat proof, also pick a pair that fits nicely on your ears so they won't stay in your way when you're working out or jogging.
3-Music enthusiast: If you're into music and want to enjoy every beat and sound to the fullest, pick ones that are catered towards peak audio performance, with powerful and punchy bass as well as a well-balanced and clear sound.