The world nowadays is submerged by luxurious devices and overwhelming technology so looking for the best smartwatch in 2022 won't be something abnormal. A watch that can tell the time of course, and can perform various tricks and make some life tasks easier with our without being connected to your phone, such as allowing you to voice search on the internet, use an E-compass or GPS to track locations, monitor your heartbeats to watch over your well-being and some high-end ones even come with cameras to capture videos and pictures, not to mention look fancy on your wrist and give you that stylish appearance.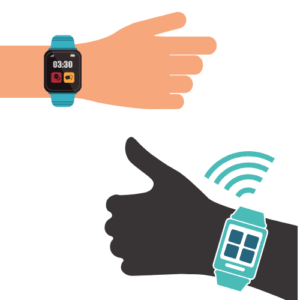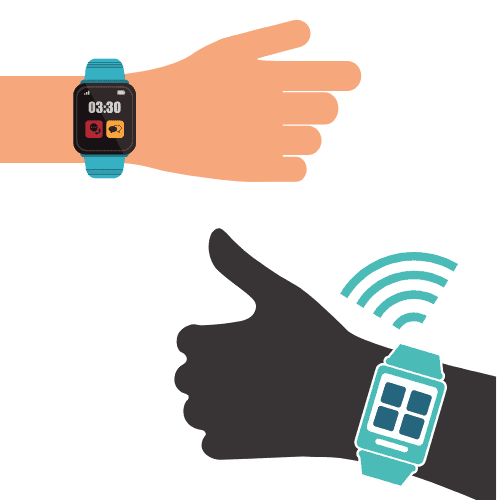 As the years go by, a lot of new features are being added to smartwatches and they are constantly getting upgraded and updated with the latest and newest innovations and technology to provide even more conveniences and facilitate users' daily tasks even further.
That being said, we have a huge variety of smartwatches available in today's market, so it's important to note that each one has different specifications, offers different features, and excels at certain things. Thus it can be a bit confusing to pick the one that is best suited for you and your requirements, so we did our homework and came up with a list that will hopefully help you choose the right smartwatch for you. these are the best top 10 smartwatches for 2022:
This article is designed to highlight all the strengths and setbacks of the best smartwatches, based on their price, battery life, display, fitness tracking, GPS monitor, build, style, as well as some extra features. So let's get down to business.
[toc]
Best Smartwatches 2022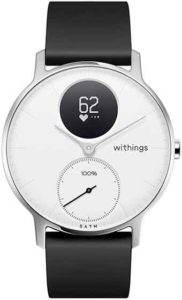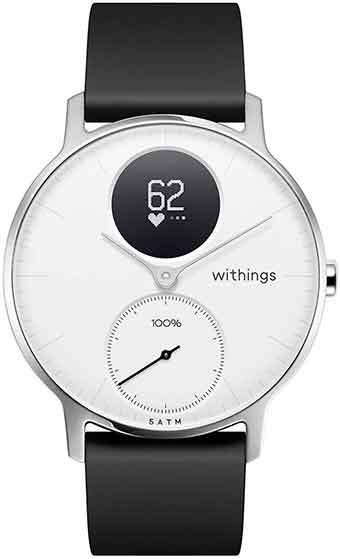 The Withings Steel HR is the best smartwatch in 2022 and one of the few hybrid smartwatches that are truly innovative and does really give you the best of both worlds. It is the best option for those who always wanted the high-tech features of a smartwatch without drifting away too much from the prestige of wearing a traditional analog watch.
This hybrid watch hits the sweet spot by incorporating a small digital display and a heart rate monitor without compromising on the classic analog design. Speaking of design, the watch sports a slim build that is very comfortable to wear and it blends in perfectly like a normal watch. It looks exactly like a normal watch with a classic round face and hash mark around the edges for marking hours.
Nonetheless, if you look closely, you'll spot a few extra helpful features; a screen that displays metrics and notifications, and a small round dial at 6 o'clock for indicating how close you are to reaching the daily fitness goals that you set up in Withings Healthmate app. What's more, its heart rate tracking monitor makes this watch stand out as it keeps track of your heart rate 24/7.
Unlike most hybrid watches, the Withings Steel HR excels at accurately counting steps and fully track workouts. In that sense, it is more like a fully-fledged smartwatch or dedicated fitness tracker as it simply recognizes exercises and automatically records certain exercises such as; walking, running, swimming, and 30 more workout types.
Although, swapping the straps on the Steel HR can be a bit of a hassle because it requires a delicate touch and some patience. Other than that, it is a gem of a watch.
Pros:
Successfully combines a traditional design with smartwatch features
Classy non-bulky design
One of the best heart rate monitors in the industry
Price fitness trackers
Reasonable price tag
Cons:
Complicated straps swapping procedure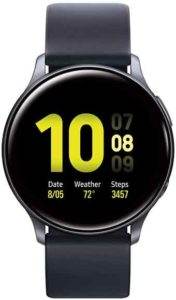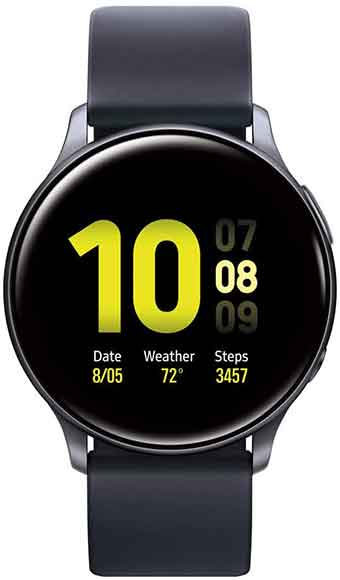 Looking for a well-rounded and a feature-rich smartwatch that connects seamlessly to your favorite Android apps and looks good on every occasion? The Samsung Galaxy Watch Active 2 will undoubtedly provide you with all that and more, as it is one of the best in today's market.
The first thing is first, the Active 2 is available in two versions; 40mm and the 44mm both of which boast a lightweight aluminum build. It is also available in several colors; cloud silver, aqua black, and pink gold. And with its sleek traditional round shape, it's safe to say that this smartwatch is capable of fitting in with every style and attire.
It features a 1.4 inch super AMOLED panel with 360×360 resolution and its interaction feels very intuitive thanks to the touch-sensitive ring around the screen. Moreover, Active 2's interface was crafted using a circular motif which makes the interface very responsive and fasts to use and allows for easy rotation and swiping.
It is fitted with an Exynos Dual-core chipset and 768mb of RAM delivering top-notch performance overall. It has excellent fitness tracking features including a built-in sleep tracker and a clever goodnight mode that turns off all notifications, along with an ECG sensor that detects electrical activities and the rhythm of your heart with perfect precision. In addition, it has 39 workout modes that work as intended and the battery life is expected to last you about two days and half of use, which is impressive given its highly advanced nature.
Pros:
Feature-loaded
Stylish and elegant
Versatile
Intuitive interface
Powerful specs
Exclusive sleep tracker and mode
Cons:
The Apple watch series 3 comes from the all familiar and popular brand Apple, Contrary to the previous series models, the Apple watch series 3 took everything it got right with the fitness-friendly The Series 2, polished it up. Also, it has the LTE radio inside.
two different sizes 38mm and 42mm, Other brands would fit fine with it. And all versions Have the built-in GPS Feature radio and the 50-meter water resistance feature.
The display hasn't been altered that much either as it still comes with a tiny OLED screen running at 390 x 312, covered by a plate of Ion-X glass, with a maximum brightness of 1000 nits which is plenty to keep apps and notifications readable.
The process of using it is exactly the same. As for the Apps, The fitness side of the Apple Watch 3 is arguably now the most important of the wearable range, from improved heart rate monitoring to being able to take calls when out running.
It also has an altimeter tracker and a plethora of other fitness apps, every featured is centered around the fact that you can live a better, healthier lifestyle with this device.
As far as specs go, the series 3 operates with a faster dual-core processor and runs with WatchOS 4 If you've used an Apple Watch in any way before, there won't be a lot that's alien to you on the Watch 3.
The Series 3 is only compatible with iPhone which is a limiting factor, but all things considered, this is an optimal smartwatch for fitness people.
Pros
Pros
Brilliant OLED display
Loaded with great fitness features
Improved heart rate monitor
Cons
Cons
The 4G version is expensive
Only compatible with iPhone
2- Samsung Gear S3: Best High-End Features Smartwatch
A fantastic smartwatch with every great feature that can cross your mind, a great design, impressive battery life, and nearly perfect software.
The Samsung Gear S3 revolutionized today's market and set the standard for what every smartwatch should be.
This watch also comes with a 1.3 inch Super AMOLED display with the resolution of 360×360, the corners are made with the newest version of Gorilla glass for watches SR Plus. Samsung claims the battery can last up to 4 days although a lot of people deem that as questionable.
For starters, the S3 is made out of stainless steel and it is IP68 certified so it's water and dust resistant. This means you can submerge it for about 1.5 meters up to 30 minutes,  it features the upgraded version of Samsung Pay which enables you to pay directly from your watch, and it pretty much works everywhere.
In addition to the 'Always on Display' feature, Exynos 7270 chipset, 768 MB of RAM, and 4 GB of storage, in other words, this watch has and does it all!
When it comes to software and apps, The S3 comes loaded with fitness tracking apps of all sorts, and the health sensors are very smart. The watch knows when you're taking a walk and automatically starts tracking your movements and heart rate so it can log health data for you, it can also automatically track your sleep to give you a more complete picture of your health.
It's hard to find a major flaw in the S3 Gear except for its chunky and big size as well as the absence of a few extra apps. Other than that, you can't go wrong with this top-notch smartwatch.
Pros
Pros
Packed with features
Amazing display
Neat build
Variety of sensors and trackers
Cons
Cons
Beefy size
Some apps missing
3- Huawei Watch 2: Lightweight and Comfortable Smartwatch
Next on our list is the Huawei Watch 2, Probably the lightest and most comfortable watch to wear, comes in 2 versions Sport and Classic.
The watch 2 is among the first wave of smartwatches to employ the new 1.1GHz Snapdragon Wear 2100 chipset, it's accompanied by 768MB of RAM, 4GB of internal storage, and a non-removable 420mAh battery. Using the Normal Mode, the latter could keep the watch going for longer than two days.
This watch also comes with many fitness, sports, and health sensors including a heart-rate sensor, plus a feature is known as the real-time workout guidance. This is amazing for everyone who is on the lazier side and wants the watch's guidance system to help them out here.
The Huawei Watch 2 is available in two different models, Bluetooth only or 4G LTE capable, for the display, you have a 1.2 AMOLED panel with the resolution of 390×390 and you only get Gorilla glass for scratch protection, This watch runs on Android Wear 2.0.
As for the build and design, the Watch 2 boasts a rather generic sporty smartwatch design, complete with a plastic body and a double chrome design. And IP68 water and dust resistant certified.
All in all, the Huawei watch 2 shortcomings are the small screen, being slightly over-priced and being a step away from the fashion-focused smartwatches. Luckily that doesn't hold it back from making it to the list of great smartwatches in the market today.
Pros
Pros
Super lightweight and comfy
Good battery
Android wear 2
Great display
Cons
Cons
Small screen
A bit pricy
Not fashionable
If you're keen on getting a reliable smartwatch but don't want to get out of your way and splash a lot of cash, The Amazfit from Xiaomi is exactly what you're looking for.
Bluetooth connectivity, fitness trackers, and a plethora of other sensors, in addition to a 1.2GHz processor, 512 RAM, and 4GB of storage. So you're undoubtedly getting a lot for your money with this watch.
The 1.34-inch display is easy to read indoors or outside, bright enough, looks good, and automatically adjusts according to the surrounding lighting. Another amazing thing about the Xiaomi Amazfit is battery life. On a full charge, the battery can last anywhere from 5 to 7 days. This is certainly one of the most durable batteries out there.
However, there is more to the Amazfit than just its cheap price-tag, it comes loaded with some amazing features. Like the built-in GPS which almost impossible to find in smartwatches within the amazing's price range. An optical heart rate monitor, support for smartphone notifications, and a beautiful touchscreen display.
Last up, the Amazfit has a beautiful and elegant design, and the straps are high-quality and so comfortable not to mention that is IP67 waterproof certified.
On to the negatives, this watch has limited fitness apps and the standard app that comes with it is a bit lackluster but overall the Amazfit is something you don't want to miss out on.
Pros
Pros
Beautiful innovative design
Long battery life
Clean display
Cons
Cons
Few fitness activities are available
Glitches in the software that needs fixing
5- Fossil Gen 5 : Versatile with Different Battery Modes
Gen 5 is the most recent release from Fossil, which the company claims that it solves all the existing problems of modern-day smartwatches. Thus, it should be considered as a nearly flawless smartwatch and equally one of the most complete models on the market. So let's find out whether or not this bold claim is true.
Starting off with the design and physical aspect, the Fossil Gen 5 features a well-made 44mm stainless-steel body, with a beautiful AMOLED display, 3 buttons on the right side of the watch, and a microphone for Google assistant services.
As for the left side, it has a speaker that serves as an audio output. Contrary to other smartwatches, the Gen 5 features a relatively small heart rate monitor that doesn't stick out a ton.
The watch is also waterproof and comes with standard silicone straps. Overall, we can say that its durable build and stylish design suits both hardcore athletes and fashion enthusiasts.
Specs-wise, the Fossil Gen 5 is equipped with a Qualcomm Snapdragon processor, 8 GB of internal storage, and 1 GB of RAM.
Moving on to the software, this smartwatch runs on wear OS and has all the necessary fitness trackers and apps that are required in a modern-day smartwatch. For instance, It has an alarm clock, stopwatch, agenda, health monitors, Google fit, a weather app, and plenty more.
Furthermore, Gen 5 has several battery modes to minimize energy consumption and allow the watch to last longer. Each mode disables a certain functionality on the watch, and it can also be customized according to your preference.
Seemingly, the Gen 5's Wear OS app isn't quite reliable in terms of connectivity. In addition to that, it lacks some of the health apps found in other smartwatches, such as a sleep tracker.
To conclude, even with some minor inconveniences, The Fossil Gen 5 has won us over with its sleek design, solid construction, decent battery, and top of the line hardware.
Pros
Pros
Elegant look
Good build quality
Strong specs
Customizable battery modes
Cons
Cons
Glitches in the software that needs fixing
6- Amazfit T-Rex: Most Durable Smartwatch in 2022
Without any shadow of a doubt, the Amazfit T-Rex has such a cool name. But are the performances and other more important aspects of this watch just as good? Apparently, it is geared towards users who love taking things to the extreme. With 12 military-grade certifications that enable the watch to withstand the toughest challenges, you throw it.
First off, the Amazfit T-Rex rocks a pretty solid design that as mentioned above is military-grade certified, meaning that it can resist extreme temperature and high levels of humidity, salt spray, and acid.
Not to mention that it is completely water-resistant. However, there's more to it than just durability, it also looks good enough to attract those who are more into style or rugged sporty look.
On that note, it is available in 5 different colors including a military camouflage color. Moreover, the silicone straps are sweatproof and very breathable.
In terms of display, the 1.3-inch AMOLED display of the T-Rex has saturated and rich colors, great contrast, and satisfying levels of brightness. Additionally, it features always-on display mode and the words are remarkably clear even at very challenging viewing angles.
Regarding the fitness and health tracking apps, just like any previous Amazfit model, the T-Rex is able to track and provide accurate feedback with numerous physical activities such as; running, swimming, cycling, and more. And of course, this smartwatch comes with a reliable GPS and a heart rate monitor.
One of the best selling points of the Amazfit watches were the incredible battery life, and the T-Rex is no different. With a highly impressive 20 days of battery life and only 2 hours of charging time, this watch will last you an eternity.
On the other hand, the T-Rex straps feel rather cheap and flimsy, which is one of the few minuses of this watch, but considering its affordable price and long-lasting build and battery, we definitely advise you to get a hold of this amazing smartwatch.
Pros
Pros
Military-Grade certified
Super solid construction
Clear vibrant display
Comes with all necessary tracking apps
Outstanding battery life (20 days)
Cons
Cons
Flimsy straps for a rugged sporty watch.
The Moto 360 is the first sports smartwatch from Motorola, as you can tell by the name this watch is geared towards those who love sports and athletes in general.
The 360 is one of the few smart-watches equipped with an onboard GPS to measure running data precisely without relying on a phone, it also measures and records data like step count and calories burned throughout the day.
Another impressive feature in the 360 is the 'Any light display' which adjusts the watch's lighting and display according to the type of light around you.
This smartwatch also offers a simple navigation menu and voice commands rather than the old-school touchscreen thanks to the built-in dual-mic system. As far as the build and design go, the 360 as expected has a sporty look as it has a corning gorilla glass screen 3 along with sturdy silicone straps, and it's IP67 rated which means its water and dust resistant.
It also has the option as a run tracker and gives turn-by-turn directions on specified running paths. Furthermore, it comes with pre-installed sensors such as the heart rate sensor, and an altimeter to make better fitness calculations if you're running on inclined surfaces.
To wrap things up, sadly the battery life leaves much to be desired since it's said to only last up to one day with GPS on, and the Heart rate monitor is not so reliable. In spite of these minor inconveniences, if you have an active life and you're into the sport the 360 is definitely what you need.
Pros
Pros
Sporty and practical design
Decent sensors and trackers
Accurate GPS system
Cons
Cons
Low-durability battery
Unreliable heart rate sensor
8- S928 Sports Watch: Best Budget-friendly Smartwatch
The S928 is designed specifically for those who are on a tight budget yet still want to rock a solid smartwatch on their wrists, which equally performs as good as any other smartwatch out there.
Besides the heart rate sensor that is able to provide real-time heart rate updates, sensors that tell you the air pressure, temperature, and altitude you're at.
This smartwatch is made with high-end 316 stainless steel and the buttons are well-placed and also have a nice tactile feel and beep when pressed.
The S928 is mainly independent and doesn't require any connection to phone apps, it comes with wireless connect the charger, has a sports steps recorder for the last 7 days and can automatically record sports laps.
And it also has a sedentary reminder and alerts that can be set for upper and lower target heart rates during exercise. The sedentary reminder works by alerting you when you're not moving much, like sitting at a desk for hours.
On to its impressive GPS tracking features, as it accurately calculates the speed and distance traveled and can record them and send them to your smartphone as well via Bluetooth. As far as the display goes, it has a pretty simple monochromatic display but it will do for most people. The S928 has the HPlus watch app installed but it's also compatible with other regular apps.
Unfortunately, this watch isn't exactly waterproof, the HPlus app is a letdown, plus the lack of some high-end features, but for its cheap price, nobody is complaining.
Pros
Pros
Very affordable
Simple and likable design
Independent and can also work with android
Variety of sensors
Cons
Cons
Not exactly WaterProof
HPlus app is a bit lackluster
No high-end features
We all want smartwatches to actually look like watches, a typical smartwatch is always thick and Pebble is hoping to break that trend by making a watch that isn't only sleek but incredibly fashionable.
The metal constructed round body is made splash resistant than rather fully waterproof so you're not supposed to be submerging this watch into the water, as slim as it is, it still has enough space for buttons and since it's Pebble you're not going to get a touch screen here and there's a microphone underneath the buttons on the right.
In order to install apps and watch faces on your Pebble, as well as get any sort of notification, you'll need to pair the watch with a phone. Moreover, The Pebble round comes with some decent features, such as 'Quiet Time' if you're in need of relaxation, an Alarm system, and a fitness tracking app.
Software-wise, Pebble is not like the rest of the big smartwatch names. Where Apple and Motorola use the software most people have heard of and big bright screens and offer limited battery life as a consequence.
However, the Pebble falls a bit short when it comes to software as only one fitness app is allowed to run at a time. Also the battery isn't as durable as the previous models, and it is kind of expensive for what it is. Still, if you're looking for a smartwatch that is as easy on the eye as it is easy to wear and also look stylish, the Pebble watch design is worthy of your attention.
Pros
Pros
Simple and stylish design
Great display
Easy us
Cons
Cons
Expensive
App management is not optimal
Reduced battery life
The KingWear KW88 is a work of art considering its affordable price and somewhat unknown manufacturer company.
The KW88 comes with a 1.39 inch AMOLED circular display of 400×400 pixel resolution and 286 PPI, as well as space cutting technology. The numerals engraved at the bezel are in 3D and fine-brushed for that aesthetic look and feel. The watchband and bezel mesh together tightly, which makes it more elegant.
The watch also comes with Wi-Fi, Bluetooth, and cellular options, and like most smartwatches, it has an accurate heart rate sensor and a pedometer to make you aware of your health status, and a notification feature to keep you updated with the latest. Last and not least, the KW88 is equipped with a 2mp Sony camera which makes it very unique compared to the other smartwatches on our list.
The biggest drawback of this watch is the lack of water and dust resistance and the pretty basic functions which are disappointing. However, it's so affordable and does things that most other smartwatches cannot do
11- ASUS ZenWatch 3: Amazing Design and Build Quality
The Asus Zenwatch 3 simply holds the crown for the fanciest and best-looking smartwatch on our list.
The Zenwatch 3 is available in 3 colors, rose gold, silver, and gunmetal. The first thing that draws your attention is the circular watch face. I
t's surrounded by a sleek diamond-cut bezel, the watch itself is encased in an IP67 water-resistant stainless steel body and the wrist straps are made of high-quality leather offering a bit of both comfort and style, all of that combined definitely give the Zenwatch 3 a premium vibe.
Regarding specs, this watch operates with android wear, has a snapdragon wear 2100 processor, and comes with 512 RAM and 4GB of storage also comes with Bluetooth and a 340mAh battery.
For the display, you're looking at a circular 1.39-inch AMOLED display that doesn't suffer from the flat tire effect like the Moto 360. With a pixel density of 287 pixels per square inch, the text is incredibly sharp and colors pop, in addition to an auto-brightness mode, it's also covered with Gorilla Glass so it should stand up against scratches.
However, Fitness enthusiasts won't be pleased with the ZenWatch 3's lack of a heart rate monitor. The ZenWatch is really only meant to track casual workouts like walking, running, pushups, and sit-ups. It also has no GPS tracker.
To conclude, the ZenWatch has one of the best displays, batteries, and designs. It's missing some features but without a doubt, it's a very attractive smartwatch.
Pros
Pros
Gorgeous display
Solid and comfortable build
Decent battery life
Cons
Cons
No heart rate sensor
No GPS
The Garmin Fenix 3 has an awesome GPS system that makes it stand out amongst its rivals and makes it very appealing to the smartwatches fanatics.
In addition to a whole lot of sport and fitness trackers such as running, hiking, swimming (in the open or in a pool), biking, triathlon, climbing, and the list goes on.
The Fenix 3 uses a 1.2-inch sunlight-readable color e-ink display. It's not perfect and can be a bit hard to read in the dark. Moreover, the casing is steel and the crystal on this more expensive model is sapphire.
The Garmin Fenix 3 is loaded with an array of sensors, as well as the lead GPS. You get Bluetooth and Wi-Fi for data syncing with a mobile device, an accelerometer, a barometer with altimeter, and GLONASS to get you a more accurate and fast location sync than a standard GPS.
Standard glass is used on the cheaper model plus it's water-resistant. As for the battery, It's so durable to the point that one charge can last up to a whole week with minimal use of advanced apps.
To sum it up, Fenix 3 isn't the most beautiful watch, the smartest, and by no mean the cheapest, but when it comes to fitness tracking it's pretty much unrivaled.
Pros
Pros
Best GPS
Loaded with fitness trackers and sensors
Great battery
Cons
Cons
Basic display
A little expensive
Smartwatches Buyers Guide :
There's more to smartwatches than just telling time and the best smartwatch is not necessarily the most expensive watch or the fanciest one, but rather the one that suits your lifestyle and your needs. So, whether you're looking to keep track of your health and fitness activities, enjoy cool and convenient features, complement your style, or all of these combined, there's most certainly an option for you. All things considered, picking the right fit is not always as easy as it seems as there are things you need to look out for prior to buying one. Here are some of the questions you should ask yourself before buying a smartwatch to help you determine which one is perfect for you.
What type of smartwatch is ideal for you?
Smartwatches come in all shapes and forms and while they all seem to serve the same purpose in general there are some differences you should be aware of.
Smartwatches: In strict terms, it's a device that uses full-blown software like Apple or wears OS watches. They enable you to install third-party apps and extend their functionality similarly to your smartphone. They also allow you to receive calls, reply to messages, access videos and pictures, and the list goes on.
Hybrid watches: Some like to call them undercover watches because they boast some high-tech fitness and health tracking features while keeping the elegant and attractive design of traditional timepieces. Usually, their tracking ability isn't up to par with smartwatches or fitness trackers but they still do the job for most people nonetheless.
Bands: Limited to only fitness tracking and few functionalities such as playing music and notifications. However, their biggest selling point is the fact they're very comfortable and easy on the wrist due to their small size, as well as being very affordable.
Fitness Watches: Aside from sporting bigger and better display, they're not much different than bands in terms of functionalities, except for having more fitness and health-related features and trackers.
Which features are necessary for you?
Having a smartwatch that is equipped with all the bells and whistles can often cost an arm and a leg. For instance, if you live an active healthy lifestyle and all you require is a good fitness tracker, you don't have to pay extra for a smartwatch that is loaded with high-end features which aren't related to fitness. It would be wise to save yourself some cash by just getting what you need. On the other hand, if you have few bucks to spare and want to get the coolest wearable with the most advanced technology, there's no harm in spending big to get what you want.
Is it compatible with your smartphone?
There are three main operating systems when it comes to smartwatches; Apple watches OS, Android Wear, and Tizen.
Android Wear: Meant to work with Android devices but can also work with the iPhone. However, they don't work as fluidly with iPhone compared to Apple Wear.
Apple OS: Works exclusively with Apple devices.
Tizen: Exclusive to Samsung devices but can work equally as well with both Android phones and iPhones.
As for devices with their own OS, they tend to work properly with all phones.
Oled vs. LCD display?
Most smartwatches use either an Oled display or a colorful LCD screen but there are few differences between the two variants.
Oled display: Allows the watch to have a slim design with a crisp display, but they're usually on the more expensive end of the spectrum.
LCD display: Produce high-quality and richer colors with more brightness. Their trade-off is shorter battery life.
Touchscreen vs. touchless?
Opting for a smartwatch with a touchscreen would seem like a no brainer to many people, as they're becoming more popular and affordable. However, it has its fair share of difficulties especially when you try to select items on a smaller display or when using some of the gesture-based interfaces which aren't that intuitive.  Fortunately, Wear OS decided to make things easier by presenting card-based notifications that are easily dismissible with a simple swipe and enabling you to switch between cards with a flick of a wrist.
How much battery life is sufficient for you?
Needless to say, the more the battery life, the better. But keep in mind that feature-packed smartwatches are more often than not required to be charged on a daily basis, and you might miss out on sleep tracking features when you decide to charge it at night, whereas devices with less high-end features and minimal technology can last for weeks on full single charge. Make sure to pick a watch that has enough battery life for your specific needs