A climbing adventure wouldn't be complete or even possible without a reliable best climbing harness 2022 that ensures your safety and comfort. Climbing harnesses are the most important piece of equipment to have, whether you're into trad climbing, alpine climbing, cragging, or just having fun in your climbing gym.
On that note, there are literally hundreds of thousands of climbing harnesses available on the market today, and picking the best one for the job can be a real challenge. But don't sweat it, we did the homework for you and compiled a list of the best climbing harnesses in 2022 that money can buy.
We will run you through each model's features and what they're suitable for. So, sit tight, and by the end of this, you'll be able to find your right fit.
Best Climbing Harnesses 2022
1. Petzl Sitta: Best Harness for 2022
An excellent premium choice, the Petzl Sitta is made of the highest quality materials that make it very comfortable, solid, and lightweight.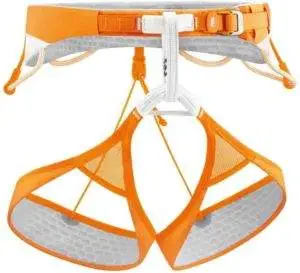 This harness manages to combine a great amount of usability with a shocking low weight. Weighing in at only 9.5oz, you will notice a huge difference when you put it on, as you will hardly feel like you're wearing it. It features flexible WIREFRAME technology that helps to distribute your weight perfectly without foam.
The Petzl Sitta is also very compact, durable, and comfortable, simply because it has an extremely thin waist belt and leg loops to add to its compactness. It is built with bonded fabric that increases its durability and resistance and doesn't connect with pressure points for that much-needed comfort.
Moreover, it is fitted with reinforced tie-in points for extra resistance, and its adjustment is very easy and quick with an aluminum Doubleback HD buckle that allows for smooth strap glide and decent handling.
Features & Specs:
Weight: 9.5 oz
Gear Loops: 4
Leg loops: Fixed
Best for: mountaineering
Pros
Tested technology
High-quality and comfortable build
Compact
Cons
The Black Diamond Solution makes our list because of its off-chart comfort features, as it takes comfort to another level.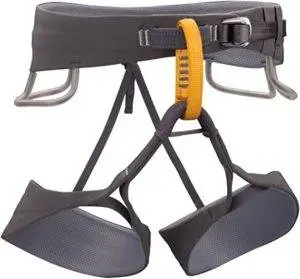 Considered by many climbers as one of the most comfortable climbing harnesses out there. And rightfully so, featuring a layer of foam along with three stands of low-profile webbing. It was simply tailored to fluidly move with your body by offering equal load distribution.   
Furthermore, the Black Diamond Solution sports a lightweight design and was built with high-strength fabric making it very hassle-free and durable. Add to that the fact that is equipped with a quick-drying mesh to make it more comfortable and breathable, and you'll end up with a climbing harness that got you completely covered in every department.
It comes with fixed leg loops and 4 gear loops, but on the downside, it appears that the Solution works well with crag climbing only, as it lacks some attachment points that are necessary for other types of climbing.  
Features & Specs:
Weight: 11lbs
Gear Loops: 4
Leg Loops: fixed
Best for: Crag
Pros
Amazing comfort
Compact and lightweight
Adjust nicely with the body
Cons
Made by a company that is renowned for making exceptionally good gear in all fields, the FL-365 is undoubtedly worth your attention and money.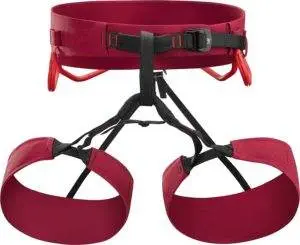 The Wrap Strength technology that is implemented into the Arc'teryx FL-365 design makes it a comfortable wear that's easy on the body, gives it a durable and solid build, as well as an even body distribution. Hence, it's safe to say that this harness will help you conquer any obstacle that comes your way during your climbing adventures.
Seemingly, with 12.9 oz of weight, the Arc'teryx FL-365 isn't the lightest option on our list, still it still has a fairly light, slim, and compact construction and you will barely feel any difference when wearing it.
One of the major selling points of this climbing harness is the different types of loops including 4 gear loops, 4 loops for ice clippers and an extra loop for hauling a second rope. This variety of loop options makes it versatile and suitable for all sorts of climbing. 
Features & Specs:
Weight:12.9 oz
Gear Loops: 4
Leg loops: Fixed
Best for: Gym, Alpine, Trad
Pros
Outstanding gear capabilities
Solid design
Good for all uses
Cons
The Edelrid Jay III is the most viable choice for people on a tight budget and who enjoy climbing, especially ice climbing.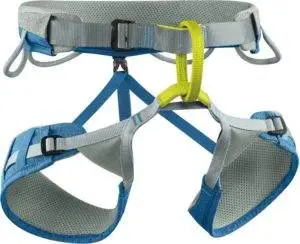 This awesome and budget-friendly climbing harness comes in 3 sizes for men and 4 for women. Besides that, it sports a customizable fit that you can either tighten or loosen according to your body size and measurements, thanks to the fully adjustable leg loops.
From a build and design perspective, it is constructed bluesign certified premium materials for extra durability, and it features 3D mesh padding overlaps and an ergonomic waist belt, meaning it provides a great deal of comfort to say the least. Plus, the weight 14.5oz means it is neither the most lightweight nor compact. But either way, we highly suspect that such minor difference in weight will hold you back when climbing.
Moreover, the Edelrid Jay III is fitted with 4 high strength and resistance gear loops and 2 attachments for ice screws, which is a big bonus if you're into ice climbing or any climbing discipline.
Features & Specs:
Weight:14.5oz
Gear Loops: 4+ attachment points
Leg Loops: Adjustable
Best for: Ice, Gym, Trad
Pros
Convenient adjustability features
Comfortable and durable construction
inexpensive
Cons
Slightly heavy compared to other models
Coming in at number 5 is the Petzl Sama, yet another affordable option with good durability and comfort.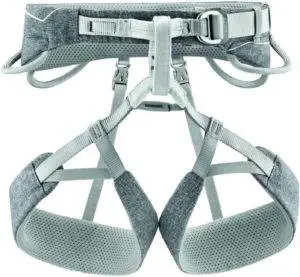 This all-rounder climbing harness is built with a mixture of foam split webbing, along with elasticized leg loops that don't change shape with time and a flexible waist belt to increase the range of motion. On top of that, it boasts an EndoFrame construction that greatly helps it achieve a well-balanced weight distribution.
Weighing in at 14.6oz, you certainly don't get the ultra lightweight and compact design with the Sama as you do with the Sitta. But all in all, it is still just as good if not better in terms of comfort and durability with a fraction of the price.
With regards to the loops, you'll have 4 gear loops; 2 rigid front gear loops for a more convenient clipping and unclipping of your equipment, and 2 flexible ones on the rear that allow you to bring gear to the front with ease. All in all, the Sama is a legitimate pick for most sport and gym climbers.    
Features & Specs:
Weight: 14.9oz
Gear Loops:4
Leg Loops: Fixed
Best for: Sport, Gym
Pros
Very convenient design
Long lasting investment
Built with flexibility in mind
Cons
Comfortable, solid, and lightweight, the C-Quence provides everything you ask for in a climbing harness and then some.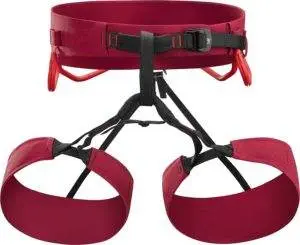 The C-Quence from Arc'terix was designed and tested by experts in the climbing field, so it's no surprise that is a quite performing, slim, and secure harness. On that topic, it is made with split webbing and the contoured Warp Strength technology makes it a perfect fit for men's bodies and enhances hanging comfort by using leg-loop geometry and a tapered swami.
Moreover, it weighs 13 oz which isn't bad by any means, and the rear elastic leg is equipped with a stainless steel hook that allows you to go use the bathroom without removing the harness, the latter is a simple yet very convenient feature.
The C-Quence comes with 4 loops, and for more security it features wear markers that are located in the tie-in points and belay loops that serve as a warning of too much wear. The manufacturing team also made sure to include a stretchy mesh bag for extra storing capabilities. Unfortunately, the high price tag is a bit unappealing, but if you can afford to spend a couple of extra bucks to get a great harness for your different climbing activities, this is definitely the one for you.
Features and Specs:
Weight: 13oz
Gear Loops: 4
Leg Loops: Fixed
Best for: Trad, Alpine, Sport
Pros
Handy features
Good-quality construction
Comes with a storage bag
Cons
The Mammut Ophir 3 Slide is our top pick for those who just started their climbing experience as well as budget-conscious climbers.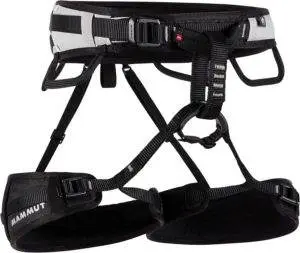 Besides the fact that is affordable, the Mammut Ophire 3 Slide is quite versatile and packed with useful features, which we can't say about most of same price range competitors. Due to its combination of foam and split webbing construction along with the fully adjustable breathable leg straps, one can safely assume that is has a good amount of comfort and it is well-suited for both alpine pants and crag shorts. 
Weight-wise, it weighs around 13 oz which pretty much average by the industry standards, it has slide-bloc buckles on the leg and waist loops, and it also got a tie-in point protector that ensures it is retired safely.
In addition to that, the Ophir 3 Slide features 4 rugged gear loops, a haul loop, and a hanger for chalk, which means it suits climbers of all sizes. On one hand, the thin foam gives you breathability and more freedom when moving. On the other hand, it reduces its comfort to some extent. Overall, this is a budget-friendly climbing harness that does as good a job as any other more expensive model.   
Features and Specs:
Weight: 13oz
Gear Loops: 4
Leg Loops: Adjustable
Best for: Crag, Alpine
Pros
Good for beginners
Versatile
Low price tag
Cons
Less comfortable compared to other options
If you're looking for a functional and multi-tasking climbing harness,  look no further than the Adjama from Petzl.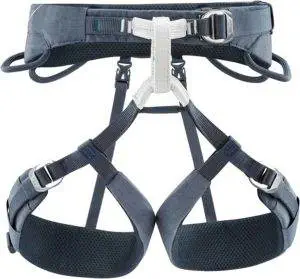 Although the Adjama has a hefty and bulky size with about 17oz of weight, it more than makes up for it in terms of performance, durability, comfort, and functionality. To maximize mobility and stability, the Adjama features an EndoFrame build with a wide waist belt to help it achieve equal load distribution.
What's more, it comes with padded waistbelt and adjustable leg loops that make it more comfortable and give you full freedom of movement. Plus, it has DoubleBack Light buckles that let you adjust the leg loops with ease.
As for the gear loops, you get 1 haul loop and 5 fully adjustable ones including; 2 rigid loops on the front for easy access to equipment, 2 flexible loops on the back to steer clear of pressure points, and one loop on the rear center to carry either shoes or belay station gear. The extra rope loop will enable you to haul a second rope in case you need it. With that in mind, the Adjama will do a tremendous job for people who are into multi-pitch climbing.
Features & Specs:
Weight:17.1oz
Gear Loops: 5 adjustable + 1rope loop
Leg Loops: Adjustable
Best for: Mountaineering, Sports
Pros
A variety of useful loops
Super comfortable and durable
Affordable
Cons
Its heavy size can cumbersome when wearing it
Once again, we have another trustworthy harness from Black Diamond, the Airnet is one of the latest and best additions to the climbing harnesses world.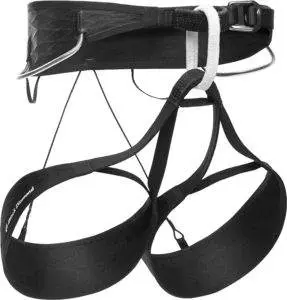 First of all, the Black Diamond Airnet was designed for the professional Olympics athlete Adam Ondra as it was intended to be his competitive harness in the 2022 Olympics, so there's no doubt that this is a high-end and top-quality climbing harness. Weighing a mere 8.2 oz, it is one of the lightest if not the lightest harnesses available on the market today.
As far as the build quality is concerned, the patented AirNet technology makes it ultra-breathable yet comfortable and ensures that the weight is distributed evenly during falls. Hence, it's a solid option for most climbing enthusiasts.
Additionally, it features it rocks a seamless infinity belay loop and 4 gear loops (2 pressure-molded front loops and 2 low-profile webbing gear rear loops). Unfortunately, the leg loops are not adjustable which is not ideal for everyone especially considering its hefty price.
Features & Specs:
Weight: 8.2 oz
Gear Loops: 4
Leg Loops: Fixed
Best for: Gym climbing
Pros
Very comfortable despite its ultra light weight
Very functional design
Very rigid loops
Cons
Last but definitely not least, we have the recently released Sandero harness from Edelrid. It is affordable and boasts a decent set of features.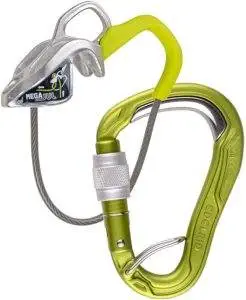 Initially, we thought the Sandero was tailored solely for Alpine climbing as advertised by Edelrid, but it turned out that it is an all-round performer. This is due to the number of excellent features it has such as a convenient, lightweight, durable, and comfortable design.
Speaking of design, it hovers around 11oz which is considered a pretty decent weight by most experts. It is made with blue sign certified materials, as it boasts a SoftFrame construction that merges a perforated and broad waist belt and fully adjustable leg loops with mesh patches on the inner thigh area. This will make your belays and lowering a lot comfier and pain-free.
To conclude, the Sandero has 5 large and flat gear loops, 2 on the front, 2 on the rear, and a fifth additional loop for clipping water bottles, shoes, or a windbreaker. For a harness of such reasonable price-tag, we have to say that we're impressed with the nifty features it got.
Features & Specs:
Weight:11.6oz
Gear Loops: 5
Leg Loops: Adjustable
Best for: Alpine, Trad, Crag, Sport
Pros
So versatile
Lightweight and comfortable
Five gear loops
Cons
No cons reported so far as the Sandero is still fairly new
Climbing Harnesses Buyers' Guide
Buying a climbing harness for beginners in recent years can be a huge pain, especially if you put into account the abundance of different models available to choose from on the market nowadays.
Whereas you might get away with buying unreliable and underwhelming products when it comes to other aspects of life and be just fine, that is simply not the case with climbing harnesses.
Picking a trusted model is a must to avoid all life-threatening situations when you're venturing in the craggy and alpine mountains. Bearing that in mind, in the section below we are going to explain a few things you need to factor in to help you decide which climbing harness is best suited for your needs. So without any further ado, let's hop right into it.
Comfort & Fit
This is a big deal to true hardcore climbers as they spend most of their time wearing a harness, so choosing a comfortable harness that fits your size is essential.
And you'd better take your time when looking at the sizing charts if you're going for a model that has no adjustable loops. As well as choosing one that is equipped with all the necessary padding and soft materials for comfort.
Durability and Retirement:
This takes the number spot in the priority list, so not only does a durable last you a good while, but it will also keep you safe when you're climbing especially out in nature.
With that said, a good harness should be built with high-quality and robust materials to support your weight and tough environment. However, it is also important to note, no matter how good and solid the harness is, it will eventually get worn out.
So, make sure to retire your harness once it reaches its limit of wear or its suggested lifespan.
Weight
This is mostly relevant to gym climbers, but it is still recommended to consider the weight of your harness prior to buying it. Even though there are some great lightweight options out there, light doesn't always mean better.
In fact, sometimes the heavier the harness the more comfortable and the more useful features it has. Luckily, most harnesses nowadays are still manageable by the vast majority of climbers regardless of their weight and size.
Weight Distribution
This is related to how evenly your body is spread out by the harness when you're belaying or floating in mid-air during a climb. In this case.
You have to go for a harness that implements decent weight distribution features or technology, and thus avoid dealing with uncomfortable pressure points pain.
Loops
A lot of climbers like to bring a variety of climbing gear and equipment for different purposes depending on the climbing activity and environment. We strongly advise you to do the same, because you'll likely need some essential or non-essential gear to help you take your first steps into climbing.
Having said that, loops on harnesses vary in terms of number, quality, and what the harness is made for. If we take the belay loop for instance; there are two different types, a skinny belay that is found on alpine or ice harnesses, and a thicker belay or double belay on a harness that is designed for big walling and trad.
Another example would be the haul loop, it is not always necessary and some manufacturers don't include it in their harnesses. Nonetheless, It is required if you need a second rope or attaches a haul line, making it an excellent feature to have if you're planning to frequently multi-pitch climbing. Other than that, you can easily do without it.
Adjustability
This boils down to personal preference, some people prefer to have a harness that requires going through the adjusting process, thereby they opt for one that is just the right fit. Meanwhile, others cater to versions that are a little bit on the flexible side.
Meaning a harness that features adjustable leg loops that can be manually loosened or tightened will do the trick. However, if you're just starting, we recommend you stick with the adjustable options so you can figure out your fit. Also, you never know when you may lose or gain some bodyweight, and either case an adjustable one will have you completely covered.