Wireless Headphones have become a trendy commodity nowadays, not only for the sake of being a cool stylish piece of technology around people's heads but for the conveniences and amazing features they bring into our modern-day life.
Wireless Headphones just like the name implies are audio transmitting devices that rely on Bluetooth connection and NFC pairing with mobile devices to transfer sounds rather than the traditional cables or wires, making the listening experience less troublesome and more comfortable.
As a result, these wireless headphones are in high demand amongst the general population, and companies worldwide are constantly creating new models with more overwhelming high-end tech features to please a variety of users.
Hence, in today's market standards are being raised almost every year, and choosing the best Headphones for your particular need can be a bit of a hassle. But don't click the worry button just yet, as in this article we did the research for you and brought you a list of the best ones available in the market today, so stay tuned.
The products stated below are in no specific order the top 10 headphones in 2022.
Whether you're a gamer that wants to have a real gaming experience without being distracted, an athlete who strives for excellent performances while still having fun, a music enthusiast who enjoys every single beat and sound to the fullest, or just a regular person who needs decent and comfortable budget wireless headphones, there's definitely an option for you on our list.
Best Wireless Headphones 2022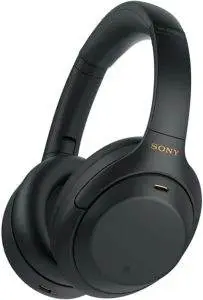 The Sony XM3s is the best 2020 wireless headphone and it's on top of our list for several years, and the WH-1000XM4 improved upon what was already the best on today's market in many areas such as; comfort, sound, and adding more top of the line features.
For starters, the headband received a slight positive change which made it more comfortable to wear for elongated periods of time without feeling fatigued or the urge to remove them. More so, Sony drastically improved the call quality of the microphones and upgraded its voice recognition.
Besides the touch-sensitive and quick attention mode features that the previous model had, Sony also added the proximity sensor feature that allows the headset to detect whether they're on or off and will play and pause the playing sound accordingly. As for the battery life, they can last up to 30 hours on a single full charge. Plus, they have quick charging capabilities giving you up to 5 hours of playtime with only 10 minutes of charging time.
Just like the XM3s, the WH-1000XM4s sport Sony's own HD noise-canceling processor which already the industry's gold standard and works fantastic in terms of canceling ambient noises and enhancing audio quality.  Speaking of audio quality, these headphones produce clean immersive sounds and allow you to adjust and personalize music thanks to the adaptive sound control.
It's safe to say that the Sony WH-1000XM4s reign supreme in the wireless headphones world. However, you have to pay a hefty price in order to get your hands on these beasts.
Pros:
Added comfort
Improved voice commands and microphone
Proximity sensor
Amazing audio output
Industry's best noise-cancellation
Fast charging
Cons:
The Jabra Elite 45H offers tremendous value for their affordability; they rock a robust and comfortable design, produce exceptional sound quality, and are equipped with a myriad of high-end features. And to top it all off they're under 100 bucks.
When talking about the design and build quality of the Jabra Elite 45H, they have a compact foldable build, feel very lightweight, and are easy to carry around. Even though they're lightweight, they still have a solid and durable construction so breaking them should be the least of your worries. Comfort-wise, they are very comfortable and rest on the ears gently due to their soft and moldable memory foam ear cushions. But we have to say that they're not ideal for very active as they are very likely to slip off the head.
Beyond that, they sound extremely good which is not a surprise given the fact that they're from Jabra. They have 40mm speakers that deliver excellent audio quality and music clarity. Furthermore, with the latest Jabra Sound+ app, you can further improve the audio quality and adjust it to your preference. Regarding the speakers, it contains the 2-microphone call technology which basically enables you to take and make calls on the go.
Last but certainly not least, the Jabra Elite 45H features fast charging and the battery can give you up to a whopping 50 hours of playtime before you have to recharge it again. You won't find such amazing features in headphones two or three times its price.
Pros:
Incredible value for its money
Robust yet lightweight and comfortable
Great audio
Jabra app allows you to customize sounds
Convenient microphones
Top of the class battery (50 hours of playtime)
Cons:
They slip off often
Number one on our list is the QuietComfort 35 II from Bose which is the best wireless headphone in 2022, Bose company is known for being one of the best when it comes to making audio devices, and rightfully so, as the QC 35 represents a solid combination of style, comfort, decent sound quality, great connectivity, and outstanding noise-canceling features.
First off, the QC 35 headphones have a simple utilitarian, neutral, and most importantly a very comfortable design. With perfect clamping and plush padding, they're also suitable for any setting and they fit almost everyone.
Even though they're made of plastic they are still solid and can take a beating before they break due to their sturdy and firm build. On top of that, they're very light weighing only 234g which is pretty impressive for a wireless device.
Furthermore, the noise-cancellation features are amazing as you're able to adjust it via the Bose mobile app to full, low, or completely off and it even includes a Google assistant dedicated button that works perfectly. Battery wise, the QC 35 offers 20 hours of continuous use on a single charge. When it comes to audio performance, they produce a surprisingly good soundstage as the mids were clean and balanced and the highs were sharp. Overall, the sounds and bass are good enough to satisfy a wide range of users.
As for the drawbacks, the QuietComfort 35 II doesn't feature aptX support and the plain-looking design might not be everyone's cup of tea. But if you crave comfort as well as decent noise-cancellation you don't want to miss out on these.
Pros
Pros:
Super comfortable
Top class noise-cancellation
Great battery life
Decent audio output
Cons
Cons:
No aptX support
Design isn't so fancy
Sony WH-1000XM3 wireless headphones excel at providing excellent high-quality sounds as they're an upgrade to their already great predecessors with some neat design touches and a combination of high-end features.
The WH-1000XM3 is available in two colors; dark black and platinum silver. The headbands are flexible. They bend naturally, and they have a tight and comfortable fit therefore, you can wear these for hours without feeling any kind of strain or discomfort. Additionally.
These headphones have the ideal noise-cancellation features as they boast Sony's HD noise-canceling processor QN1 that can block mid and high-frequency sounds, the latter also drastically improves the audio performance of the headphones as it can handle 32-bit signal processing giving you the best sound quality. Regarding the battery.
It features fast charging enabling you to have 5 hours of playtime with only 10 minutes of charging, and 30 hours on a single full charge even with NC activated. Lastly. The WH-1000XM3 comes with 2 more standout features, a touch-sensitive earcup which allows you to adjust the volume in a responsive way, and a quick attention mode that lets you turn off NC and music by just holding your palm over the earcup.
On the flip side, the WH-1000XM3 headphones suffer in terms of mic quality and Google Assistant voice commands, though if you're aiming to have the best sound quality there is, it's hard to look past these.
Pros
Pros:
Comfortable fit
Packed with features
Quick charging
Long battery life
Amazing NC and audio features
Cons
Cons:
Microphone doesn't work perfectly
Issues with voice commands
The Sennheiser Momentum 2.0 wireless headphones are made for those who don't mind digging into their pockets to own the best of the best, there are several things that make these headphones so good.
For starters, they're made from a combination of quality leather along with a solid metal frame making them very stylish and also so durable. In addition to that, they're lightweight, pretty portable, and have a nice comfortable fit as well.
However, there's more to the Momentum 2.0 than just their pretty and convenient design, the sound quality these headphones produce is tremendous, they sport deep and rich lows, well-balanced and accurate mids, as well as a crisp and refined high-end. They also have noise cancellation that will help keep that background noise away.
The battery life is expected to last 22 hours of constant use. Concerning the wireless connection, the Sennheiser Momentum 2.0 has Bluetooth 4.0 implemented for high-efficiency pairing and connection as they connect to your mobile devices automatically. To conclude, they have two control buttons that feel very intuitive and easy to use and another multi-function button to answer calls, pause, play and skip tracks.
Unfortunately, the high price-tag of the Sennheiser Momentum 2.0 stirs the attention of some buyers away. All in all, this is a great option for those who can afford it.
Pros
Pros:
Attractive design
Comfy, lightweight, and portable
Amazing overall sound quality
Easy pairing and intuitive controls
Cons
Cons:
Another Sennheiser product on our list is the PXC 550 wireless headphones. They're just as good as the previous model but it feels like they were specifically tailored for long-distance travelers with their super comfy design and awesome NC features.
Right off the bat, their design is simpler and has a more streamlined look compared to previous models, the buttons are small and subtle thus they draw no attention.
Moreover, the egg-like shaped earcups and headband are made of an inch thick padding covered with a soft faux breathable leather so they sit comfortably around the neck.
Making them the way to go for travelers and commuters that have to deal with long flights on a regular basis. The brilliant active noise-cancellation on the PXC 550 comes with 3 modes; full NC, off, and the third mode is designed to adapt the ambient sounds giving you the right level for your surroundings. In terms of audio quality, the PXC 550 headphones offer a well-tuned sound with an extra dose of fun in every music genre.
You can also use the CapTune app you can customize your sound profiles with EQ and DSP effects. Last up, the battery delivers 20 hours of playtime which is plenty for most users.
Just like the Momentum 2.0, you have to spend big to get the PXC 550, another setback is the fact that the touch controls aren't so responsive on the latter. Aside from this, the Sennheiser PXC 550 serves as the perfect companions for those who are always on the road.
Pros
Pros:
Ultra-comfortable
3 NC modes
Amazing sounds
Customized sound profiles
Decent battery
Cons
Cons:
A bit pricy
Touch controls aren't so intuitive
The V-Moda Crossfade 2 certainly isn't as popular as the other models on this list, but they're quite versatile as they perform well when it comes to ordinary listening and for gaming thanks to the exclusive components they're crafted with.
The Crossfade comes in 3 different colors matte black, rose gold, and white. But more importantly, they have a steel frame that allows you to adjust the headphones without any noise, a steel flex headband covered by vegan leather, along with memory foam cushions for more comfortable wear and fit.
In summary, they're aesthetic, durable, and will last you an eternity. Moreover, the pairing process and audio performance on Crossfade 2 are their biggest selling points. They rely on the high-quality streaming codec aptX Bluetooth support to connect to other devices.
As for sound quality, they deliver a perfect and natural bass that is optimal for any genre, they can also produce a three-dimensional soundstage with a detailed and textured mid-range. Overall, the sound output is clear, rich, full and would satisfy most people.
Furthermore, they have noise-cancellation capabilities, and they're equipped with an inline microphone that enables you to be heard properly. As far as the battery goes, they can function for 14 hours before they run out of juice, but you can switch to the wired mode in case you want more listening time.
The battery on the V-Moda Crossfade 2 just doesn't cut it compared to its competitors but these are not necessarily commuters' headphones, and they're catered towards gamers, so if you're a gamer you just can't go wrong with these.
Pros
Pros:
Built with high-quality materials
aptX support
Clear detailed sounds
Decent microphone
Offer good noise-cancellation
Cons
Cons:
8- COWIN E7 Pro: Best for People on a Tight Budget
The COWIN E7 Pro wireless headphones are living proof that you don't always have to break the bank to get the good and trust-worthy product you desire.
The Cowin E7 Pro headphones work with both wireless and wired modes giving you a more immersive listening experience as well as extended battery life.  These headphones feature professional active noise-canceling technology to drastically reduce ambient noise.
Additionally, they come with 45 mm large-aperture drivers that deliver a deep and accurate bass response, giving you crisp and vibrant audio from the low range to mid-range, to high range. Design-wise, they have a solid sturdy build and they have soft earcup cushions to offer the much-needed comfort, the earcups can also turn around for more convenience.
Moreover, the built-in microphone will allow you to make clear hands-free calls, and the NFC pairing feature is so easy to use thanks to the voice prompts that will guide you in the process of establishing a connection. Last but not least, the Cowin E7 Pro battery life is outstanding, as the 800 mAh battery provides 30 hours of usage on a single charge and it can be recharged in no time.
The Cowin E7 Pro shortcomings are; the slightly chunky design and the mediocre microphone. If you don't mind these minor flaws and got a few bucks to spare and these will give you the best value for your money.
Pros
Pros:
Reasonably priced
Has nice NC despite being inexpensive
Very durable battery
Rugged build
Easy and convenient pairing
Cons
Cons:
Bulky design
Average quality microphone
The Sony XB950B1 Wireless Headphones are designed to please the bass enthusiasts that enjoy the quite punchy and loud music genre, and they also deliver in the other aspects as well.
The XB950B1 has a common Sony design that boasts a prominent wide headband with perfectly circular earcups. The elegant color scheme is mostly black with some steel on top of the headband and red lines around the earcups.
The foam padding has oval cutouts and thick padding to fit the ears perfectly. Furthermore, the earcups have control buttons on both sides, a micro USB charging port, and a 3.5 mm headphone jack for wired use. The right earcup also has an NFC sensor for quick and easy pairing with your mobile devices.
In regards to the audio performance, with the BASS EFFECT feature on maximum, the XB950B1 headphones produce one of the richest and fullest basses you'll ever come across, it is like being in an actual party. To continue, the mids and trebles are still pretty good considering the overpowering bass that interferes with the sound quality a bit. In terms of battery life, the XB950B1 is estimated to last 16 hours of usage on a single charge and they barely get hot.
Regarding the negatives, the app has nothing to write home about and the wired mode seem to give some users a hard time. Aside from that, if you're a bass enthusiast the XB950B1 is made exactly for you.
Pros
Pros:
Bass Effect feature
Very powerful bass
Fit nicely
Beautiful design
Cons
Cons:
Lackluster app
Wired mode causes some issues
10- Jabra Move: Best Affordable Headphones for Fitness
Next up is the Jabra Move, if you want a stylish and reliable pair of wireless headphones, with quality sound, lightweight, fluid connectivity, and decent battery for a reasonable price, then look no further than the Move.
The Jabra Move is available in a number of eye-catching colors so you can pick the color that suits your style, they also boast a solid minimalistic yet attractive design that's ideal for sports, with its dust-resistant, perforated and padded mesh fabric headband.
They only weigh 150 g despite its body being made of stainless steel that connects the headband and earcups thus these headphones offer you a combination of comfort, flexibility, and durability.
The controls are intuitive and hey sit on the earcups with a power button that acts as a Bluetooth button and a micro USB charging port. When it comes to audio quality, the Move is equipped with a DSP that provides an appropriate bass response with clear a clear midrange and sharp highs. Moreover, they deliver 8 hours of constant playtime and Bluetooth 4.0 ensures seamless connectivity even at an extended range.
Although the sound leakage on the Jabra Move can be a big issue for some users, plus the battery life seems to be lackluster, they're still a great choice for active people.
Pros
Pros:
So affordable
Durable and flexible build
Fancy Design
Nice bass
Decent connectivity
Cons
Cons:
They leak sounds
The battery isn't the best
Wireless Headphones Buyers Guide
There is an array of wireless headphones on the market today and they vary in terms of sound and build quality, battery life, connectivity, price, and extra features. Some excel at doing certain things while being average at other, some are like a jack of trades, and of course some are simply better than others in every way. So, before you purchase any set of wireless headphones you need to put into consideration several factors to find the ones that perfectly match your needs. In the section down below we will guide you through these factors in order to shed some light and make things easier for you whatever your budget and needs are. So, keep your eyes peeled.
Build and design:
Comfort is crucial when it comes to wireless headphones, as an uncomfortable set will ruin your listening experience even if the headphones have the best sound quality. Hence, you should always pick a model that has is suitable and easy on your head and ears. Furthermore, being robust and waterproof is also a big bonus especially if you're an athlete that moves around quite a lot. There are divided into two main design categories; circumaural and supra-aural.
 1-Circumaural:
In other words, over-ear, they completely cover and surround the ears with the ear pads. They are usually bulkier and will block almost all ambient noises and as a result they will give you a more immersive listening experience with a better bass response. Hence, they're optimal for audiophiles, music enthusiasts, or those who travel on planes.
 2-Supra-aural:
Also known as on-ear, they're a little bit more compact and rest on the ears rather than fully enclose them. They offer a lighter fit with less noise-isolation in comparison to their over-ear counterpart. They provide more comfort if you're very active or the athletic type. On top of that, the sound they leak in will enable you to be aware of everything happening around you.
Sound Quality
Consider the type of music you prefer and make sure to do your research and homework. For instance, some headphones tend to be neutral, some drastically boost the bass, and many others tend to lean towards clear mids at the expense of low ends. Case in point, if you're an audiophile every tune and bass drop matters, so stick to the headphones that prioritize sound quality and bring you the best audio features according to your music genre and personal taste.
Connectivity
Some smart devices nowadays don't include headphone jacks in their build. In that case, a wireless headphone should be your only option if you want to listen to music on the fly. That said, you need a fluid and seamless connection with an easy pairing process, otherwise, what's the point of having wireless headphones?
Battery
All wireless headphones utilize built-in batteries, and battery life differs wildly between different models. They typically range between 4 to 50 hours of listening time depending on the size and quality of the battery. Moreover, some wireless models feature fast charging capabilities which allow you to fully charge your headphones in a matter of minutes. So, choose a pair of headphones that offers long battery life with quick charging features if you don't want to recharge your pair of headphones every two hours or so.
Noise-cancellation
Some companies have built their whole brand around active noise cancellation for the purpose of making everything around you quiet. But this feature may be of less or more important to you depending on how much you travel or how loud your environment is.
On one hand, if you travel a lot or live in noisy surroundings, spending the money on a set of headphones with decent noise cancellation may be the best option for you. On the other hand, if none of those things are a concern to you, you can save up cash a little bit and get a pair of regular over-ear headphones. The latter will still give you a fair amount of noise cancellation or what some like to call 'passive noise cancellation'.
Microphone
In general, if you're the type of person that talks on the phone quite often or someone who relies on voice assistance a lot such as Alexa and Google on your device, you should consider buying a wireless headphone with a good and reliable inline mic.
Pricing
There are many great options for people with different budget categories. If you're in a strong financial position, you can spend a decent amount of money and go for the top of the line models and get every high-end feature one can ask for. At the same time, if you only have few bucks to spare and want a decent and affordable set of headphones, there are many options in the market that deliver so much value for the money. Also, if you buy an affordable pair, you can easily replace them when you break them or lose them.