One of the biggest priorities of people in this day and age is maintaining a hygienic environment and surroundings and by using the best cordless vacuums that would be much easier. Case in point, the key to having a clean house that is free of debris, dust, and allergens boil down to owning a premium and solid performing vacuum cleaner, the latter come in different types and shapes, but in this article, we are going to mainly focus on the cordless type, which is fairly lightweight and more hassle-free compared to its corded counterpart.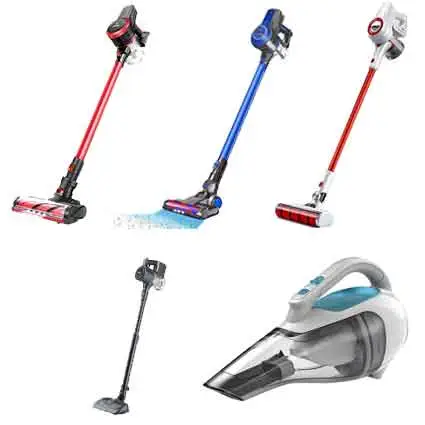 There is an array of options to choose from when it comes to cordless vacuums, and picking the one that meets your cleaning needs can be a difficult task. For that, we did our homework and narrowed a list of the best ones available on today's market, we ranked them based on performance, maneuverability, price, and other useful features. So without any further ado, here are our top 10 recommendations.
Best Cordless Vacuums 2022
Recently introduced to the cordless vacuums market, the Roborock H6 Adapt is the best cordless vacuum in 2022 has all the latest features and technologies to cement its place as a premium and reliable vacuum cleaner.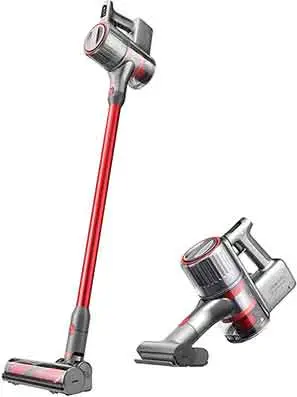 As stated above, this vacuum boasts plenty of new and useful features that are exclusive to high-end models such as; a Sealed HEPA Filtration system that leaves no room for leaking what you picked up, as well as an auto-suction adjustment feature that optimizes cleaning and battery life, combined with a digital OLED display that gives accurate digital battery life readings and provides various alerts.
What's more, the Roborock H6 comes with a built-in sensor that can detect which type of surface you're cleaning whether it's a hard floor or a carpet. Its suction power is off the chart, being able to collect debris from 8 inches to ¼ inch crevices, along with picking up from large to fine debris that is deeply embedded into carpets with no signs of clogging. As for hard floors, although it easily handles fine debris, it struggles with larger debris.
Weighing in at around 3lbs only, this vacuum is relatively light and maneuvering it around the house is a breeze. As for the battery, it is not removable but it can last up to an hour and 30 minutes on a single charge. Last up, it comes with a useful set of attachment for different cleaning purposes; a motorized brush, crevice and dusting brushes and a Flex tube attachment that help you clean places that are hard to reach.
Pros
Excellent set of premium features
Featherweight
Great for carpets
Long battery life
Cons
Not ideal for large debris on hard floors
Non removable battery
LG is notorious for making top-notch household appliances and electronic devices, and the Cordzero A9 Ultimate is another prime example of the quality products that this company makes.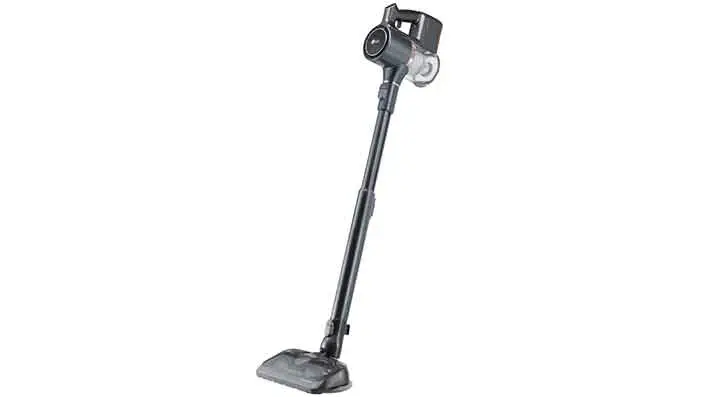 The LG Cordzero A9 is a high-end cordless vacuum that features tons of attachments and cleaner heads that will cover all your different cleaning needs. Perhaps the most interesting attachment that is included in the package is the Power punch nozzle, this handheld tool features a vibrating interior rather than a spinning brush making it more efficient at cleaning surfaces without getting hair tangled.
Besides the Power punch nozzle, this vacuum features two main cleaner heads; on one hand, you will have an excellent soft-roller attachment for hard floors, picking everything from fine to extra large debris, while the second roller specializes in deep cleaning carpets. The only downside is switching between rollers can be a bit of a pain if you have a mixture of hard floors and carpets.     
The charging stand sets this vacuum apart from its competition, as it is very sturdy and has a heavy base that can be used in a variety of configurations and also use it for storing some of its tools, it is simply the best stand in the industry. Concerning the battery life, it comes with two removable batteries which are a big plus, with each battery giving you up to 37 minutes of runtime, or 74 minutes in total. Moreover, it weighs about 5.6lbs and has a sealed HEPA filtration system with washable components.
Pros
Comes with plenty of attachments
Power punch nozzle that doesn't allow hair to be tangled
Amazing charging stand
Two removable batteries
Cons
Changing cleaning heads can be annoying for those who have different surfaces
Expensive
Packed with features and attachments along with its impressive suction capabilities, the Tineco Pure One S12 Plus will be the best solution to all your cleaning problems.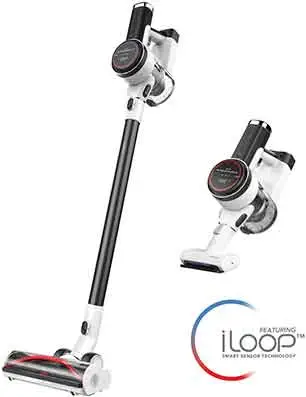 FStarting with the performance, it boasts the unique iLoop Smart Sensor Technology that optimizes performance along with battery life, by sensing hidden dust and debris as well as boosting the suction power if floors are very dirty and dusty. On the other hand, if the surface isn't that dirty it runs on very low power to save on battery life. In addition to that, it has impressive deep cleaning ability thanks to the direct driver head for carpets, and the soft roller cleaner head for hard floors, which has no trouble picking up all kinds and sizes of debris.    
Moving on to the attachment, the Tineco S12 Plus package includes a motorized pet brush that deals perfectly with stairs and upholstery, two cleaning heads for both carpets and hard surfaces, a hose extension tool, a crevice tool, and a filter cleaning tool. The package also includes two batteries that offer a runtime of 1 hour and 40 minutes on low power. As for its weight, it's a little bit on the heavy side with 6.6lbs but it is still manageable.
A decent HEPA filtration system is a necessity therefore the Tineco manufacturers made sure to put a firm and sealed filtration system in place. Another cool feature that the Tineco S16 Plus has is LCD screen that shows the percentage of the battery life, the power level, and the cleaning mode. Please check our complete in deph-reviews of the best pet hair vacuums.
Pros
Advanced Smart Sensor technology
Effective cleaning on hard floors and carpets alike
A plethora of handy attachments and tools
Two removable batteries that offer a long runtime
Cons
A bit pricy for a cordless vacuum
Can be heavy for some folks
Next up we have the Shark Vacmop Pro, a budget-friendly yet powerful vacuum for hard floors that can also work as a mop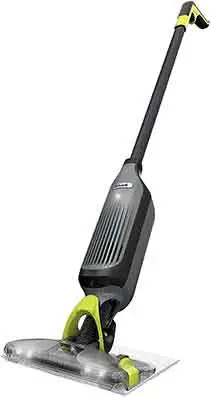 The Shark Vacmop Pro was designed for people who have 100% hard floors to clean, but one of the things that separate it from the pack of other hard floors cleaners is the fact that it can be used as a mop. Hence, you can either vacuum debris as you mop or pick up debris first then mop, all you have to do is fill the reservoir with Shark's own cleaning liquid or any other cleaner you prefer, then attach the mopping pads that have a dirt bin for the debris that is vacuumed up.
In terms of suction power, it is right up there with the most powerful and premium vacuums, and its ability to pick up debris is really impressive considering its low price tag. This vacuum cleaner collects both large and small debris effectively even when the mop pad is on, it still doesn't compromise its pick up ability in the slightest. 
The Vacmop is very compact and lightweight at less than 4 pounds, making it ideal for stairs and places that are hard to reach. As for the battery life, it only lasts for 12 minutes but it is expected given its power output and the fact that is intended to clean smaller places. All in all, if you're looking for low maintenance and affordable vacuum for your apartment or an all hard floor room, the Vacmop is your best bet.
Pros
Affordable
Very powerful for its price
Extra lightweight
Great for hard floors
Cons
Not meant for carpets
Short battery life
The Dyson V11 Torque Drive is considered by many reviewers and experts as the undisputed king of cordless vacuums thanks to its tremendous power and exceptional battery life.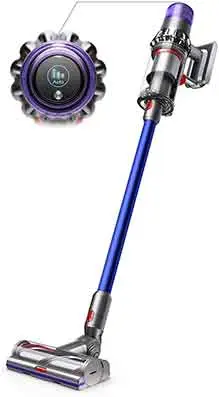 The Dyson V11 Torque is an improved version of the already good V10 model, as it sports more features, more power, and a wider variety of attachment, thereby making your cleaning task a whole lot easier and pain-free. For instance, it features a new LCD display that shows battery status and the equipped attachment and most importantly enables you to select between low, medium, and high power as well as auto-mode. It also alerts you when it's time to change the filter.
On top of that, it has a high torque cleaner head which has a Dynamic load sensor that can recognize the type of surface being vacuumed and automatically boosts the suction power if deep cleaning is required. Speaking of deep cleaning, the V11 Torque excels at picking up everything from pet hair to fine and large debris without leaving anything behind, owing to its best-in-class suction power, as well as the advanced whole-machine HEPA filtration that ensures 99.97% of allergens and dust particles are fully trapped inside.
Besides the high torque cleaner head, it has several other helpful attachment like; a soft roller for hard floors, a mini motorized brush which is made for stairs and upholstery, a dusting brush, a stubborn dirt brush, a wand storage clip, and a docking station. In regards to the battery, it gives you 30% more battery life than the V10 with an hour and 20 minutes. However, the bigger battery means more recharge time and makes the V11 heavier with 6.7lbs of weight. 
Pros
Off the chart suction power
Convenient LCD screen
Ideal for carpets deep cleaning
Smart sensor
Cons
A little bit heavier than the previous model
Long recharge time
If you're a pet person and struggling to find a vacuum cleaner that efficiently handles pet hair and dander, the ICONpet from Bissell will rid you of this problem and then some.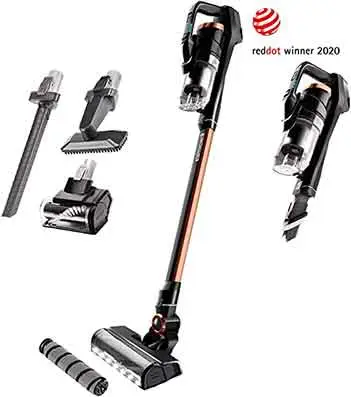 A handful of companies have been trying to figure out a way to combat pet hair tangles and wrap on brush rolls for quite a while, and thankfully Bissell has succeeded in doing so by implementing a patented Tangle Free 3200 RPM spinning brush roll that perfectly vacuums all pet hair with no hair wraps stuck inside the vacuum or left behind. Additionally, it features a post-motor filter that works just as good as a HEPA for trapping allergens coming from pet hair and dust, meaning it's the best choice for pet households.    
Despite weighing around 7lb which is slightly heavier than average, its handling and maneuverability are still pretty good due to its smooth and accurate swivel, and its over the top curved handle which gives you the option to hold it from the top of the sides. The ICONpet vacuum operates ideally on high and medium power, it picks up stubborn and embedded debris with ease, but it struggles with heavy fine debris on hard floors if you only use low power.
Another major selling point of this vacuum is the battery life, giving you 18 minutes of use on high power which outlasts even the most expensive and premium vacuums in the industry. Finally, it has integrated LED lights on its cleaning head which is very helpful at times.
Pros
Excellent for pet hair
Very maneuverable
Longest battery life on high power
LED lights are a nice addition
Cons
Heavy
Doesn't perform well on low power
The MOOSOO 17Kpa is a flagship cordless vacuum cleaner that outperforms most of its competitors which are twice its price.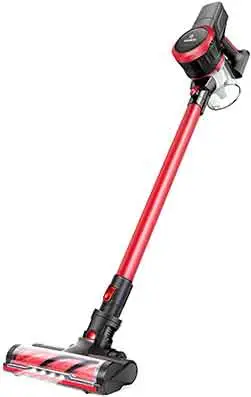 To start off, this vacuum has an impressive suction power with two power modes; a standard 10kpa for cleaner surfaces with little debris, and a 17kpa Max power mode for thorough and deep cleaning on carpets and messy hardwood and tile floors. In addition to that, the built-in electric Turbo brush with soft and still bristles that provides a more efficient dust vacuuming on both hard floors and carpets. It's also important to note that it does very well with pet hair as there was very little hair tangle when testing it. Add to that, its canister doesn't get clogged at all no matter how much debris you pick up.  
In regards to its weight, the main body weighs just about 2.84lbs so it's extremely lightweight and portable, couple that with an ergonomic handle and you'll have no problem maneuvering it around the house whatsoever, as well as cleaning high places without your arm fatiguing. Although the filtration system of the Moosoo is washable and captures most microscopic dust, it's still subpar compared to other vacuums.
Battery-wise, the Moosoo 17Kpa comes with a removable and replaceable battery with above average times for its price range scoring 15 minutes on high power. Also, the package contains three serviceable attachments, and the main cleaning head has LED lights mounted on it, which is a welcome addition.
Pros
Offers great value for its price
Easy to carry
Powerful suction and good for pet hair
Works well on both hard floors and carpets
Cons
Average battery life
Mediocre filtration system compared to other vacuums
 The Vaclife is our top pick for cleaning furniture and car cleaning, simply because it's affordable, ultra-portable, and very powerful for its size.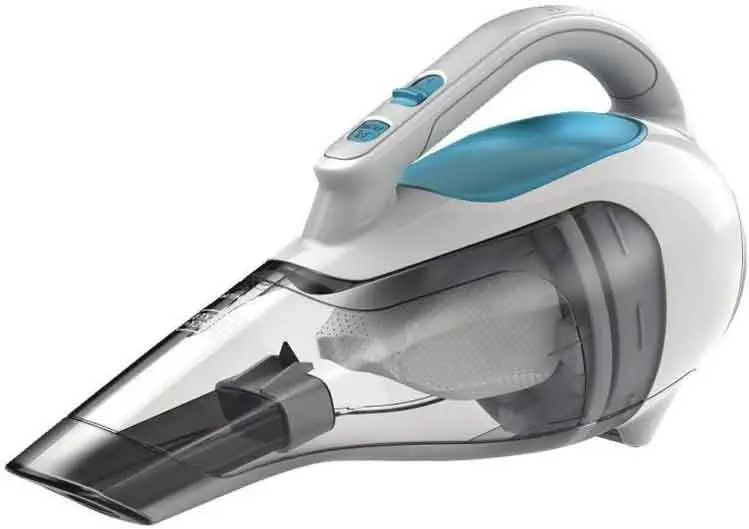 The Vaclife rocks a powerful motor that gives it amazing suction abilities; it is excellent for daily house cleaning and keeping your furniture or the inside of your car neat and free of hair, dust, and stains. What's more, it is equipped with three types of nozzles for maximizing your car cleanness, as well as deep cleaning gaps in couches, beds, and sofas. Due to its small size and compact design, it is incredibly portable and you can effortlessly carry it and use it to reach hard places that you can't get to using other vacuums as it only weighs a mere 1.9lbs.
This handheld vacuum has a durable battery that offers 30 minutes of continuous use and can clean up your entire room furniture in one go, and it takes about 4 hours to fully charge. Furthermore, it does come with washable HEPA filters, innovative wraps, as well as an easy, to empty detachable dust cup, don't expect it to do as good a job as other more expensive vacuums out there, but at least you won't have to worry about leaving most of the vacuumed up debris behind.   
In addition, it has a bright LED light that comes in handy in dark places; you never know when your car needs a quick cleaning job at night. The only thing that holds it back is its inability to clean large rooms or surfaces but this vacuum was never geared towards handling these tasks in the first place.   
Pros
Best choice for cleaning cars and furniture
Very affordable
Extremely portable
Decent battery life
Cons
Only good for smaller applications
Average filters
The Nequare 18Kpa is regarded by many people as a cheaper alternative to the Dyson vacuums, and perhaps it isn't that far off.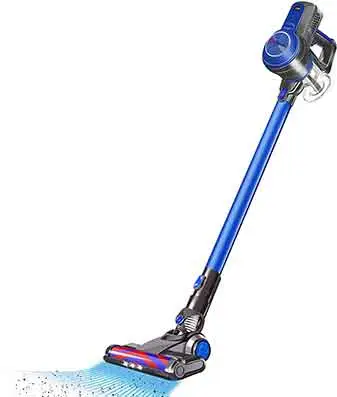 Right off the bat, you'll notice that the Nequare boasts a similar design to the all popular Dyson vacuums, but not only does it look like the Dyson, but it also has nearly the same suction power output and cleaning performance with a fraction of the price. It has a noise-free 200watt brushless motor that delivers a powerful suction on Max mode, enabling you to easily pick up dust, debris, and hair on carpets, hard floors, furniture, curtains, and even ceilings thanks to the floor-to-ceiling attachment.
Weighing in at 6.5lbs, it isn't particularly the lightest vacuum but it is still quite manageable by most people. It comes with a ton of useful attachment and accessories including the main head which is a Full-size multi-tasker brush with LED lights, Mini power brush for stairs and upholstery, a 2-in-1 dusting brush for curtains and furniture, a nozzle for crevices, and a hard bristle roller for carpets.
Moreover, it has detachable and washable sponge filters but they're not as effective for capturing as a sealed HEPA filtration system. Nevertheless, it features hygienic bin emptying that allows you to get rid of dust and debris without having to touch the dirt cup. Last but certainly not least, the long lasting battery of Nequare is one of its best features, giving you 18 minutes of use on a single charge.
Pros
Best value for its money
Powerful motor that improves its pickup capabilities
An abundance of useful attachments
Amazing battery life
Cons
A bit heavy
No HEPA filtration
Xiaomi is notorious for making budget-friendly devices that have high-end specs and features, and the Jimmy JV51 isn't any different.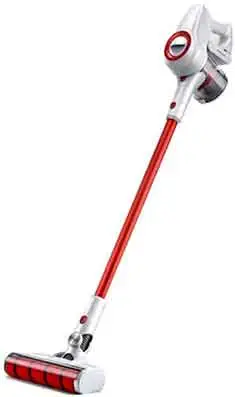 The Jimmy JV51 is really powerful and because of this power and the seals on the bottom of its main cleaning head, it performs amazingly well, picking up every ounce of debris in a single forward pass which is uncommon. Its hard floor soft roller is well designed to tackle heavy fine debris like sand and larger debris as well, and the best part is there wasn't even a hint of a clog even after picking large amounts of various types and sizes of debris.
Xiaomi claims that the soft roller is also well-suited to clean short pile carpets, but in spite of having no issue collecting debris on the surface of the carpet, it struggles with deep carpet cleaning.  Furthermore, it features great hair pick up ability and tangle resistance due to the little combs within the cleaning head, so it's really efficient at vacuuming up pet hair a hard floors.
It comes with a valuable set of tools and attachments like a combo crevice tool, an upholstery tool, a wall mount, and a motorized pet brush for stairs or cars. As for filtration, it has sealed HEPA filters that leave no room for leakage. It is fairly lightweight with 3.5lbs and it has a smooth swivel especially on hard floors. Lastly, it comes with a removable battery, but unfortunately it only last about 8 minutes on high power.
Pros
Outstanding power
Excellent for hard floors
Lightweight and maneuverable
Budget-friendly
Cons
Lackluster battery
Not ideal for deep carpet cleaning
How to Choose the Best Cordless Vacuum for You
Needless to say that nowadays everyone needs a vacuum cleaner regardless of what size and type of surface you have; whether it's hard floors, carpets, a mixture of both, furniture, cars, you name it. When it comes to cordless vacuums, there's no size fits all and choosing the perfect vacuum for you depends heavily on your personal requirements. With that said, we are to run you through a number of factors you need to consider to help you determine which one is best suits your cleaning needs and your budget.
Types of cordless vacuums
There are three sorts of cordless vacuums and they differ in terms of price, functionality, performance, and a few other aspects.
Stick:

Lightweight and reasonably priced, they're generally good for cleaning average and small-sized rooms, ceilings, and carpets. They usually don't produce a lot of suction power; however, there are some really powerful models out there.

Handheld:

In addition to being extremely lightweight and portable, they're also so affordable. They're namely designed to pick up small bits of debris and clean furniture, cars, curtains, and hard to reach places. On the flip side, they don't boast a lot of power and they are not intended for big cleaning tasks.

Upright:

They tend to be a tad bit more expensive and heavier in comparison to the two previous types, but they sport more features, high-end performance, and they pretty much can handle all sorts of the biggest and messiest surfaces with ease.
Battery life
This is basically the amount of time you can use the cleaner in one full charge. If you have a big house to clean, we can't stress enough how important it is for you to buy a vacuum that comes with big battery capacity, or one that includes two batteries in the package. Other than that, a vacuum with average battery life numbers will have you covered in most cases.
Maneuverability & Portability
Check out the weight of the vacuum and pick one that is suitable for you fortunately most cordless vacuums these days are lightweight and have smooth swivels, so they can be used by almost everyone.
Attachments and tools
Typically most cordless vacuums come with all sorts of attachments and tools; soft roller heads for hard floors,  motorized brush heads, dusting brushes, combo tools for upholstery and stairs, crevice tools; extendable hoses and wands, charging stations, and plenty more. It's up to you to choose the appropriate set of tools for your specific cleaning tasks.
Filtration
Has it got detachable and washable filters? There's nothing worse than buying a vacuum cleaner then realizing you have to spend extra every 6 months to get new filters. Another thing to watch out regarding the filtration system which is especially important allergy sufferers is whether or not the vacuum has a reliable filtration system in place. A sealed HEPA filtration system is the most common and effective way of capturing and trapping everything you picked up from allergens to dust particles inside the dirt cup. So make sure to buy something with sealed HEPA filters and look after your health.
Bin Capacity
You don't want to be constantly emptying the bin and make your cleaning task rather tiresome, so check the size of the dirt cup prior to buying your cordless vacuum cleaner.