Drones are undoubtedly becoming a huge trend in recent years, finding the best drone for 2022 is not an easy task. The reason why you need one is surely not because they are only fun toys to fly around. Now they are actually being used by both amateur and professional photographers, videographers worldwide. due to the fact that they're capable of capturing pictures from spectacular angles. Also, the possibility to reach areas that other regular
cameras wouldn't be able to reach.
Another reason why drones have seen a rapid rise in popularity recently is their decrease in price and increase in the sophistication of the electronics. Also, the software used in their design.
Drones now come with better and smaller computers that use miniature sensors that can detect movement, acceleration, air pressure, and even provide GPS location data. All this high-end technology enables drones to become a self-contained flight system.
With that said, photographers are not the only ones familiar with drones; they are fairly popular with hobbits, farmers who want a cheap way to monitor the health of their crops, realtors that want to show off their properties to potential buyers, and adventurers who want to share their thrilling adventures. Here are the top 10 drones:
This article is for any of you who are thinking about buying a drone. But before you do buy one, you need to know what you want in your drone and pick accordingly, as each drone has its own characteristics and strong points.
That's why we did the research for you and made a list of some of the best drone cameras available in the market today. Without any further ado, let's get started!
[toc]
Best Drones 2022

The DJI Mavic Air 2 is the best drone 2022 and it has a quite improvement compared to DJI's previous models as it offers a plethora of high-end features and keeps the same friendly staring price. It's the perfect mid-range choice for those who are in it for both pro level features and ease of use.
For starters, this aircraft comes with a ½ inch CMOS sensor and a 22mm lens that shoots super still 48mp photos, as well as a 3-axis gimbal that's ideal for taking 4K/60fps videos. It also features a 7fps burst shooting, bracketing, a 180° Panorama mode, HDR, and a whole heap of other functions that will take your aerial photography experience to another level.
For instance, the new Intelligent Scene Recognition combines hyper light and HDR into a single mode to create accurate and dynamic scenery by intelligently changing the camera settings. Additionally, the Mavic Air 2 boasts an ActiveTrack 3.0 and automatic flight planning which facilitates flying especially for beginners. Not to mention that it is equipped with obstacle avoidance technology and landing sensors to ensure safe flights.
Moreover, the Mavic Air 2 weighs a mere 1.26lbs making it super light and portable and it enables you to fly for 34 minutes straight, within a 10.000 mile range, and an with impressive top speed of 42.5mph.
Last but not least, the app runs smoothly and it is nicely streamlined and very user friendly. However, few users claim that they had issues with activating and installing the app.
Pros:
Top notch photography features
Easy controls
Safe flights and landing
Lightweight
Cons:
Some people deem the app to be faulty
2. Holy Stone HS510: Most compact and lightweight drone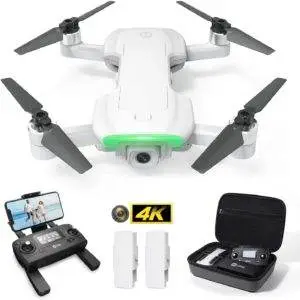 Next up, we have a quality drone that it is unbeatable so far when it comes to portability and value for the money. The Holy Stone HS510 is designed for those who want a convenient and trust-worthy drone without having to spend big.
This drone is the ideal travel companion because it comes with its own travel carrying case and due to its very lightweight, portable and practical nature. Thanks to the compact design, the quad copter arms and propeller blades can be assembled quickly, efficiently, and hassle-free. Given the fact that it is very small and weighs around 0.55lbs only, it is definitely one of the smallest drones out there and you even won't have to register it with the government.
As far as the camera goes, The Holy Stone HS510 camera delivers smooth, dynamic, and high quality 4K videos 16fps and 2.7K videos at 25fps along with clean and polished aerial photographs thanks to its outstanding 120° wide-angle lens. What's more, with the help of the GPS follow me and TapFly features this drone enables you to capture very stabilized and steady aerial shots.
It also includes reliable navigation systems; GPS and GLONASS which will give you access to dual site connectivity and allow you to maintain seamless connection outdoors. On top of that, it has the much needed optical flow positioning, return-to-home technology, and precise landing technology.
Lastly, the HS510 can achieve a maximum speed of 32mph and the battery will give you around 16 minutes of flight time with 150 minutes of charging time. Speaking of which, the charging duration is sadly too long considering the amount of flight time you get in return.
Pros:
One of the lightest drones available
Cost-effective
Decent camera
Great connectivity and navigation systems
Perfect for travelling
Cons:
Short flight time
Mediocre charger
1- DJI Mavic Pro: Best Portable Drone Camera
The DJI Mavic Pro has been designed to be taken anywhere when you feel like flying or need to capture an astonishing view, unfold it and you're basically ready to go in under a minute.
The Mavic has been carefully shrunk down to fit in your bag without skipping on technology, also without sacrificing some of the great features that make the drone the great flyer it is.
The Mavic makes capturing an epic tracking shot of a friend easy as it comes with a spotlight mode where the camera stays focused on your subject while you're flying around.
The Mavic's expertly miniaturized gimbal keeps the entire camera steady in addition to the fact that you don't have to deal with the weight of a bulky add-on camera.
Furthermore, the Mavic relies on a 5 sensor system to recall locations and connects with up to 20 satellites so it can head back by itself. Last and not least, this drone comes with precision landing technology that enables it to land exactly where it took off. Also the ability to avoid objects at its path.
It also has sport mode to make your pulse and blood pumping while you fly at an incredible 40mph, trace mode enables you to follow behind your targets while they move. With just a few simple taps everything can be controlled using the gamepad sized controller you can carry in your pocket.
The main issues with this drone are its instability in strong winds, and object avoidance only works when flying forward. But make no mistake no matter whether you're a novice or a flying ace, the Mavic Pro is one of the best drones you can buy.
Pros
Pros
Very lightweight and carriable
Variety of modes
Precision landing technology
Object avoidance technology
Cons
Cons.
Object avoidance only works when flying forward
Unstable in strong winds
If you need amazing aerial imaging, a brilliant camera, an aircraft you can trust, as well as the intelligence to create cinematic shots, the DJI Phantom got you all covered.
The Phantom 4 is equipped with an F2.8 apertures mechanical shutter and large 1-inch sensor combined together to make brighter, sharper, and more detailed imagery and scenes. In addition to recording cinematic 4k videos at 60fps, with more advanced compression and a wider dynamic range that record stunning detailed slow-motion aerial videos.
Thanks to the new ultra-bright 5.5-inch monitor you can see your screen perfectly in direct sunlight. Moreover, this drone has Light Bridge technology installed within that enables it to automatically detect interference sources, switch transmissions for more reliability.
Moreover, the Phantom 4 is as adept instills as it is with video, capturing every detail at 20mp. It has a built-in mechanical shutter that eliminates rolling shutter bending, and also comes with burst mode to capture the perfect moment.
Reverse tap fly has also been added in order to capture flying selfies. Last up, the Phantom 4 has a plethora of sensors in the rear, sides, and downwards for a more worry-free flying experience. The Phantom 4 comes with 3 new smart flight modes, profile mode that tracks your subject horizontally, spotlight mode locks the camera on a subject regardless of your direction, and circle mode that swings 360 degrees around the subject.
Unfortunately, The Phantom 4 can be pricy for some and slightly big for others, apart from that it doesn't get any more professional than this drone.
Pros
Pros
Array of sensors
Slow-motion videos
Professional camera with impressive capture modes
Cons
Cons.
Very expensive
Big and large size
The Parrot AR Drone 2.0 isn't the newest thing on the market but it has a ton of cool features, colors, and parts which are most reasonably priced compared to other drones.
There are various versions of the AR 2.0 from the common blue and orange, to the elite version and the power edition upgraded with more tricks and longer battery life.
The camera loads up on the screen and the controls are inside the camera screen which makes it easy to control especially if you are used to playing on your phone.
This drone comes with a battery that lasts from 12 to 15 minutes, it has a 720P and an autopilot feature and it actually has a fairly sturdy build. It is compatible with both iOS and Android and very easy to connect and set up the app with your phone.
On the downside, the software of the AR 2.0 is glitchy, the camera quality is a bit lackluster, you can't use if without a smartphone, and the battery life is so short. Bottom line although this isn't the best drone out there if you're new to drones and have few bucks to spend this is a great place to start.
Pros
Pros
Very affordable
Availability of its parts
Beginner-friendly
Comes with different colors and parts
Cons
Cons.
Very short battery life
Only works with smartphones
Glitchy app
4- DJI Inspire 1: Best Expensive Professional Drone
The DJI Inspire 1 gives you everything you need for aerial filmmaking and photography as it is integrated into an advanced and sophisticated turnkey system.
Specifications wise, the Inspire 1 weighs 6.5lbs with the 6000mAh battery included. The camera supports 4k video recording capability both full 4k in 24 and 25P as well as Ultra-HD 4k in 24-25 and 30 P at up 60fps and the lens offers a 94 degree of view. Regarding the gimbal.
In-flight the Inspire 1 feels extremely stable even in high altitude and with strong winds, this drone also has the ability to set a dynamic home point thanks to its advanced GPS technology. Another feature that has been introduced by DJI via this drone is Optical Flow, a downward-facing camera that helps with the stabilization of the unit by tracking the terrain below.
The Inspire 1 design advanced and ready-to-fly design is lightweight and flexible and will allow you to start flying right away. It's actually a whole new model not just an upgrade to the other Phantom products.
It uses a 3 Axis gimbal system with a full 360-degree pan range allowing the camera to maintain a fixed angle on the subject no matter how the drone moves. The Inspire 1 is also compatible with both iOS and Android all you need to do is connect your device into the remote control and you're all set.
The only major drawback in the Inspire 1 is its very short battery life and to a smaller degree its high price, but all in all, if you want a professional aircraft and filmmaker the Inspire 1, is definitely worth the money.
Pros
Pros
Removable Camera
Fllow-me feature
Reliable GPS system
Cons
Cons.
Awful battery life
So expensive yet professional
Last on our list is the Cheerson Hobby CX20 Pro, The CX20 pro is a full-size quadcopter that's in direct competition with other full-size models, like the DJI Phantom series, Its low price makes it stand out among its competition.
Therefore, you're definitely getting a good deal here, in terms of features, product quality, and price.
As far as performance goes, the CX20 max speed is 22 mph, has a 300 Meter Control Distance / 300 Meter Altitude Ability – 300 meters is a respectable distance and altitude for a quadcopter, and its flight time is estimated around 15 minutes. Furthermore.
The CX20 comes with multiple smart functions like the Return Home function, Fixed Position Hover, Altitude Hold, Auto Landing Failsafe – The Cheerson CX-20 has the ability to hover in a fixed position with the flick of a switch, maintain a steady altitude to make video recording easier, and when the battery gets low.
It will automatically land, in order to prevent a spent battery crash, and Intelligent Orientation Control (IOC) in case the drone goes into a spin it immediately corrects its course and adjust its position. Last up, The CX-20 is compatible with GoPro cameras and has an LED light system to alert you when the drone is turning.
You could quite easily crash the Cheerson CX-20 and damage it badly. Aside from that, it's an amazing drone with a very low price tag.
Pros
Pros
Budget-friendly
Great security and performance features
Compatible with GoPro
Cons
Cons.
Not recommended for beginners
Short battery life like many other drones
The GoPro Karma is a simple all-in-one drone system for GoPro fans and people who don't want over-complicated flying devices in general.
Moreover, this drone is compatible with all GoPro cameras including Hero 4 and Hero 5. Due to the excellent video and photo quality, operating this drone feels like flying a GoPro mount.
The Karma comes with a grip that can serve as a stabilized handheld camera and a massive battery. The impressive 4k camera shoots at 30fps or 1080p at 120fps or 720p at 240fps. The camera is held in a safe contraption that ensures it is steady. The 3-axis gimbal ensures the camera has proper orientation during flight so that you capture sharp images and videos.
This autonomous aerial vehicle incorporates excellent add-ons that make it excellent for documentary shooting or even an adventure trip. The ready-to-fly drone comes in a backpack with all the accessories you need to operate it.
Now on to the thing that makes this drone stand out which is the ergonomic controller, it enables smooth and predictable flight. In addition to that, the Karma can travel up to 3000 meters and reach up to 35 mph top speed, and it is also equipped with GPS sensors that ensure it will return home when the battery is almost depleted.
On the flip side, the Karma Lacks collision detection and follow-me abilities and those are limiting factors for some people but if you're new to drones world and want something very easy to fly you can't go wrong with the GoPro Karma.
Pros
Pros
Great controller with a screen
Easy to fly
Comes with a backpack
Camera grip accessory
Cons
Cons.
No obstacle detection
No follow-me flight mode
Moving on to the 3D Robotics Solo; the futuristic design and black body of this drone highlight how advanced drones have become.
In addition to its sleek design, The Solo was designed specifically for shooting aerial videos thus it was equipped with a range of autonomous flight modes that make it easier to capture those amazing, smooth, professional-looking cinematic shots.
The Solo comes with a variety of stunning features; first off, Cable cam mode that allows you to choose between two different points to fly between. Secondly, Orbit mode which tells the drone to fly out in wide circle around the point of your choice.
Selfie mode which flies the drone out to a certain range to snap a photo of you. And Lastly, Follow mode in which the drone will lock onto the controller and then follow it whenever you go.
The Solo also comes with an optional backpack that is comfortable with ample storage for all accessories and it will rid you of the usual hassle of transporting your drone to remote locations. Regarding the battery, it lasts up to 14 minutes.
But before buying this drone, you need to supply your own GoPro because the Solo doesn't come with a built-in camera and that along the high price are the biggest letdowns of this drone.
Other than that, the 3DR Solo offers a lot of features in an easy-to-fly package that pushes drone smarts to the limits.
Pros
Pros
Fancy Looking and futuristic design
Variety of features
Easy to fly
Cons
Cons.
Requires additional GoPro camera
8- Yuneec Q500 4K: Stable and Steady Drone with Useful Accessories
The Yuneec Q500 4k Typhoon is a user-friendly drone that is packed with some of the best high-tech features. Not only does it boast one of the smoothest controls, but it comes standard with onboard 4k camera capable of capturing stunning videos.
Moreover, The Q500 has unique features like follow-me and watch-me as well as its dynamic return home function. When operating the drone, it provides a number of innovative ways to make flying an absolute breeze along with its intuitive and easy to use flight controls.
The Q500 features a smart flying mode which enables pilots to fly safely, with this feature the drone recognizes the exact location of the pilot's controller and actively stays roughly 26 feet away.
It also creates a Geofence around the area which prevents the drone from flying further than 300 meters away from the controller.
Out of the box, The Q500 comes standard with all of the necessary bells and whistles in modern-day drones plus a few extras such as; 2 batteries capable of flying for 25 continuous minutes, a carrying case, several chargers for batteries and the controller, 16go SD card, rotor blades, and a CGO steady grip to capture videos without the drone.
The Q500 still comes with some negatives, its size isn't travel-friendly and there's no support for waypoint navigation plus the overall design could use some polish. But thanks to the useful accessories and solid features the Q500 Typhoon we strongly recommend it for beginners and pro pilots alike.
Pros
Pros
Comes with all accessories needed
Packed with high-end features
Very stable and easy to fly
Cons
Cons.
Bulky design
No WayPoint Navigation
Next up is the Halo Drone Pro, It is somewhat similar to the GoPro Karma.
The Halo Drone Pro is also equipped with a 4K camera capable of taking stills and high-quality video. It comes with a remote controller that has a nice classic RC airplane look and feels with precision, responsive metal analog sticks and an array of other buttons for different purposes.
It includes a fitted backpack for storage and transport. The pack measures 18 by 12 by 8 inches (HWD) and is quite sturdy. When folded the Halo is about the same size as the Karma (roughly 5.5 by 7.5 by 14 inches), and it weighs 3 pounds.
As far as the camera goes, the Halo camera is detachable and can capture 4k videos with 30fps with a strong 50Mbps compression rate and H.265/HEVC compression which provides a clear, bright, high-quality footage and still images.
Furthermore, it has a follow mode feature that enables pilots to automatically focus on a moving subject. The Halo Pro also comes with a GPS tracker, a wrist tracker, 2.40 GHz WiFi, and a 6000 mAh battery.
Overall, The Halo Drone Pro isn't packed with many advanced features and it is a bit bulky but it does the job perfectly for an inexpensive drone.
Pros
Pros
Interchangeable camera
Follow me Mode
Inexpensive
Durable build
Cons
Cons.
Very expensive
Big and large size
10- DJI Phantom 3 Pro: Drone with High-quality Camera
The DJI Phantom 3 Pro is a quality drone that can offer a very stable and secure flying experience.
For starters, it is up-fitted with a camera that is capable of shooting in 4k resolution including numerous other features such as Light Bridge technology, intelligent flight functions (course log, return home, waypoints).
It has a handheld transmitter tethered to a 10-inch tablet running DJI's app for a live view action.
The controls are neat and precise and enable you to easily maneuver and handle the drone. It turns very swiftly and has a lot of stability thanks to the built-in sensors that keep it in place. Regarding range, it offers a considerable range going as far as 2km and as high as 500 meters reaching a top speed of 35mph.
The camera shoots a solid 12mp still images and 4k HD videos and allows you to adjust the ISO and exposure according to your personal preference via the DJI's app. it can also adjust automatically.
Latency through its onboard display is almost instantaneous and it enables you to clearly see what the Phantom 3 Pro is seeing even when it is so far away. The Phantom 3 Pro is also portable and lightweight so you can take it with you when hiking for long distances.
Sadly, the battery on this device is a bit lackluster and also pricy. Plus it might not have some of the autopilot features, such as 360 selfies. But that by no mean prevents it from being a compact and feature-packed drone.
Pros
Pros
4K live-streaming capability
Small, lightweight, & portable
Extremely easy to fly and stable
Automated flight mode
Cons
Cons.
Expensive and low durability battery
No advanced autopilot
Most important things to Consider Before you purchase a new drone:
Here are some of the things that any new pilot needs to know before buying their first drone:
First off and most importantly, you need to know whether it is legal to fly a drone or not where you live, or wherever you want to fly your drone. Just do your research and make sure that you can legally fly your drone.
Secondly, always put into consideration weather conditions and wind speed, pick a drone that can handle strong winds and harsh weather conditions especially if you live close to the mountains or the ocean, in this case, the difference between a cheap drone versus an expensive one is actually being able to fly and never being able to fly.
Next up is the specifications of the drone, does it have enough storage to record high-quality videos and if it is able to capture high-quality footage in the first place? Is the controller user-friendly? Without forgetting the lifespan of the battery
Of course, price is going to be a major factor in a lot of people's minds, back in the day you would never be able to buy a drone without at least spending 1500$. Fortunately though, now prices have come way down and drones come with all sorts of features, specs, designs, and prices. Just make sure to choose the one that meets your demands and requirements.