Having a good or bad chair at the office can literally be the difference between being good or bad at your job so finding the best office chair in 2022 is your way to go. If all you think about is constantly changing sitting positions or how to relieve back and neck pain after you're done working, then you're using the wrong chair. On the other hand, a decent office chair will provide maximum comfort and improve your performance by allowing you to focus solely on doing your job without being distracted by sudden aches.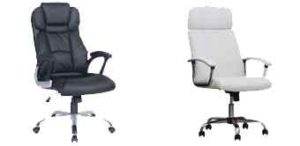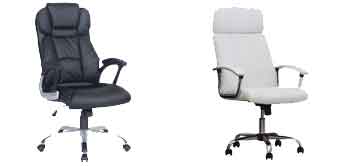 However, the real question is which one is really good for you and your personal needs, especially given the fact that there are a plethora of options available in the market nowadays. But worry not, after doing some extensive research we are going to give you the answers in this article and present to you 10 of the best office chairs money can buy. Stay tuned.
Best Office Chairs 2022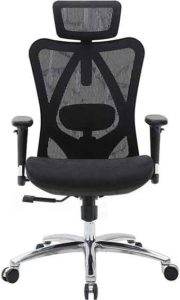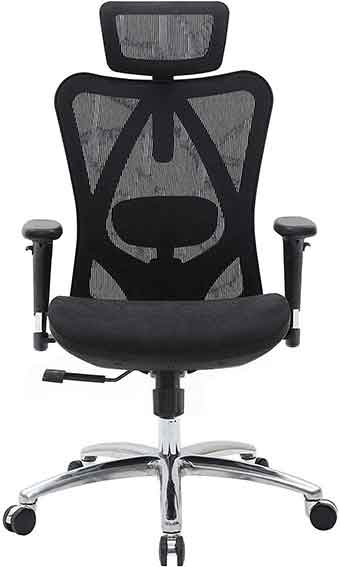 Good posture equals good health, and the SIHOO M57 is the best office chair for 2022 because it gives you that and then some. It is feature-loaded with a decent amount of adjustability settings. The SIHOO M57 is a very flexible office chair that will ensure your comfort in a lot of ways so that you can be more productive and potent at work. It features five ergonomic adjust abilities that include; headrest, 3D armrest, seat height, tilt, and more importantly; the lumbar spine support. Adjusting these according to your specific physical attributes will enable you to sit and work comfortably for hours on end.
From a design and build standpoint, this chair has an aluminum double back frame construction that makes it very sturdy and durable. It is also wear-resistant and its seat is made of high-quality mesh. Even though for some people it still needs some extra padding, it still offers more than enough comfort for most.
Furthermore, the 360-degree castors are very silent and will allow you to move with complete freedom without making any noise. Concerning its weight capacity, the SIHOO M57 can carry a load of up to 330lbs and it has a 100mm gas lifting stroke. It is also worth mentioning that the M57 is BIFMA and SGS certified.
Pros:
Cost-effective
Adjustable parts
Solid and durable build
Silent casters
High load capacity
Cons:
Could use some extra padding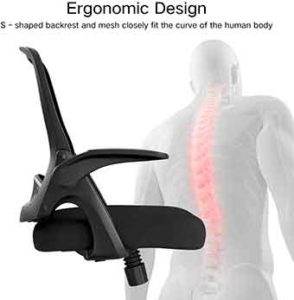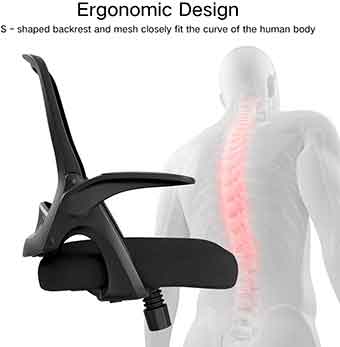 The Hbada office chair is a cut above the rest thanks to its great value for money, the array of features it comes with, and its top-notch build quality.
The ergonomic office chair from Hbada has received a lot of positive feedback from users and that's mainly to the following things. Firstly the design is sleek and modern and fits nicely with any décor. Add to that, it is flexible and comfortable as the seat was crafted with high-density mesh and breathable fabric. Besides comfort, it is also very stable and durable featuring a heavy-duty base.
The second interesting thing about this office chair is its adjustability; it has a 120 degree tilt tension and an adjustable seat height that goes from 17 inches to 21 inch matching various statures. On top of that, you can flip its armrests up and tuck it under the desk to save up on space in your office. The ergonomic backrest was designed to match the natural curvature of the spine and provide extra support for the lower back which will lead to more comfort and less low back tightness and pain.
More so, the silenced 360 degree rolling caster wheels allow you to move the chair quietly and without any hassle. The only issue is, some users reported some difficulties when mounting wheels. Lastly, the Hbada office chair has a maximum capacity of about 250 lbs which is enough for most individuals.
Pros:
Budge-friendly
Stylish and modern design
Very comfy, flexible, and durable
Space-saving feature
Supportive backrest
Cons:
The wheels are hard to mount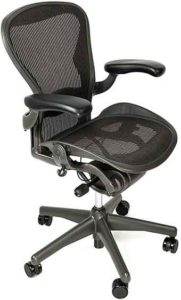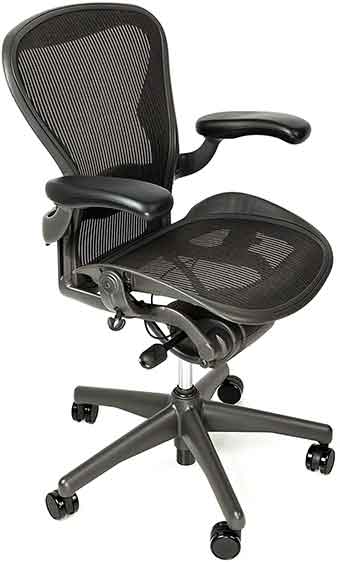 Introducing the Herman Miller Aeron, it is a top of the line office chair that strikes the perfect balance between looks, performance, build quality, and price. It is definitely something you don't want to miss out on.
For starters, it sports a graphite finish build with an SL hybrid backrest that does an amazing job at supporting the lumbar area and promotes proper spine alignment. In addition, it comes with extra individual pads that are adjustable and meant to give you more lumbar support and improve your posture.
As for the armrests, they are made of vinyl and high-density foam, and they're fully adjustable enabling you to move them up and down or in and out. Moving on to the seat, it has a tapered shape and its front edge was designed to take off pressure and relief tension of your thighs to ensure proper blood flow thus giving you the ability to work for long and pain-free.
The Herman Miller Aeron fits users with different sizes and statures featuring a height range that stretches from 5'2 to 6'8, and it can support people that weigh up to 300lbs. In terms of casters, the durable base is equipped with 5 high-quality 2.5inch caster wheels that roll smoothly on almost all types of surfaces.
All in all, this office chair would be flawless if it were not for the lack of a headrest. However, it more than makes up for it with its amazing ergonomic design and convenient features.
Pros:
Provides great lower back comfort and support
Fully adjustable armrests
The seat was designed to help with blood circulation
Suitable for almost all heights and weights
Modern design
Cons:
4. NOUHAUS Ergo3D: best chair for back posture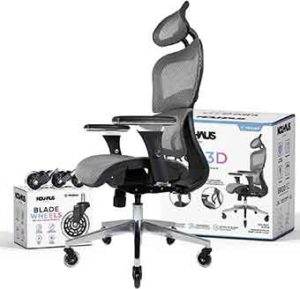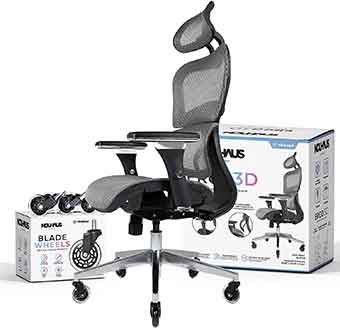 Coming in at number 4, the NOUHAUS Ergo3D was engineered to relieve all your back problems and it is hands down one of the most comfortable chairs money can buy.
This one is our top pick for people that suffer from chronic back pain owing to its innovative three-piece backrest that focuses on relieving tension off your lumbar and spine in general. It can also be adjusted to target the area that is tight and needs some pressure relief. Along with its helpful lumbar system, the NOUHAUS Ergo3D has an adjustable armrest as well as an adjustable mesh headrest. It will simply provide added comfort throughout your entire body.
The 135-degree tilt that this office chair has allows you to pick the best position to do your tasks or just lounge back and relax when you decide to take a break. Moreover, it is armed with a 5 point base with dual castors giving it more strength and stability compared 4 base single castor chairs. More on the base, it is constructed with robust iron and can handle a load of up to 275lbs.
What's more, the design of the NOUHAUS Ergo3D is very décor friendly and a stylish piece of work. Plus, the seat and the other resting components are made from a breathable ElastoMesh which promotes airflow and prevents sweating and sticking. This chair is not the most affordable model on our list, but considering how good it is, we'd say it is well worth the price.
Pros:
Ideal for people with back issues
Fully adjustable parts
Sturdy and stable base with smooth castors
Attractive design
Made from soft breathable mesh
Cons: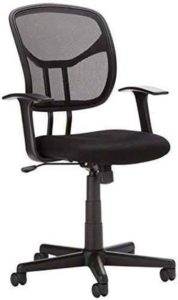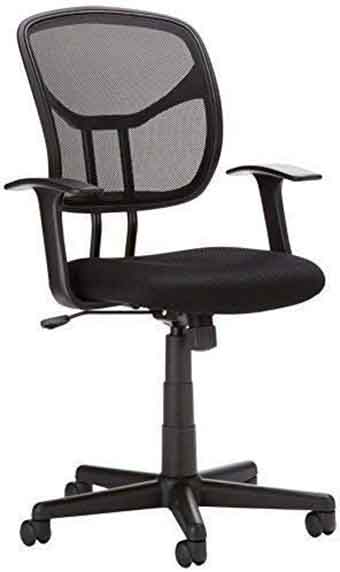 The AmazonBasics Mesh Mid-back is our top pick for the best value for the money; it provides good back support with a good level of adjustment.
Currently priced around 70$, the AmazonBasics Mesh is one of the least expensive options on the market yet one of the best quality office chairs you can buy for your home office. It features a simple and adjustable design that allows you to choose the optimal position for you. Additionally, the pneumatic controls let you lower or raise the seat and even go back and forth according to your preference.
On one hand, the backrest was crafted from a breathable mesh and it shapes up to match the natural curve of the spine for more comfortable seating. Whereas, the padded cushion is covered with a similar and offers a comfortable and resilient seat that doesn't deflate despite hours of use. Furthermore, the nylon armrests will give you decent forearm support. Sadly though, they're not adjustable which is expected considering its inexpensive cost.
As far as the base goes, it is made of nylon and it is fairly durable supporting up to 225lbs of weight, although it's not the best option for taller or heavier workers. In terms of mobility, the AmazonBasics Mesh is very easy to swivel from one place to other thanks to its smooth-rolling dual-wheel casters.
Pros:
Extremely affordable
Adjustable
Resilient and resist deflating
Comfortable and breathable mesh
Good back support
Cons:
Armrests aren't adjustable
Not meant for heavier and taller folks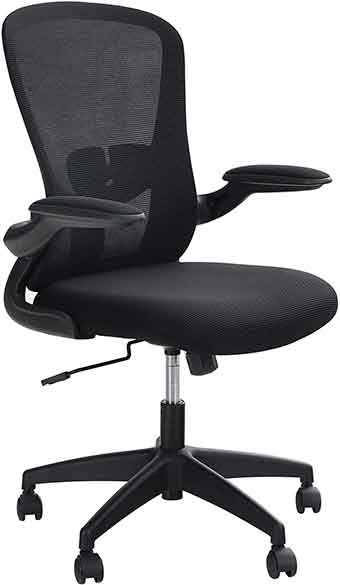 If you're looking for a trustworthy office chair that offers great support and comfort across your whole body, then the Alpha Home Ergonomic is worthy of your attention.
The Alpha Home Ergonomic lives up to its name and ticks all the necessary boxes, as it has a top-notch modern-day ergonomic that is fully adjustable. Starting with the headrest, it is rotatable and fully supports the neck muscles, hence helps protect it from strains and pains.  Next up, the adjustable backrest provides excellent lumbar support, constantly holds your spine in place, ensures that it remains properly aligned.
Moving on to the armrests, with the three adjustable body rests, you have the option to flip them to suit your preferred seating position. Speaking of seating, the seat consists of a resilient and comfortable mesh, as well as a high-density permeable soft sponge. This perfect blend of materials offers extra comfort, relieves hip and back pain, and reduces tension in the pelvic area.
Moreover, the Alpha Home Ergonomic office chair comes with a synchronized tilt mechanism and an SGS certified gas lift. On that topic, it is also BIFMA certified meaning it is a reliable choice for people weighing up to 300lbs. The sturdy base greatly contributes to that as it is made with solid metal. Also, it has solid 360 rolling caster wheels that allow for fluid and free movement.
Pros:
Every part of this chair is adjustable
Suits every type of use due to its high adjustability
Good back and neck support
Comfortable and resilient seat
The sturdy base that can handle heavy loads
Modern looking
Cons:
7. XUER Ergonomic: Best Office Chair for Heavy People (overweight)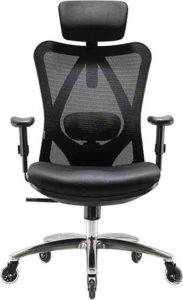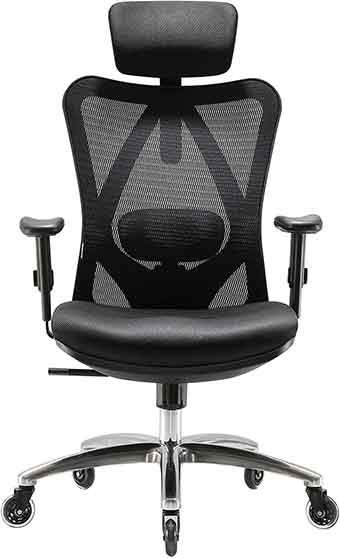 Next on our list is the XUER Ergonomic Office Chair, it was engineered to respond to your body posture and movement in order to give you the best comfort and support possible.
To begin with, the XUER Ergonomic office chair passed the BIFMA and SGS tests with flying colors. For instance, it was made with heavy people in mind as it can carry a load of up to 330lbs.  All of its complements are adjustable meaning it will easily accommodate different shapes and sizes. The multi-dimensional headrest was designed to rotate freely, thus protect the cervical vertebrate and the neck muscles.
In regards to the armrests, they're PU covered and can be flexibly adjusted to match your position. On top of that, it has a useful tilt function and adjustable height gas lift along with a lock position making this office chair very stable yet flexible. The steel base provides a rigid and reliable foundation on which the castor wheels can swivel and rotate smoothly on hard floors and carpets alike.
Another big selling point of the XUER office chair is the seat; it has a W shape design with a waterfall front edge. This type of design reduces pressure and improves blood circulation allowing you to sit for long without compromising your leg's health. Besides, they were constructed using a soft sponge and covered with a high-quality breathable mesh which makes them very cozy and comfortable.
Pros:
Best for heavy people
Various adjustable functions
Supportive headrest
High-quality seat
Releases pressure off thighs
Cons:
The headrest can be wobbly at times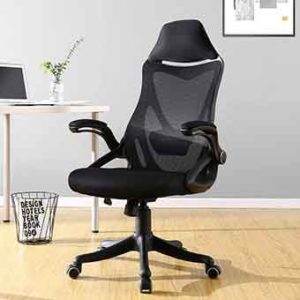 Comfortable, adjustable, durable, and affordable. The brand new office chair from BERLMAN gathers all the cool features you want in an office chair and then some.
The BERLMAN High-back features integrated lower back support and a wide restful headrest that reinforce your natural spinal alignment and protect your neck and back from potential injuries. Plus, its top of the line mesh contoured back will enable you to work for extended periods of time without feeling any fatigue or back pain.
The armrests are not only adjustable but they boast space-saving properties as they can be retracted upwards so that you can push the chair under your desk. In like manner, the seat is height adjustable and boasts a tilt and straight lock mechanism along with a tilt tension knob delivering more freedom in tilting and extra stability. More on the seat, it is wide and made of high-density sponge and breathable mesh which minimizes the chances of your back sticking because of sweat.
Moreover, it comes with a tough and sturdy base that has a bearing capacity of 250lbs. One of the few negative aspects of the BERLMAN High-back office chair is the non-adjustable headrest and the fact that it suits mostly taller users.
Pros:
Outstanding back and neck support
Armrests can be folded to save space
Useful tilting functions
Breathable seat
Cons:
The headrest is not adjustable and only good for tall people
9. HON Ignition 2.0: best office chair for Back support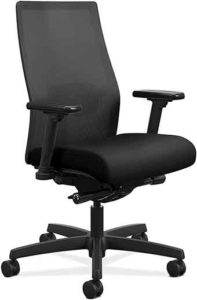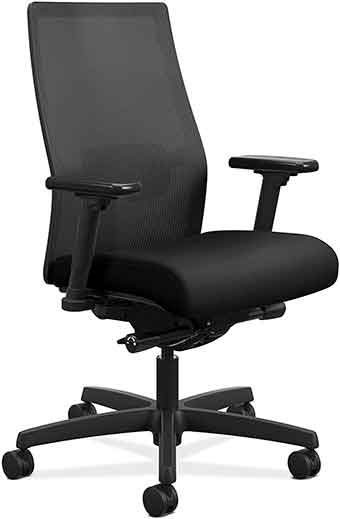 The Hon Ignition 2.0 is a superb choice for those who want a superb office chair with decent comfort and a good mix of features to help them in their long working sessions.
This office chair has received some major upgrades over its original design, and the first big improvement was the Ilira stretch mesh that replaces the standard high-density polyester mesh. This material is softer and far more durable allowing you to sit and work for long periods without any discomfort.
Furthermore, it has an adjustable backrest that moves to 6 different positions and if you can afford to pay more, you'll get lumbar support that keeps your back safe and improves your posture. It can also move backward and forwards and be locked in position thanks to its convenient gliding mechanism. In addition, the armrests can be adjusted and positioned in an ergonomic and friendly way to adapt to your body.
In regards to its looks, it has a modern and stylish design that fits well into any contemporary office setting. It has a 5-star resin base that is fitted with ultra-durable and smooth-rolling casters. And lastly, it has a weight-bearing capacity of 300lbs, which is plenty for most people.
Pros:
Very soft and durable mesh
Provides great back support
Customizable backrest and armrest
The base and castors are very durable
Attractive design
Cons:
Requires you to pay extra for lumbar support
No headrest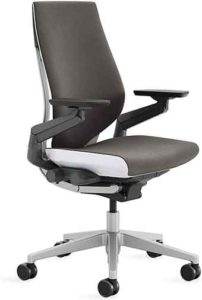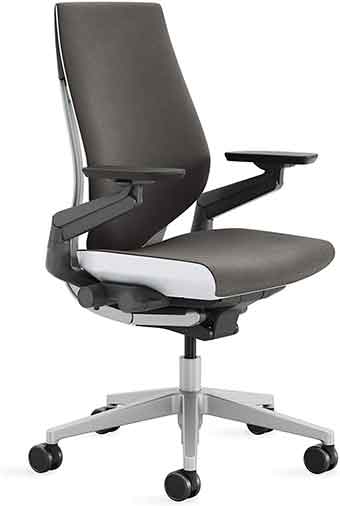 Last up we present to you the Steelcase Gesture Office Chair, it is a good investment that fits a wide variety of users thanks to its comfort and adjustable functions.
Before anything else, we should mention that unlike most other office chairs, the Steelcase Gesture ships fully assembled thereby it will save you a lot of time and effort. All you have to do is take it out of the box and remove the minimal packaging.
Construction-wise, the Gesture has a stylish and futuristic design, and the majority of its components are made of custom-molded plastic. However, don't let that fool you as the components fit together properly and the chair is very robust and durable supporting a weight of up to 400lbs. And the plastic was mostly used for the purpose of increasing flexibility or covering the metal parts.
In terms of adjustability, it is adjustable enough to fit most users featuring a seat height adjustment of 16 inches to 21 inches along with a seat slide for shorter and longer legs. Beyond that, the width and height of the armrests are also adjustable and the Advanced Synchro-tilt allows you to move in a 2.8:1 ratio.
The Gesture's sturdy core paired with the wide seat work together to provide great support and comfort. On top of that, the backrest was designed to correspond to the natural curve of your spine. The only drawback is the absence of additional lumbar support.
Pros:
Comes fully assembled
Very solid yet flexible build
400lbs weight capacity
Decent adjustability
Cons:
No lumbar support
Expensive
Office Chairs Buyers Guide
At first glance, most office chairs appear to be quite similar. But if you take a closer looker and try out different models, you will be able to spot a lot of differences right away. Whether it is build quality, comfort, or how your body fits into it, they all somewhat vary to a certain extent. All things considered, there is a decent amount of office chairs out there; some specialize at doing certain tasks better than others, while other models check all the boxes but require you to pay handsomely.
So how do you actually go about finding the best office chair for your particular needs? In the section down below will explain some of the most significant variants and factors you should consider prior to making your purchase. So, make sure to stick around all the way till the end to hopefully find the best chair for you.
Adjustability
When we talk about ergonomic office chairs, the one size fits all approach doesn't really cut it. People have different statures and physical attributes that is why the adjustability functions of the chair are one of the most important things you should look out for.
Almost all regular office chairs have adjustable height and armrests but that shouldn't always be your main concern. On the other hand, high-end models feature at least 5 adjustments including; lumbar support, headrest, arm width and height, tension control tilt, and back angle. Some even have up to a whopping 15 adjustments, which is amazing for some people and to be fair it can be overkill for others.
Comfort
According to research and studies, an average business person spends approximately a grand total of 1900 hours on a single chair over the course of a year. Therefore, having an office chair that prevents back pain and discomfort should be on your top priority list. Typically, office chairs have either padded seats or open mesh seats, both of these have their advantages and disadvantages so let's check them out.
Padded Seat
It comes with extra padding and it is upholstered with fabric, leather, or vinyl. As a result, it offers more of a traditional chair feel, it is more comfortable and helps you avoid sitting against a rock-solid metal frame. On the flip side, a padded seat is usually less breathable feels hotter than an open mesh seat leading up to more sweating. Also, some low-quality padded seats are vulnerable to deflating and losing their shape over time.
Open Mesh Seat
In most cases, open mesh seats will give you the feeling of floating rather than sitting. What's more, if you tend to sweat a lot or you're on the hotter side when sitting, open mesh seats should be your go-to option. That simply boils down to the fact their open-frame structure promotes more airflow and makes them more breathable as opposed to padded seats. However, the biggest complaint with open mesh seats is their exposed frame; there simply isn't enough padding between the user and the steel frame. So you're most likely going to feel the frame.
Build Quality
There's no point in spending money on a chair that will fall apart in a few months. For that, you should always aim for something well built along with a durable and solid foundation o support your weight. Steel frames usually last for longer but plastic ones can also be just as durable if constructed the right way. Some models feature a combination of both steel and plastic. Regardless of the type of material used to make the chair, the most important thing is how well it is built and whether it was designed to stand the test of time.
In addition to that, the quality of the seat and backrest is something to consider as well, you need something that is strong but also soft and comfortable. For instance, higher quality mesh chairs are built with soft fibers that are interwoven into the mesh making it gentle on the skin. They are more elastic too and should return to their original shape even after long periods of use.
Castors
The type and quality of castor wheels of your chair play a crucial role when trying to buy an office chair. The best set of wheels roll smoothly and quietly allowing you to focus more on your work and finishing your task instead of worrying about noise and scratching the floor.
You should also put in mind that some castor wheel types are specifically made for either carpet or hard floors. Nonetheless, some wheels are meant to handle all sorts of surfaces so make sure you get multifunctional castors.
Price
Last but certainly not least, price is a big determining factor when choosing your ergonomic office chair. Although the price is almost always related to the quality of any product, you should know that there are some affordable options on the market that work just as good as any expensive model.  We made sure to include a few of these great value chairs on our list. So, if you're on a strict budget and want a reliable and quality office chair, please check out our links.