If you are looking for the best electric scooter in 2022 you came to the right place. Du to the fact that scooters have received a major rise in popularity and a warm welcome amongst people in the last decade or so. The reason why they became one of the most widely accepted modes of transportation, is the fact that they provide a fast, effortless, and comfortable riding experience, and they're also suitable for all ages, kids and adults alike. Some consider them as a potential solution to urban pollution, while others buy them for making quick errands, and some people love them just for the sheer fun of riding them.
Nevertheless, these motorized devices aren't all of similar characteristics and quality. We thereby rounded up a list of the best and most reliable electric scooters you can find on the market today, and we ranked them based on performance, build quality, affordability, and more. All you have to do is pick according to your liking, So let's hop into our top 3 picks of the best electric scooters it.
Best Electric Scooters 2022
Xiaomi is the best electric scooter and this brand actually has taken today's market by storm thanks to their affordable yet solid-performing smartphones, and the Mijia M365 Pro has proven that the company is as equally adept at making electric scooters.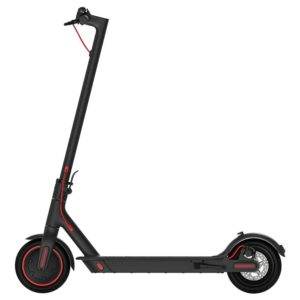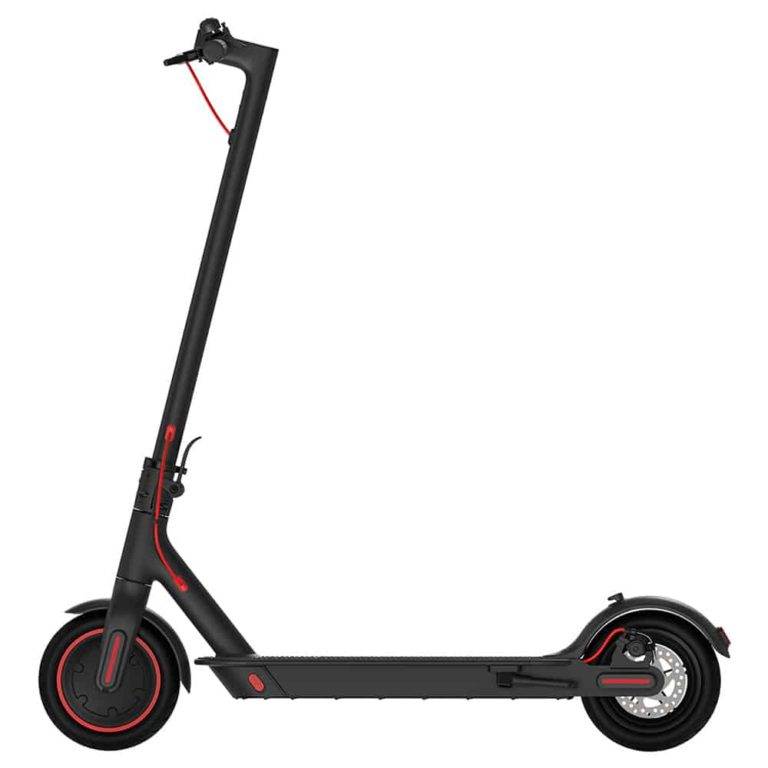 Right from the get go, it will impress you with its award-winning eye-catching and lightweight design, it weighs around 30lbs and made with aero-space grade aluminum giving it a polished and elegant look. Not only does it look good, but it's also safe. With an anti-slip handlebar and a wide deck, along with a dual-brake system on the front and rear wheels, you'll definitely feel completely secure when cruising the roads.
From a speed perspective, The Xiaomi Mijia M365 Pro has a 300 watts motor that enables it to achieve a top speed of 15.5 miles an hour, which is standard for most electric scooters nowadays. It also has an impressive range of 27 miles and it will take you about 5 hours to fully charge the battery, and with the regenerative brakes you can extend your driving range even further. In addition to that, it can support a weight of 220lbs.
Another major selling point of the Mijia M365 Pro is Bluetooth capabilities. The Bluetooth connectivity is very convenient and reliable as it has efficient controls, it is compatible with your phone, and allows you to track your speed, travelling distance, and battery remaining.  To top it all off, it features a smart scooter app for advanced battery conservation so you can squeeze an extra mile or two out of your scooter.
Specifications:
5 Mph top speed
27 miles range
30lbs
220lbs max weight capacity
Dual-brake
Bluetooth
Xiaomi smart scooter app
Pros
Budget-friendly
Sleek and safe build
Amazing software
Long range and battery life
Cons
Boasting a hybrid of both Chinese and American modern technology, the Segway Ninebot ES4 is one of the most beautifully designed electric scooters you'll come across.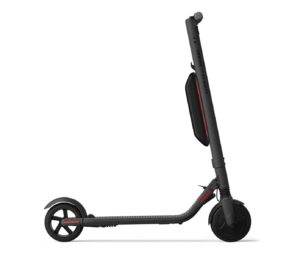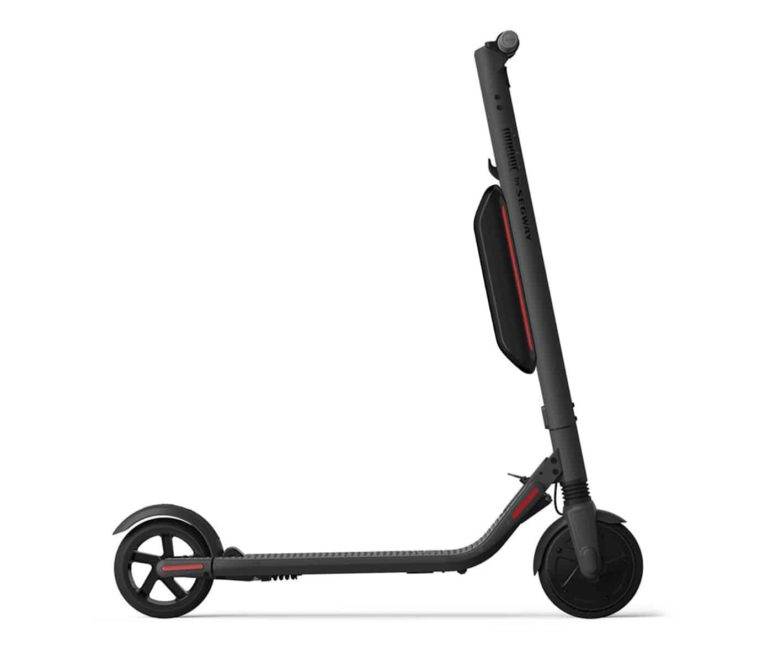 The Segway Ninebot ES4 rocks a dual battery system and it's equipped with a powerful 300 watts motor. The combination of those two features gives it a top speed of 19 miles per hour and a riding range of 28 miles, and it can also carry a 220lbs person, as well as climb, inclines up to 15 degrees, meaning it's the perfect choice for commuters.
When it comes to design and build quality, weighing in at around 31lbs, this folding adult electric scooter is lightweight and has an attractive design with customizable lights. Plus, it was made with safety in mind, as it comes with a dual shock absorber to ensure that you won't feel any road bumps and cracks. Furthermore, it uses an electrical and mechanical anti-lock braking system that enables you to stop safely. The only thing that holds this scooter back is the fact that it was only meant for city pavement, we do not recommend riding it in grass and dirt due to its subpar traction.
The Segway Ninebot ES4 incorporates other standout features as well, like the one-touch folding system which allows you to fold the scooter with a touch of a button, a cool LED display, cruise control, Bluetooth pairing and a mobile app.
Specifications:
800 watts motor
19 Mph max speed
28 miles range
31lbs
220lbs capacity
One-touch folding button
Customizable ambient lights
Bluetooth
Pros
Has plenty of handy features
Safe &well-built
Elegant design
Decent range
Cons
Doesn't do well on grass and dirt terrains
only cosidered to be an adult electric scooter not for kids!
3. GoTrax GXL: Best electric scooter for commuting
The GoTrax GXL makes an appearance in our list because it is the best option for people on a tight budget and still want to reap the benefits of owning a good electric scooter.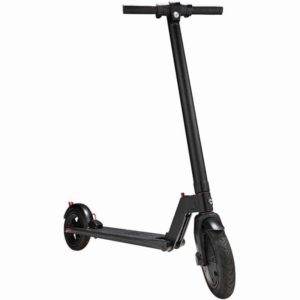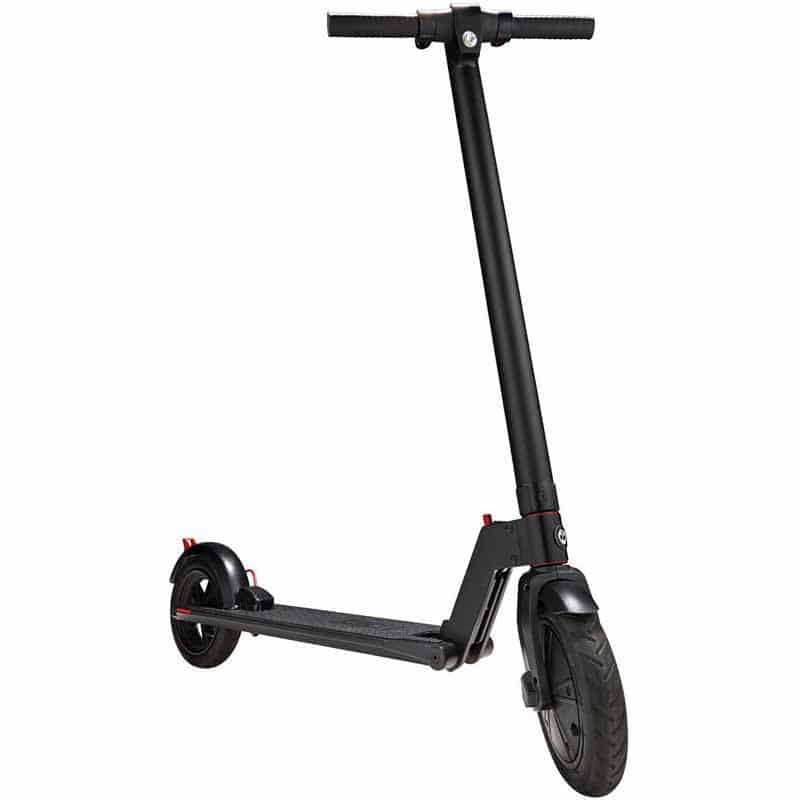 The price of this electric scooter has dropped significantly since its launch, but it still keeps up with most other expensive models out there. A top speed of 15.5 miles per hour and an estimated range of 12 miles will do the trick for people who only need it for small commutes. Furthermore, the Gotrax GXL features fast charging as it will take you only about 3-4 hours and your scooter will be ready to go again.
Design-wise, you'll be able to confidently weave through traffic and cruise the roads, thanks to its sturdy build and reinforced deck and rear fender, as well as a max weight load of 220lbs. It has a folding design and weighs roughly 30 lbs. Thus, carrying it around when you run out of juice will be a breeze. What's more, the GXL comes with a built-in ultra-bright headlight on the front. Unfortunately, it lacks a rear light meaning it is not optimal for nighttime commuting unless you fit your own.
Last but not least, it features an electric/disc hybrid brake system that is hand operated for firm control of your scooter in case you need to brake fast.
Specifications:
5 Mph max speed
12-9 miles range
3-4 hours charging time
30lbs weight
220lbs max weight capacity
Electric/disc brake hybrid
Pros
So affordable
Fast charging
Solid build
Effective braking system
Cons
No rear lights
Average specs sheet
Because of its ultra-folding and lightweight design, the Glion Dolly cements its position as the best portable electric scooter money can buy.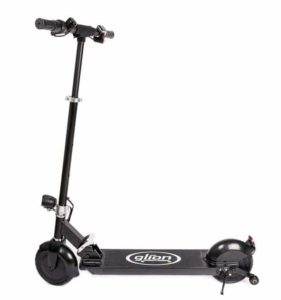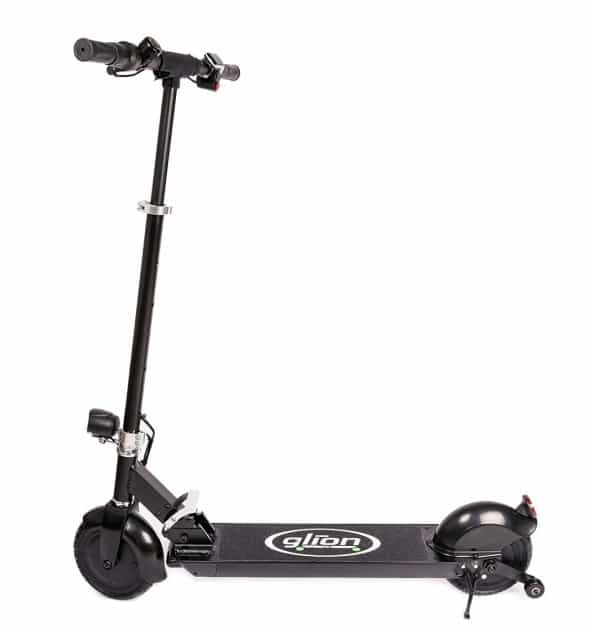 To start off, the Dolly weighs in at around 27 pounds and has a unique foldable frame that allows you to transport it like a suitcase when you're not riding it. Actually it's the best electric scooter for the money. Plus, it has a kickstand that enables it to stay upright on its own. So it's safe to say that it has you completely covered regarding portability and mobility. Moreover, it comes with bright headlights and an integrated tail reflector that will come in handy when it gets dark. The wheels are 8 inches thick and are protected with fenders. On the flip side, the absence of suspension and the solid rubber tires will make your ride a little bumpier compared to other scooters.
As for its performance on the road, it has a 250 watt brushless and gearless motor that is surprisingly quiet that gives this scooter a top speed of 15 miles per hour. The 36V lithium-ion battery takes only 3.5 hours to be fully charged and it grants you 15 miles of roaming distance, making it a good fit for small city dwellers.
Additionally, the Dolly can support a weight of 255lbs which is bigger than average, and it uses an efficient anti-lock electronic brake within the rear hub motor.
Specifications:
15 Mph top speed
250-watt brushless motor
15 miles range
5 hours charging time
27lbs
Unique folding design
255lbs weight capacity
Pros
Extremely portable
Quiet motor
Battery charges quickly
High weight capacity
Cons
Lacks suspension
Average top speed
5. Kaboo Wolf Warrior: Foldable Scooter
The Kaboo Wolf Warrior electric scooter conquers all sorts of terrains with its powerful motor, solid build, and safety measures.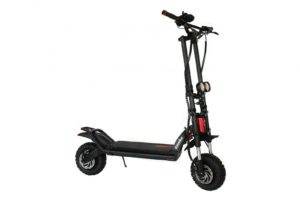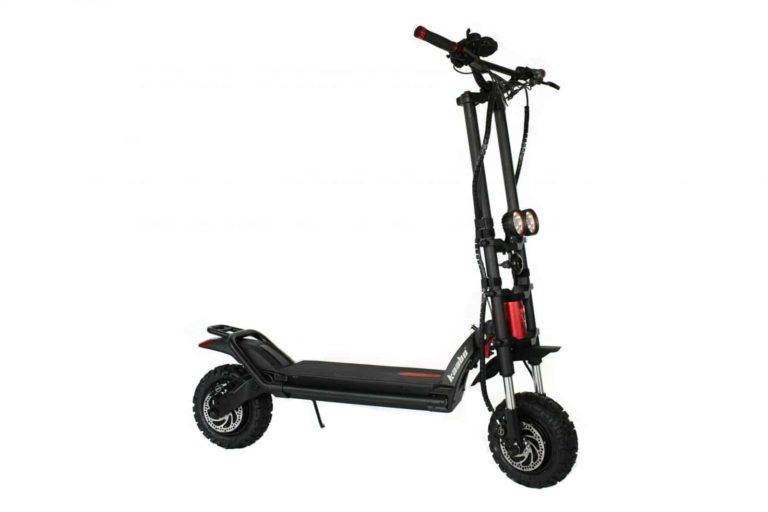 The Wolf warrior is capable of reaching a tremendous top speed of 56 miles per hour on and off-road, and it is able to climb up to 45 degree hills with great ease. This is due to the fact that this beast rocks a 1200 watt dual motor along with two 40 ampere controllers, which can produce an astonishing peak output of 5400 watts. In addition to all that, it has one of the longest riding ranges out there with an extraordinary 56 to 93 miles, as the Eco-mode will take you to the higher end of that spectrum.
Power and safety must go hand in hand, otherwise there is no point in buying a scooter, and that's exactly why the manufacturers made sure to implement the Wolf Warrior with a Dual Hydraulic and electronic braking system, Shock Absorption suspensions, as well as 11 inches tubeless pneumatic tires to handle the instability that comes from high levels of speed and bumpy terrains. What's more, it is equipped with a set of two LED headlights for a more convenient riding experience at night.
On top of all that, it has a foldable design and has a weight limit of 330 pounds. If it were not to the long charging time of 14-17 hours and the heavy weight of 101 pounds, we'd say this electric scooter is perfection in a nutshell. Still, it is reasonably priced for the amount of power it packs, so it is worth every penny you spend on it.    
Specifications:
On and off-road capabilities
56 Mph maximum speed
56 miles max range (Dual-Drive Mode) 93 miles (Eco-Mode)
Dual-Hydraulic and electric braking system
Weight: 101lbs
330lbs maximum load
17 hours charging time
Pros
Suitable for all terrains
Very fast and powerful
Great brakes and suspension
Solid build
Cons
Long charging time
Slightly heavy
If you enjoy long and fast rides on your electric scooter, you're in for a treat. AS the Zero 10X combines speed, range, comfort, and more in one package.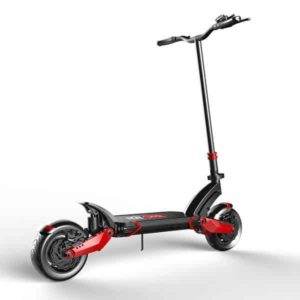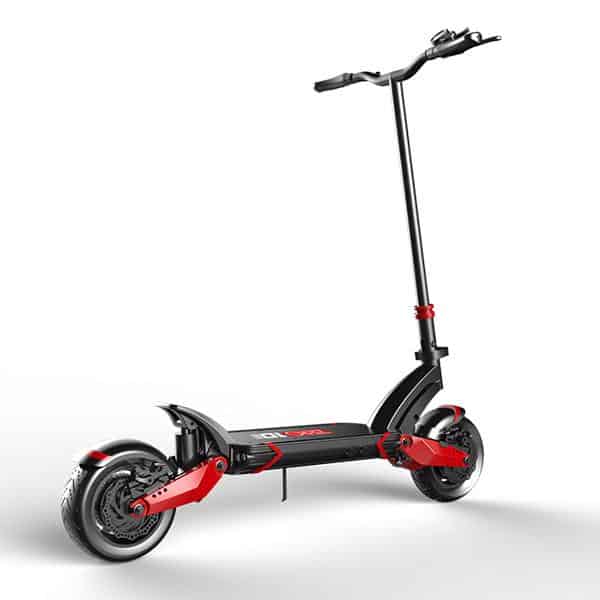 For starters, the Zero 10X has dual motors on both the front and the back, giving it an impressive total peak output of 3200 watts. It can reach a maximum speed of 40 miles per hour with 35 to 40 mile range. Also, it features two riding modes; Eco-mode for extended rides and Turbo-Mode for the speed enthusiasts.
One of the most noticeable things on this scooter is its size, weighing at around 80 lbs it is bigger than most other scooters. Having said that, it has a large standing platform that can support a maximum load of up to 330lbs making it ideal for large people. It also features large 10 inch tires for city riding or you can just order a set of off-road tires.
Speaking of off-road, your experience will be much more enjoyable thanks to the Dual Spring Hydraulic suspension in the rear and front, as they come in handy when you ride trails, survive small jumps, and conquer the bumpiest of roads.    
To conclude, the Zero 10X uses dual mechanical disc brakes with 160mm rotors for slick and easy stopping. It has bright lights mounted on the front and rear, along with a much needed screen to display speed, battery life, odometer, and the riding mode.  
Specifications:
40 Mph top speed
40 miles range
Eco-Mode+ Turbo Mode
77lbs
330lbs maximum load
Dual Spring Hydraulic suspension
Display screen
Pros
Versatile
Decent speed and range
Two riding modes
Reliable suspension
Cons
Can be heavy for some people
7. Razor E100: Budget Friendly Scooter
If you've been looking for a trustworthy electric scooter for your kids, look no further than the beginner-friendly Razor E100.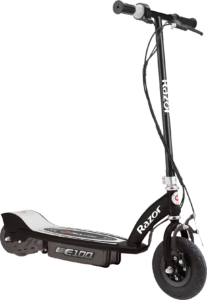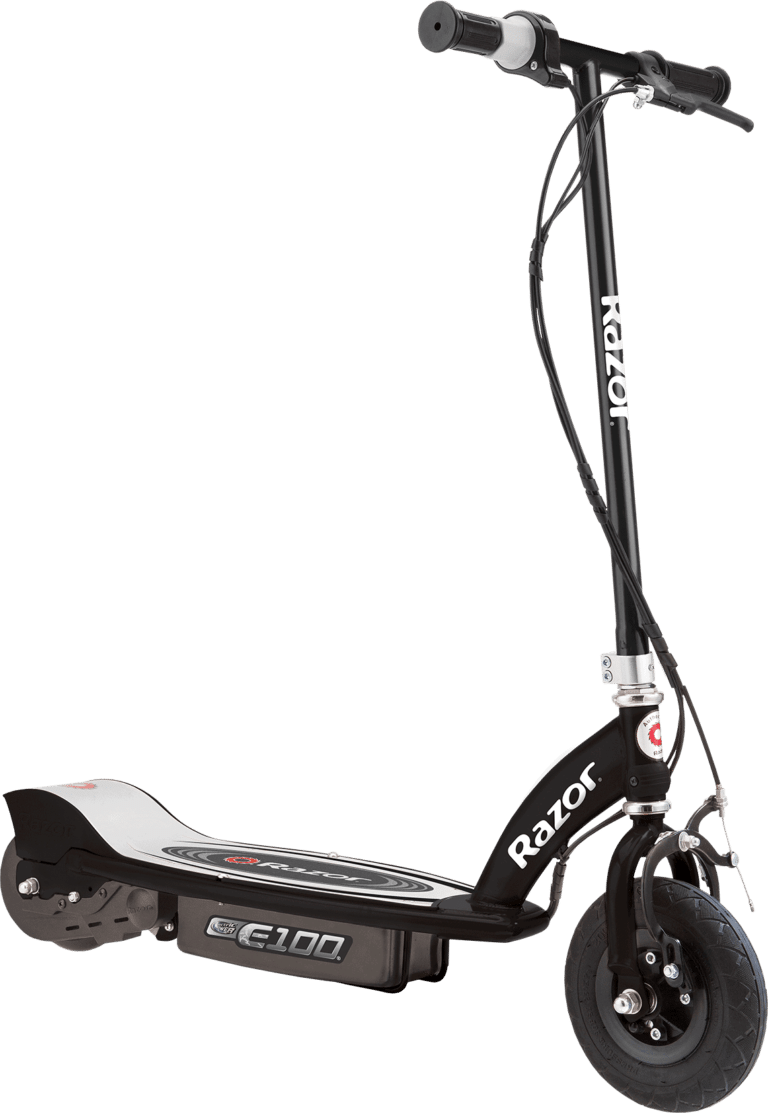 The Razor E100 was designed to be the best electric scooter for kids in mind, as it has a 100watt motor that goes no faster than 10 miles per hour, and delivers 7 miles of range or 40 minutes of commuting time, which is by no mean extreme. However, the ride is very smooth and the limited top speed is just appropriate for kids.
This scooter comes in different colors and its design is pretty simple yet durable and strong enough to carry a person that weighs up to 120lbs. Furthermore, this foldable scooter weighs the only 9lbs so your kids won't have any issue whatsoever carrying it around. The 8 inches tires are beautiful and solid as well, as they're made with Urethane which is known for sturdiness.
To make things even easier, the Razor E100 incorporates push-button and kick-start features enabling you to start your electric scooter safely with a push of a button. The 24V battery is rechargeable and perfectly complements its design and size. As for the braking system, it is hand operated and located on the handle. It is not as strong compared to other models but still enough to put a halt to your scooter.
Specifications:
10 mph top speed
7 miles range
Push-button throttle
9lbs
120lbs weight capacity
8 inch tires
Pros
Beginner-friendly
Easy to start
Best for kids
Cons
8. Kaboo Mantis Pro:
Another amazing model from Kaboo, the Mantis Pro represents everything a modern-day electric scooter should be. From performance to build-quality, it got you all covered.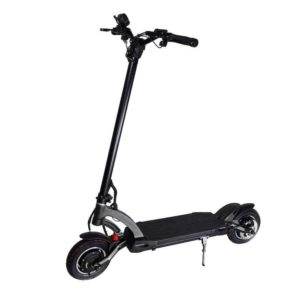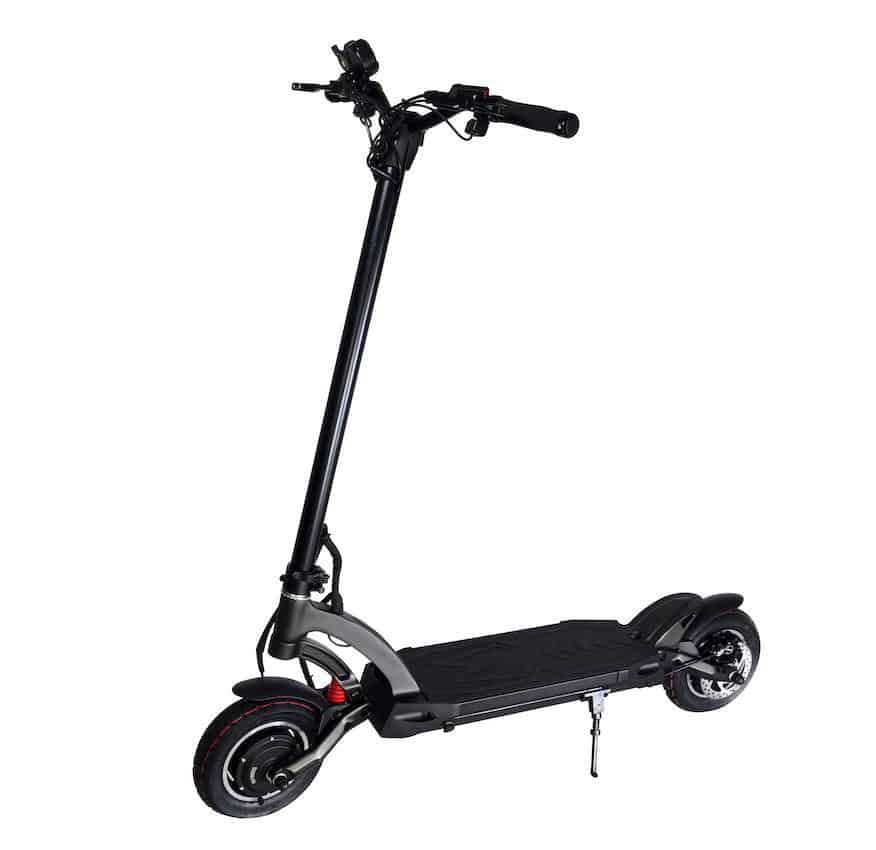 This high-end electric scooter offers a riding range of roughly 50 miles on a single charge, making it ideal for people who need to travel for long distances or those who enjoy long rides in general. With the two integrated brushless 1000W motors, you get top-notch acceleration, a maximum speed of 40 miles per hour, and the ability to climb up the steepest of inclines regardless of the type of terrain.
When talking about the design and build quality, it is built with fine materials and weighs 65lbs which is a bit on the heavy side but will do for most people. It has a folding design with two locks on the stem to ensure that you won't have a shaky ride. Additionally, it can support a maximum load of 265lbs and has rugged 10×2.5 inch air tires. The Minimotors display will allow you to check the battery life and speed, as well as change gears and riding modes.
Brakes-wise, it comes with ultra-reliable and efficient dual disc hydraulic brakes that don't require so much pressure in order to respond. It's also important to note that the suspension system of the Mantis Pro is one of its strongest features, as it boasts a dual coil spring suspension system. Basically, this system absorbs all shocks and allows the scooter to cruise through bumpy roads as if it's hovering over the ground.
Specifications:
1000 watts motors
40 Mph Speed limit
50 miles max range
65lbs of weight
265lbs weight capacity
Dual coil spring suspension
Dual disc hydraulic brakes
Pros
Very powerful and reliable
Works well in all conditions and terrains
Long battery life
Sturdy and safe build
Cons
The Razor EcoSmart Metro brings something new to the table with its unique design that houses a lot of conveniences.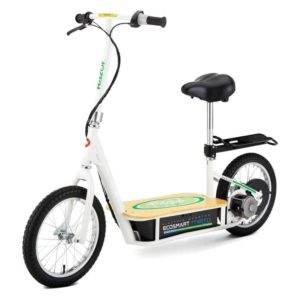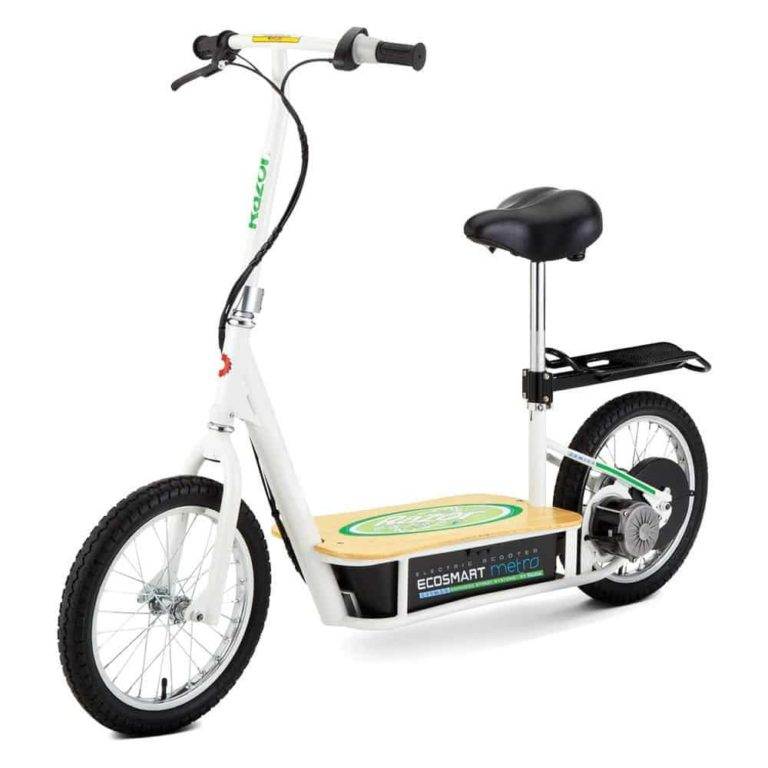 Right out of the box, the first thing you notice in this electric scooter is the convenience of the design, featuring a comfortable ultra-padded seat, a large bamboo deck that allows will allow you to rest your feet while riding, along with a big luggage rack on the back for storing stuff. This thereby makes your daily commuting experience a whole lot more comfortable and hassle-free.
The Razor EcoSmart Metro doesn't slack in terms of speed as well, as the built-in 500W extra high torque motor allows it to go up to 18 miles per hour which is somewhat decent considering its 67lbs weight and low price-tag. As for the range, it isn't the greatest delivering only 10 miles per a full single charge, but for an electric scooter that costs just under 400 bucks, nobody's complaining.
What's more, it can carry a load of up to 220lbs, has a set of large 16-inch pneumatic tube tires, a rear disc braking system, in addition to an adjustable seat, rake, and handlebar.  
Specifications:
18 miles per hour top speed
10 miles range
67lbs
220lbs weight limit
Luggage rack
Ultra-padded seat
Beginner-friendly and extra convenient design
So affordable
Good for shopping
Ultra padded seat
Not portable
Subpar range
The GoTrax XR Ultra electric scooter is an all-rounder and a major upgrade to the GXL model.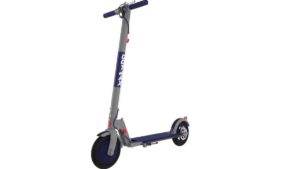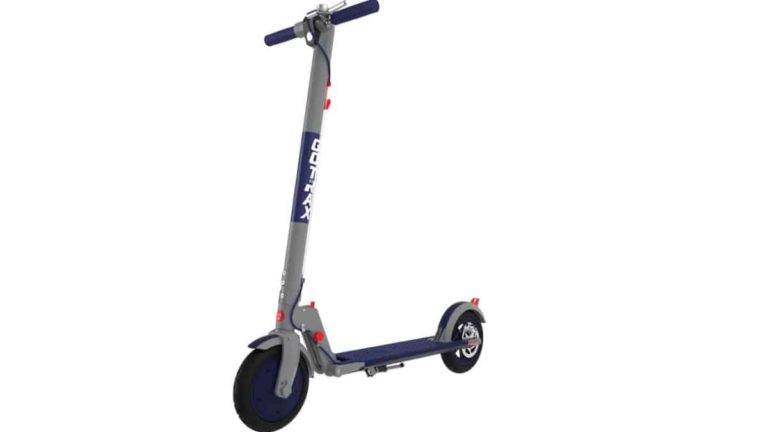 Besides the excellent price-tag, the GoTrax XR Ultra brings a lot of value in terms of comfort and performance. The 300 watt rear-wheel motor enables it to reach a top speed of 15.5 miles per hour, and the 7.0Ah Li-ion battery gives it a maximum riding range of 16 miles. These two specs will please most riders that need a decent mean of transportation.
It features two braking options; one is a hand operated rear disc brake, while the other is a smooth footbrake resulting in the scooter stopping effectively even at high speeds with great ease. However, the lack of a suspension system is one of its biggest shortcomings, so make sure to avoid bumpy and holed terrains.
Weighing in at around 26 pounds only, coupled with the foldable body, the XR Ultra is so lightweight and portable. In case you run out of power, carrying it around will be a piece of cake. Moreover, it can handle a maximum load of 220lbs which is standard in the industry. The pneumatic tires of the XR are 8.5 inches thick and will give you a fun commuting experience on pavements.     
Specifications:
5 Mph top speed
16 miles range
26lbs
220 lbs weight capacity
5 inch pneumatic tires
Folding design
Pros
Reasonably priced
Lightweight and portable
Ideal for casual commuters
Cons
How to Find the Right Electric Scooter for You?
Our expert writers recently made a review about the best hoverboards to buy and it's true that they are different however you might be interested in checking it out. Otherwise, if you're looking to purchase the best electric scooters for the first time, there are a number of influential aspects you should be mindful of. Having said that, there is a variety of options available on the market and they certainly differ in terms of quality and specifications, so think twice before spending hard-earned money on flat-out garbage or a good model that doesn't necessarily match your requirements.
In the section below, we will guide you through and elaborate on some of the things you should consider prior to buying your first electric scooter and all you ought to do is choose the one that fits the bill.
Top speed compared to electric skateboards:
Compared to electric skateboards electric scooter are much faster. For most casual commuters top speed is not a huge concern and 15 to 20 mph will generally suffice. Also, most US states have a limit of 15mph, which is why a lot of electric scooters manufacturers keep it within the 15 mph mark. That's also ideal for beginners who can't handle high speeds. On the other hand, speed enthusiasts and event racers cater more towards faster options.
Range:
This means how far can the scooter go? The average best electric scooter commuter travels for approximately 7-8 miles total daily if you happen to be one or you plan to use it for running quick errands, ideally, you'd want to buy one that has 15 to 20 miles riding range. The reason being is because most manufacturers overestimate the range of their scooters, as they test them in perfect conditions with low speed. So typically you'd get a reduction of 20 to 30% in range compared to what is stated by the manufacturing company.
Terrain capabilities:
If you live in an area full off-road terrains, hills, or bad bumpy roads, an electric scooter with a powerful motor, shock-absorbing suspension, and the right types of tires will offer you enough stability and security to overcome those kinds of messy situations. there are also better transportation tools like electric bikes that have better terrain capabilities, check out our top 10 list.
Brakes:
This is very crucial and deal-breaker for safety reasons, thereby you should buy an electric scooter that has the best type of brakes. To put that into perspective, there are three main classes of brakes:
Electric, motor, or regenerative brakes: they're the least reliable as they use the motor to make your brake and they have the least amount of stopping power (40-50 feet)
Footbrakes: as the name implies they enable you to brake by using your foot by pushing down on the rear fenders. They're not bad as a breaking option but usually hard for beginners to utilize as you're pushing with one foot and riding with the other, but they brake fairly quickly.
Disc or drum brakes: the most recommended type out of the three due to its fast response and high stopping power (10-20 feet). The good news is that even some 300$ scooters feature this type of brake.
Suspension:
This is also somewhat of a big deal especially for those who have to deal with the imperfections of the road on a daily basis, as they absorb the shocks and hits for you while you ride in peace. That's why if you fall into this category of riders, you need to buy a scooter that has a decent suspension system. Ideally, spring suspension but it is going to cost you slightly more.
Tires:
There are basically two main types of tires:
Pneumatic tires: they're air-filled and flexible providing the best performance, safety, and comfort, as they form fit to the ground and give you the best amount of contact and traction. Also, a pneumatic tire can serve as a suspension and cushion your ride.
Solid: These are thick rubber tires that are not air-filled; they're suitable for pavements and dry conditions, they also don't require a lot of maintenance. We don't recommend solid tires as they're less safe and comfortable especially when it's raining and in slippery terrains.
Lights:
Having rear and front bright headlights is a top priority especially for nighttime commuters. Car drivers aren't used to electric scooters yet and the best way to make them aware of your presence and avoid the worst from happening is by buying a scooter with super bright lights, or buy them separately and mount them on your scooter.
Weight and portability:
Next up, we have the scooter's weight and design. First of all, you need to think and decide whether you need to fold and carry your electric scooter. If you live upstairs a lightweight scooter that weighs no more than 45lbs with a folding design is your best bet. And you can go for a lighter model if you are a small person or less physically capable. On the other hand, a light scooter doesn't pack as many features and some people don't care much for portability, and they opt for more power, speed, and high-end features. If you happen to be the latter type, weight shouldn't be a big concern for you as long as you're getting the performance you need.
Weight limit:
This one doesn't need much explanation; just choose one that can support your weight plus what you're carrying with you. Thankfully, most scooters can handle more than the specs sheet states.
Best Electric Scooter Reviews 2022 – Ultimate Buying guide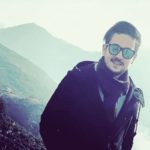 My name is Oussama Blackwell, 28 years old tech, and outdoor geek. I studied technology at the university along with finance and accounting. I love to write blogs related to my field of expertise.