If you're into venturing out into the world and you love exploring thrilling aquatic places, you can get on the water without the hassle of roof racks, boat storage, or trailers all thanks to inflatable kayaks. Although, it feels like inflatable kayaks are underappreciated in the boating world, fortunately in recent years more people are coming to the realization that they're an excellent piece of business. That mainly bowls down to the fact that they're a lot easier to transport and store, and they can also be very affordable compared to hard shell kayaks.

So, if you want the best inflatable kayak that money can buy, we got you completely covered, as we will dedicate this article to present to you the best models available on the market today. The products down below are carefully picked after extensive research and classified based on build quality, price, as well as experts and customer reviews. So, stick with us till the end and hopefully, you will find the best kayak for you.
Best Inflatable Kayaks 2022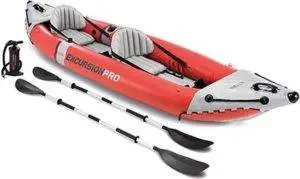 The Excursion Pro from Intex is the best inflatable kayak for 2022 as it scores high across the board; whether you're looking for durability,  portability, performance, or price, it got you covered.  
Kicking off with the build quality, Excursion Pro is built from very durable laminate material with a super-tough and strong polyester core. Therefore, it can resist abrasion and the highest impacts while retaining its portability and its lightweight nature. Moreover, the 3-ply solid construction features high molecular PVC which doesn't get affected by sunlight, gasoline, saltwater, and oil.
The inflating and deflating process of this kayak is made so easy, owing to its high-pressure inflation system along with spring-loaded valves. They also give it a good deal of stability and rigidity.  It comes with a myriad of useful accessories including; two removable skews for ideal maneuverability through deep and shallow waters, two comfortable footrests, 2 built-in recessed fishing rod holders,  2 adjustable bucket seats, as well as adjustable and removable mounting brackets for additional gear.
What's more, the Intex Excursion Pro has a weight limit of 400lbs, and its storage, bow, and stern are fitted with stainless steel D-rings for attaching dry bags and gear. Concerning its drawbacks, users reported that this kayak slightly lacks in balance when the two seats are installed.
Pros:
Durable build
So lightweight and portable
Easy inflating and deflating
Has many mounting brackets
Cons:
Less stable when the two-seat are mounted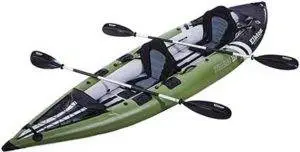 Our second pick is the Steelhead from Elkton Steelhead, a truly awesome fishing and touring inflatable kayak for any and all anglers and explorers.
This is a very versatile kayak that suits anglers' needs and excels at floating on shallow waters and navigating depths. It can also handle class 3 rapids, salt exposure, and brackish waters. It can even serve as a lightweight waterfowl hunting boat. All of this is thanks to its durable yet flexible design with 1000 reinforced and layered PVC that helps it safely bounce off rocks and logs.
If you apply the right inflation pressure, the rigid drop stitch floor enables you to steadily stand inside the kayak and position yourself properly for better and easier bait casting.  Another great feature that the Steelhead comes with is the self-bailing drains; they basically drain out the water and prevent the kayak from sinking when the water finds its way through the kayak.
More so, it is equipped with adjustable Hi-Rise EVA seats and can be moved forwards or backward to accommodate different riders' storage and height requirements. It boasts 5 hard modular mounts that allow for outfitting with different fishing gear. Lastly, it is a breeze to set up and carries as it comes with a pump and a travel bag.
Pros:
Great for fishing
Solid build
Self-bailing feature
Adjustable seats
Comes with a travel bag
Cons:
3. Bote Dues Aero: Single Person Inflatable Kayak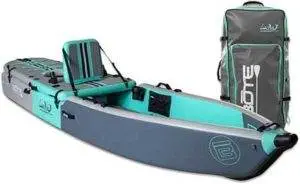 Coming in at number 3 we have the Bote Dues Aero, if you can't decide between a kayak and a paddleboard, this hybrid kayak can turn into a stand-up paddleboard giving you the best of both worlds.
The Dues Aero from Bote has a convertible design that allows you to convert it from kayak to standup paddleboard in a matter of seconds, all you have to do is take off the removable seat along with the top chamber and you're good to go. Featuring the Aero Ultra technology this boat is very lightweight, portable, and goes from a travel case to an 11-foot kayak in just a few minutes.
You can easily move around the travel bag as it comes with roller wheels and the entire kayak just about 50lbs. What's more, it is crafted with military-grade PVC which makes it ultra-light and very convenient to get in and out of water. The Dues Aero is stable and durable as well, it sports a 4 chambered construction to provide added stability, ample keel guard for more durability, and a 10-inch removable fin for better tracking.
Besides the carrying bag, this inflatable kayak has other handy accessories too such as; a hand pump for inflating and deflating, a removable foot bar, a center fin, and a repair kit. On the other hand, it doesn't have many mounting brackets or loops which can be a big tradeoff especially for people who like to bring additional gear.
Pros:
2 in 1 design
Easy to assemble and convert
Useful travel case
Durable and stable
Cons:
Doesn't come with many mounting brackets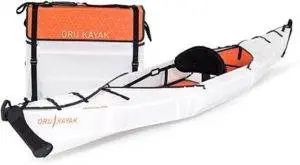 Although the Oru Beach LT isn't exactly an inflatable kayak, it boasts similar qualities and characteristics to portable and inflatable kayaks without the need of having a pump.
For starters, the Oru Beach LT can be put solidly in the same category as an inflatable kayak because it is highly portable and lightweight. It owes its extreme portability to its suitcase shaped packed that enables you to pack it down and carry it around with great ease. The only problem is; you have to spend extra cash to get the suitcase.
Moreover, it features a polypropylene origami-inspired style that is known for good handling and maneuverability, tracking well, as well as great stability. Plus, it is surprisingly lightweight for its robust construction and it is intensely durable, as the company's units undergo an overwhelming number of durability and strength tests. To top it all off, they surpass the recreational vessel requirements of the US Coast Guard with a rating of up to 20.000 folds.
Manufacturers claim that the Oru Beach LT was made for casual kayaking suiting both beginners and experts alike. And to conclude, its award-winning design made an appearance on many famous TV shows and channels like; CNN, Shark Tank, Wall Street Journal, and the list goes on.
Pros:
Doesn't require a pump
Highly transportable
Incredibly durable and stable
Award-winning design
Meant for both beginners and experienced folks
Cons: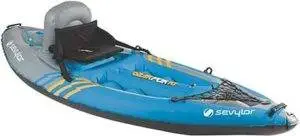 If you're on a strict budget looking for a reliable kayak for having great fun, you will not be able to look past the Sevylor Quickpak K1 once you get your hands on it.
When it comes to durability and security, this inflatable kayak is unrivaled. It rocks a very effective combination of rugged PVC construction and tarpaulin floor; this will give the kayak a ton of durability by helping it absorb a lot of hits from river obstacles and offering added protection from punctures.
With the Airtight system and multiple air chambers, it is guaranteed that the kayak will remain inflated and will not leak in water in case one chamber gets punctured. It basically doesn't get any safer than this. There are also double lock valves with two locking points to ensure easy inflating and deflating. Speaking of which, setting it up and carrying it is a cinch thanks to the innovative backpack system that ultimately folds up and ends up being the seat.
On top of that, the Quickpak is very comfortable and suits people with both ends of the height spectrum due to the backrest that lets you lean back and the multi-position footrests. Lastly, its storage is big enough and secure so rest assured you will easily fit a lot of gear inside without fear of losing it.
On the flip side, according to some kayakers and explorers, this kayak suffers slightly in terms of tracking as opposed to the more costly models.
Pros:
Can withstand a lot of punishment
Very efficient airtight system
Innovative backpack system
Very comfortable and suitable for people with different stature
Cons:
Sub-optimal tracking capabilities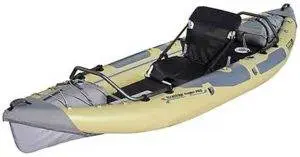 Just like the name suggests, the StraitEdge Angler kayak by Advanced Elements was engineered with the needs of anglers in mind.
Advanced Elements is well-known for making a variety of top-notch inflatable kayaks, and the StraitEdge is no different. First off, it features a wide beam that delivers maximum stability when fishing, whereas the built-in aluminum rib frame defines the stern and bow for enhanced tracking. Furthermore, it was designed to endure the rigors of lakes and rivers due to its heavy-duty materials, abrasion pads, along several air chambers.
The StraitEdge comes with a removable accessory frame that allows you to customize your kayak with different equipment such as; a fish finder or rod holders. It is very comfortable too, owing to the high back seat and the inflatable lumbar support making long journeys on the water a lot more comfortable and enjoyable.
Regarding gear and equipment storage, it is equipped with plenty of D-rings, bungee deck lacing, and paddle holders so you can concentrate on fishing only. Just like most models on our list, this one is also very lightweight and portable. When talking about the StraitEdge Angler cons, some users reported that it takes a significant amount of time before it completely dries out.     
Pros:
One of the best kayaks for fishing
Built with durable materials
Improved tracking
High back seat and lumbar support provide soothing comfort
The abundance of D-rings for storing equipment
Cons: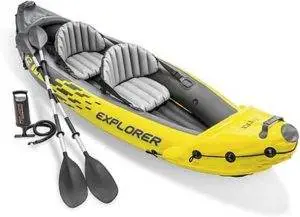 Yet another outstanding inflatable kayak from Intex, the Explorer K2 is perceived by many seasoned kayakers as the best kayak money can buy.
The Intex Explorer K2 is an all-rounder kayak that is sporty, durable, comfortable, and fun. For starters, it boasts a streamlined build with a bright yellow color that drastically increases the visibility of the kayak which will come in handy in case disaster strikes. It is also compact, lightweight, and sturdy meaning its ideal for small bodies of water such as lakes and rivers.
Moreover, it was constructed with rugged and puncture-resistant vinyl and it has a solid I-beam floor for rigidity, enabling you to stand on top of it steadily and comfortably. Speaking of comfort, the seats have backrests and they are removable and fully adjustable, and the cockpit is spacious and roomy giving you a lot of freedom of movement inside of it. Additionally, water leakage isn't a big concern when it comes to the Explorer K2 as it has 3 separate air chambers.
This kayak has other impressive features including; Boston valves for quick and easy inflating and deflating, as well as a removable SKEG that offers a decent amount of directional stability. However, even with the SKEG, some users experienced a bit of drifting and it probably will get worse without it.
Pros:
The bright yellow color is useful in emergency situations
Rugged I-beam floor and very sturdy build overall
Comfortable and spacious
Fast and hassle-free inflating and deflating
Cons:

Introducing the Sevylor Coleman Colorado, it is an excellent inflatable fishing kayak with superb overall quality.
Featuring 18-gauge PVC, a dense tarpaulin floor, and a tough nylon cover, the Coleman Colorado is as durable and reliable as they come. It will get you to the hardest to reach fishing destination with relative ease. But in case you somehow fail in doing so, the multiple air chambers will help you safely get back to shore.
In terms of comfort, it's not the best option you can go for as it doesn't have enough space and the walls are quite bulky. Nevertheless, the seats are adjustable allowing you to paddle comfortably the whole time. For more convenience, you can store your paddles in the holders and mount the trolling motor to roam in the water faster and effortlessly.
If you want the ultimate hands-free fishing experience, the Coleman Colorado will happily oblige as it is fitted with Berkley Quick Set rod holders that let you adjust your pole angle. Meanwhile, the D-rings and mesh pockets will allow you to securely attach and store your gear.
Pros:
Remarkable durability
Can be fitted with a motor
Ideal for fishing
Has many mesh pockets and D-rings for storing gear
Cons: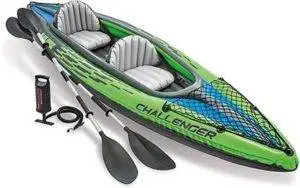 By now you should've realized that Intex is one of the leading brands in the inflatable kayaks industry, and they took it a step further with the Challenger K2 as it is super affordable and offers excellent performance.
Intex has decades of experience in building top-notch and sporty kayaks, and their most recent addition Challenger Series are bargain-priced yet very durable and stable. The Challenger K2 is constructed using the company's rugged and super tough vinyl that it is highly resistant to leaks, tears, and UV, meaning it is well-suited kayak for exploring flowing rivers and lakes.
Comfort-wise, the cockpit is decently sized and it has inflatable seats and backrests that will comfortably fit most people. Additionally, it rocks a bright green sporty look that makes it visible in the water. Also, it comes with 2 aluminum paddles, a carry bag, a repair kit, and intex's own high output pump for easy inflating and deflating. The cool part you don't even have to pay extra to get these tools.
In spite of the fact that the Challenger K2 has only 2 air chambers and feels vulnerable, it still meets all Coast Guard safety standards as it underwent intensive durability and stress testing to ensure users' safety and giving you years of enjoyment and fun on the water.
Pros:
So affordable
Good durability and safety measures
Fun and sporty design
Comes with many helpful tools
Cons: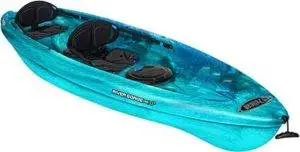 Whether you want durability, comfort, or performance, the Pelican Tandem recreational kayak is the perfect solution for all your kayak needs.
To start off, the Pelican Tandem is one of the most comfortable kayaks out there, and that mainly goes down to its ERGOFIT seating system that includes; a supportive and adjustable backrest cushion, molded footrests with secure foot bracing, along a padded seat cushion. It comfortably accommodates up to two people with a large and open cockpit.
Despite not being inflatable, it is very easy to carry around thanks to its lightweight build weighing roughly 70 pounds and two retractable carrying handles. Therefore, it can be put in the same class as inflatable kayaks. For storage, the Tandem has two quick-lock hatches and a rear tank with bungee lacing, enabling you to store all the necessary gear for your long trip on the water. It also includes bottle holders, paddle tie-downs for attaching paddles, and 4 accessory eyelets to attach optional gear. The only downside is that it doesn't come with paddles.
In terms of performance, it has a maximum load capacity of 500lbs and features a Twin-arched Multi-Chine hull design that greatly improves its tracking properties and makes the kayak ultra-stable thereby enabling you to cut through class1 rapids like a champ.
Pros:
Very comfortable
Doesn't weigh a lot
Plenty of storage room and attachments
Amazing performance
Cons:
Paddles need to be bought separately
Inflatable Kayaks Buyers' Guide
Finding a reliable inflatable kayak that is durable, safe, and highly performing at the same time is by no mean an easy feat, especially given the fact that there's an abundance of options available on today's market and it can be really confusing for people who are just getting into the kayaking world.
But worry not, in the section down below we will clarify some crucial things you should be wary of prior to buying your first inflatable kayak. Once you get a full grasp of these critical factors, you'll be easily able to determine which one is best suited for your personal needs. So, let's delve right into it.
Different Build Categories
Typically, there are several kayak categories but we tried to narrow it down to 3 main build categories that are the most common, and most brands tend to produce nowadays.
Single Layer Vinyl
Generally speaking, they're easy to produce because they're made from vinyl which is a cheap material. Thus, they're usually so cheap and most of them cost less than 100$, and you can get a used one for close to nothing. Nonetheless, not all kayaks are made from the same material. Some are made with thick vinyl, while other brands such as Intex use plastic material with a fabric base in it.
They come with lackluster pumps and paddles, so we highly recommend buying better paddles and a pump separately. This category also isn't the most durable out of the bunch and they're meant for calm waters, people who don't kayak often, and those on a tight budget.
Vinyl and Fabric
They're made of cheap vinyl as well, the only difference is that they're encased in a protective fabric, making them much more resistant to puncturing and UV light exposure. These kayaks are slightly expensive compared to the previous category, their prices range between 300$ to 800$ depending on the quality and features of the kayak. On top of that, most of the kayaks in this category feature self-bailing technology which we will talk about in detail later on. Finally, they perform
This category comes with one major drawback which is the drying procedure; since they're covered with a fabric that allows moisture in, and they have multiple layers that allow the water to get in between. So they are a pain to deal with and take quite long to fully dry out.
Thick PVC
This category is by far the most durable, safest, and best performing but they do come at the expanse of a hefty price. They can withstand a great deal of punishment and last up to 20 years easily, as they're made of thick single materials like rubber and PVC. In fact, they rarely get punctured even in the rockiest of rivers and they almost always come out unscathed.
As we stated earlier, you have to pay a premium price upwards of 800$ at the least to get your hands on these types of kayaks. Because of that, they're geared towards committed kayakers or those who can afford them.
Drying the Kayak & what to consider before buying
Although, setting up and inflating the kayak may seem substantial, drying the kayak is a more important factor that seems to be overlooked by most novice kayakers. It's all fun and dandy when you're excited about getting in the water and having a good time, but when you're done with all the fun things and you're so tired, the last thing you want to do is packing and drying the kayak. Having a kayak that is hard to dry can ruin your day. For that, you should consider buying a kayak that resists moisture and avoids models with multiple layers for a much easier and faster drying process.
Self-bailing Feature
This means that the kayak has holes on the bottom that help with draining water out of the kayak in case of water leakage. This feature is of less significance when you're on flat water, especially considering the fact these holes allow water in, and when you're on flat water you normally want to remain completely dry.
Drop stitch technology
This new emerging technology is commonly found in the third category mentioned above; it basically enables inflatable kayak manufacturers to make flat inflatable chambers rather than round ones. This was made possible by connecting the two sides using thousands of strings. This makes inflatable kayaks more rigid and gives them a similar shape to hard-shell kayaks translating to more speed and better overall performance on the water.
Storage
Having enough space and gear attachments to securely store your necessary equipment is essential. For instance, anglers, in particular, require different gear loops and mounting brackets that are designed for their fishing tools. On the other hand, camping enthusiasts tend to bring their camping requirements and would want plenty of storage room and a high load capacity. With that said, if you happen to be one of the two, try to go for a kayak that has all the bells and whistles when it comes to storage.
Comfort
Last but not least comfort, if you plan on spending extended periods of time on the water, a comfortable inflatable kayak is the only way to go. Make sure to choose a kayak that is large enough can accommodate your stature or your partner's. Some models have removable and adjustable seats so that you can adjust them to your needs, while some have ergonomic and padded seats that provide extra comfort.