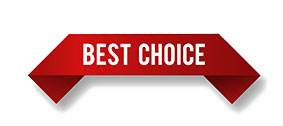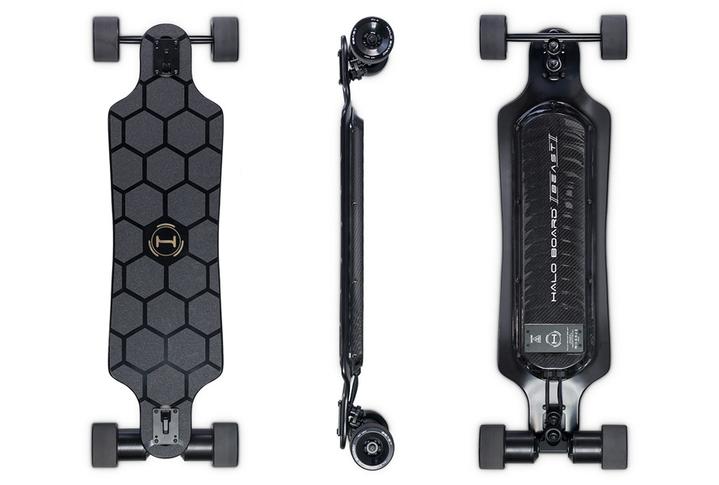 25 Mile Range Per Charge
26 MPH Sustained Top Speed
25% Hill Grade
3200 Watts of Power
In recent years, humanity has taken a major step forward when it comes to rideable technology and without doubt, the best electric skateboards fall into that bracket. Over the past few years, companies and manufacturers have put in a lot of effort, financial funds, and experiments to take these commuting devices to a whole new level in order to cope with the needs of the modern-day nitpicky riders.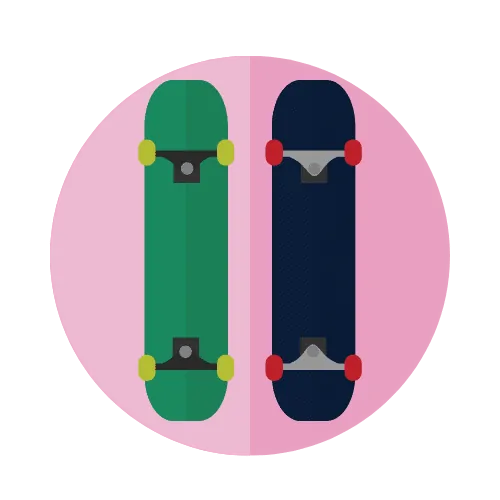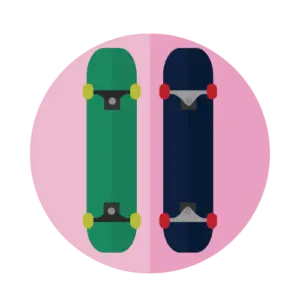 As stated above, electric skateboards kept improving in respect of their specifications and capabilities, some electric skateboards are made for the more advanced riders hence they excel at delivering the most fun with their high speed and high-end features, some have outstanding mileage and batteries to satisfy commuters, some are catered towards beginners with their high safety standards and easy use, and some combine all of the above but usually they come at a hefty price.
So there's no shortage of options in today's market you just have to pick the one that is suitable for you. However, choosing the right electric skateboard can be a hassle especially if you're not familiar with them, so to help you make up your mind, we went the extra mile and came up with a list of the top 10 best electric skateboards in 2022:
Prior to buying an electric skateboard, you should consider a few factors; price, comfort, durability, performance and more. The products we picked are based on those variables and they're listed in no particular order, so without any further ado, let's delve into the top 10 best skateboards.
Best Electric Skateboards 2022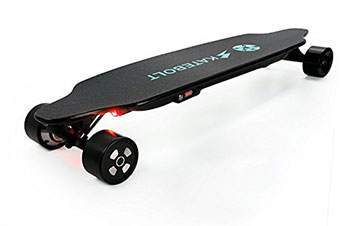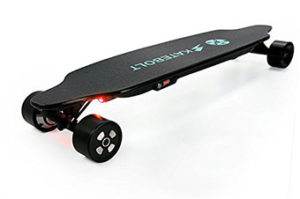 The INBOARD M1 is the best skateboard for 2022 and it's a prime example of what an ideal electric skateboard should be, with its great performance, amazing battery, and the fact that it can be used when you run out of juice make this skateboard stand out.
For starters, it is equipped with 2 built-in hub motors inside the rear wheels, unlike other models that rely on a belt-drive or a gear system.
This configuration enables the wheels to spin freely and makes the board very quick and responsive when the motors aren't engaged allowing it to function as a traditional skateboard when the battery dies.
Speaking of battery, the battery system is brilliant and well-thought, instead of using a mainstream fixed rechargeable battery INBOARD decided to go with an interchangeable power system that lets you swap batteries, meaning in case you run out of power, you can throw in a spare battery rather than waiting for the board to recharge.
Design-wise, The M1 is very light and can be carried around easily, it feels intuitive and fluid under your feet, and it has no belt-induced resistance so you don't have to worry about that unintentional brake effect. As for speed, the M1 can reach an impressive top speed of 22mph without sacrificing stability in the process, it also has outstanding hill-climbing power.
Unfortunately, the INBOARD M1 comes at a hefty price-tag, but if you want long-lasting quality and one of the best electric skateboards on the market, you definitely need to invest in it.
Pros
Pros:
Removable and interchangeable battery

Can be used as a regular board

Lightweight and portable

Easy to ride

The amazing speed with stability is remarkable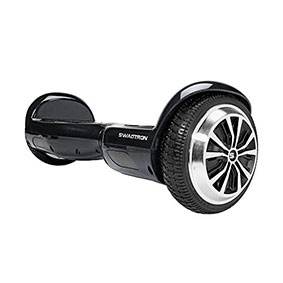 If you want to buy an electric skateboard for the first time and you've been on the fence on whether you should do it or not, the SWAGTRON SwagBoard NG-1 provides an excellent solution to that.
The SwagBoard NG-1features decent traction and torque that keeps the skateboard in check and within a safe speed limit reaching about 11mph which is very convenient for new riders.
In terms of build quality and design, this electric board has a soft and flexible body that is made of 7 layers of Canadian maple wood and it is incredibly light, weighing only 10 pounds and it can support a maximum load of 175lbs, it also has a concave shape to improve the stability of the rider and the board as well.
In addition, the remote control of the SwagBoard NG-1has an ergonomic shape with throttle controls just under the thumbs and it also displays battery status.
This board comes with a Cruise Control feature that allows the skateboard to maintain the same speed without touching the throttle. Another great thing about this board is its amazing wheels and motor, it has a rear-wheel drive and it is powered by brushless hub motor that is equipped with sensors to ensure accurate controls, easy handling, and great turning radius.
When it comes to the drawbacks, the SwagBoard NG-1 top speed isn't enough for the more spirited riders also the load capacity isn't the best option for heavy riders. All in all, this is an ideal Skateboard for beginners and kids that are just starting out and looking for safety.
Pros
Pros:
Beginner-friendly

Very light

Cruise Control technology

Nice and comfortable build

Safe and responsive controls
Cons
Cons:
Not enough speed for some users

175lbs max load
3- Boosted 2nd Gen Dual+: Best for Both Advanced Riders and Beginners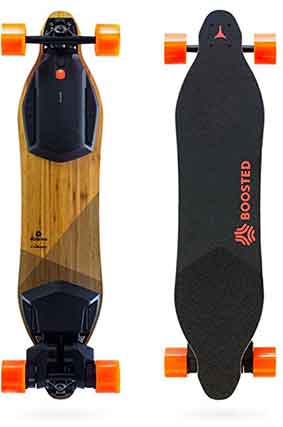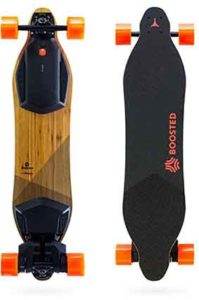 The Boosted 2nd Gen Dual+ electric skateboard is a premium product that covers everything you need in a skateboard, regardless if you're a beginner, speed enthusiast, or just a casual rider all thanks to the many features it has.
The Boosted 2nd Gen Dual+ is very flexible, snappy, and extremely durable thanks to its 100% Bamboo wood construction, the trucks, and the deck are covered with extra traction grip tape, and they deliver just the right amount of suspension to deal with bumpy terrains and small stones while keeping a firm grip when making twists and turns.
Furthermore, this electric skateboard is very lightweight with a weight of only 14.7lbs making it very easy to carry around, it also comes with an 80mm orangutan Kegel wheels giving you an astounding commuting experience.
As far as speed goes, the 2000WATTs brushless motor enables the skateboard to go as fast as 22mph and climb inclines up to 25% grade. On top of that, the braking system is smooth and responsive. Last but not least, the Dual+ features 4 riding modes that provide multiple choices for the variety of users from beginners to the most advanced riders.
Just like any other premium electric skateboard, the Dual+ has a high price tag, plus the motors are somewhat noisy. Other than that, you simply can't go wrong with this electric skateboard.
Pros
Pros:
Suitable for all types of riders

Excellent performance

High-quality build

Easy and flexible controls

Secure, well balanced, and stable
Cons
Cons:
Motors are noisy

Expensive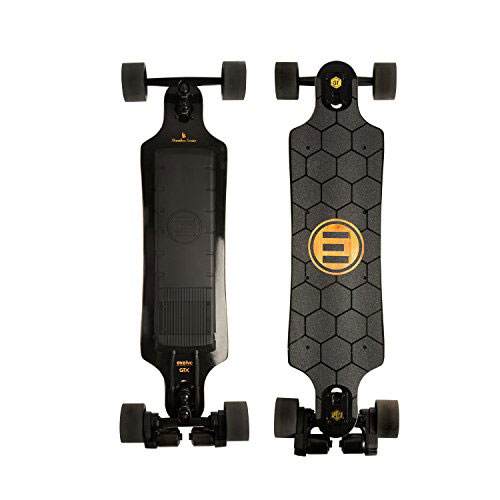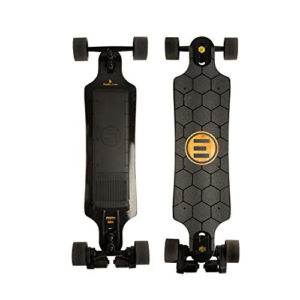 Next up, we have the Evolve Bamboo GTX Series electric skateboard. Whether you're a veteran or a novice, this one will serve as your reliable tool for downhill racing, city commuting, and most importantly it easily conquers off-road terrains.
To start off, the Evolve Bamboo GTX Series just like the name implies boasts a solid and durable yet flexible bamboo wood build.  Moreover, this skateboard is packed with eco-friendly dual 1500WATTs brushless motors giving it a combined 3000WATT total power that allows it to reach an impressive maximum speed of 26mph and climb very steep inclines with great ease.
It is also equipped with powerful off-road wheels hence it's capable of cruising in hard terrains. In other words, the GTX series is basically unstoppable. As for the battery.
It features a bigger one compared to its predecessor and it provides an excellent range of different terrains, for instance, 18 miles on its eco speed setting,10 miles on its GT setting which is the fastest, and 10 miles when using it off-road. Last up, the Bamboo GTX has 3 more speed settings including a slow mode that is designed for complete beginners and it goes up gradually as your skill level increases.
On the flip side, some users deem the Evolve Bamboo GTX Series as overpriced and very heavy. Still, if you need an electric longboard that ticks all the boxes, the Evolve GTX got you all covered.
Pros
Pros:
Off-road capabilities

Amazing battery life

26mph top speed

Eco-friendly

Various speed modes
5- RazorX: Most Affordable Skateboard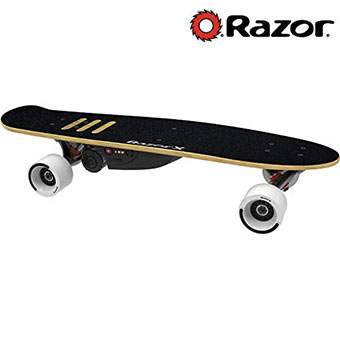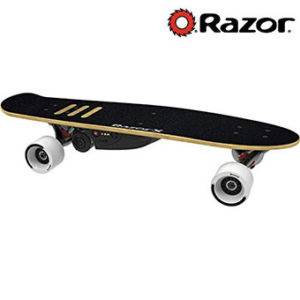 If you want an electric skateboard that performs just as good as any other premium skateboard and doesn't cost a fortune, then the RazorX is the one for you. With its good speed, lightweight, decent range, and build quality it will certainly impress you.
The RazorX has a light and stable 30-inch long plywood deck that provides an enjoyable ride throughout different surfaces. Also, high-quality grip tape is designed for beginners and experienced riders alike. The wide wheels and reverse Kingpin trucks will give you great stability and balance.
The RazorX electric longboard comes with a 125WATTs motor under the board that will help you achieve a top speed of 10mph and it's worth stating that the board can be kick pushed like a standard skateboard if the battery expires. In addition to that, the motor won't be activated unless the skateboard is moving so you won't have to worry about losing stability from strong starts.
The battery lasts around 40 minutes in a single charge and it features quick charging. In regards to the controls, it has an intuitive and easy-to-use ergonomic remote control with a speed lever on it for speed control.
Regarding the drawbacks, the controls can be a bit too responsive so you have to be careful and its speed can be a limiting factor for adventurous riders. But it is safe to say that the RazorX electric skateboard gives you the best bang for your buck.
Pros
Pros:
Budget-friendly

Quick charging

Decent build

Can be used without a battery
Cons
Cons:
Limited speed

Over-responsive controls can take you by surprise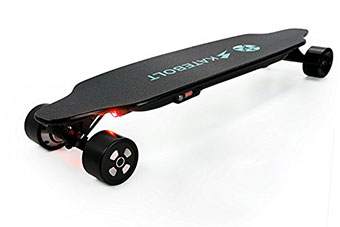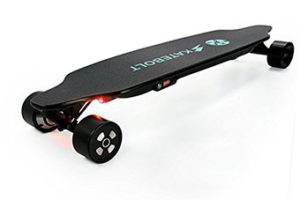 The Skatebolt Tornado electric skateboard has one of the most attractive and sleek designs in the industry, but not only does it look good, but it is also reasonably priced and it gets the job done in terms of performance.
The Tornado has a length of 39 inches and it is loaded with colorful LED lights on the front and rear, the latter is not only for show but they also serve as indicators for braking and dusk riding.
The deck is made with 8 layers of the best Canadian maple trees hence it is has a nice flexible and durable build. All of that combined with the sleek cutting edge design give the Tornado a futuristic vibe. When it comes to performance, this skateboard is capable of climbing 25-degree incline angles and it can achieve a breathtaking speed of 25mph thanks to its brushless 500WATTs dual motors.
Furthermore, the Tornado features smooth acceleration and deceleration, fast and sharp turning, along with regenerative braking that allows you to brake effectively and securely even at high speeds. From the remote control, you can choose either the normal mode or sports mode if you enjoy fun and fast rides. The 6600mAH Lithium-Ion battery will help you keep the motors running for 15 to 20 miles depending on speed and terrain.
When talking about the Skatebolt Tornado's setbacks, some users reported that it is too heavy and the battery may cause some issues along the way, the screws holding it might get loose from prolonged riding. If you're looking for a nice looking and performing skateboard, look no further than this model.
Pros
Pros:
Sleek and attractive design

Solid build

Excellent brakes

Durable battery

Impressive speed
Cons
Cons:
Problems with battery

On the heavy side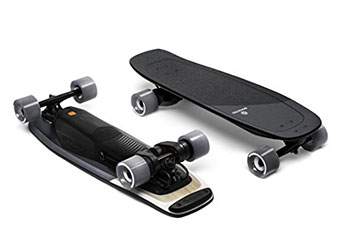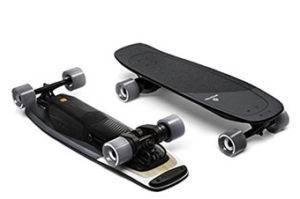 The Boosted Mini X is considered to be the ideal tool for commuting to work or school, due to its light and flexible build, low profile design, stability, as well as its overwhelming performance.
The Boosted Mini X is lightweight yet has a durable and strong core as it is crafted from high-quality fiberglass with deep-dish composite giving this board great stability and flexibility for smooth and enjoyable riding experience.
It features 3 different riding and speed modes, each one is tailored depending on the rider's level of experience. In addition, Its powerful motor enables it to reach a top speed of 20mph without sacrificing stability.
Also, this skateboard can climb 20 degrees hills like nothing.  The Boosted Mini X battery is one of its biggest selling points, due to the fact that it TSA certified which means you can carry it with you on planes. It can deliver up to 14 miles of continuous riding with a charging time of 1 hour and 40 minutes. To conclude, the ergonomic remote control is very natural and simple to use.
On to the negatives, Although the Boosted Mini X isn't as expensive as some other models it can be a bit pricy for some people. So if you can look past this, the Mini X electric skateboard is a top-notch board that is worthy of your attention and hard-earned money.
Pros
Pros:
Built with high-quality materials

Stable and comfortable

Follows TSA rules

Good battery life

3 riding modes
Cons
Cons:
Can be expensive for some
8- Blitzart Huracane: Best Budget Electric Skateboard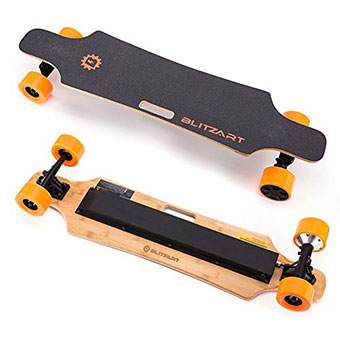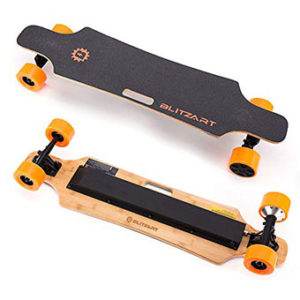 Finding an electric skateboard that gives you the ability to reliably cruise and conquer roads at a cheap price can be a hard task. Although the good news is, it's not impossible as the Blitzart Huracane gives you just that.
To start off, the Blitzart Huracane is38 inches long and its deck is built with 6 layers of maple wood, 2 layers of bamboo for flexibility and durability, and a grip tape that makes sure to keep you in place while riding it and allows for maximum stability.
So this mixture of materials gives the Hurricane a solid and premium design. Performance-wise, with the integrated 350WATTs brushless hub motor. It can achieve a top speed of 17mph with a maximum range of 10 miles with a single full charge of the battery, the latter can be fully charged in 2 and a half hours.
Furthermore, this longboard can support a weight load of 250lbs and it comes with an ergonomic wireless remote that is very manageable and natural on the hand making the acceleration-deceleration process effortless due to its convenient design. Lastly, the Huracane features reverse riding which allows you to go back if required, and it has 2 riding modes for both beginners and advanced riders.
The fact that the Huracane has a short-range, as well as a short warranty time, holds it back from being the perfect electric skateboard. Nevertheless, with such low prices and excellent features, we definitely recommend it.
Pros
Pros:
So inexpensive

Durable and flexible construction

Safe and stable

Reverse riding
Cons
Cons:
Sub-optimal range

Short warranty time
9. TeamGee H20T: Most Stable & Best value longboard

If you're on the hunt for a longboard that delivers amazing stability and high speeds, the TeamGee H20T should be on top of your list.
First and foremost, this board was made with comfort, durability, and stability in mind, as the deck is constructed with an eight-layer Canadian maple with one layer of fiberglass, and it rocks TeamGee's exclusive W-shaped foot socket, warped sides, and concave formation 103-65 mm rubber wheels, all of these combined further enhance the support and stability of the board on bumpy and uneven surfaces, hence making it a perfect all-terrain skateboard.
Featuring two 600W hub motors and 4 acceleration gears, the H20T can reach a tremendous maximum speed of 26mph and climb 30% inclines with ease and without sacrificing control and stability. Also, its acceleration power is second to none; thanks to its powerful motors it can go from 0 to 26 mph in a matter of 4 seconds.
As far as range goes, it offers an impressive 22 miles of riding range on a single charge and it will take you approximately 4 hours to fully charge it. Moreover, it can support a weight of 286lbs and 4 different brake modes that are suited for different levels of riders. But weighing in at around 21lbs, some riders deem it as somewhat heavy.
Pros
Reasonably priced considering its power and decent features

Offers top-notch stability

Great off-road capabilities

Long traveling distance

High-end speed and acceleration features
Cons
10. Swagtron Swagskate NG3: Powerful motor & Best for Kids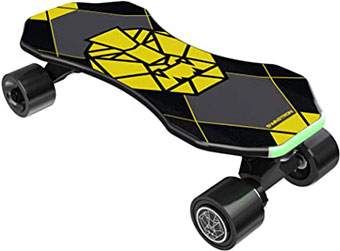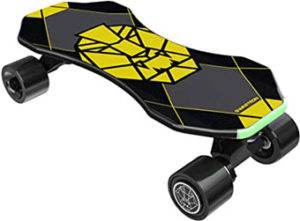 The Swagskate NG3 from Swagtron is the go-to board if you want a reliable and beginner-friendly electric skateboard for your kids, as it is a safe and performing option that doesn't cost a fortune.
Aside from the incredibly low price, perhaps the biggest selling point of The Swagskate NG3 is the Kick-to-cruise mechanism that allows you to lock in your speed and coast along at your leisure. In addition to that, it is fitted with intelligent sensors that detect weight and motion, and they enable you to stop automatically when you dismount.
The NG3 weighs a mere 7lbs and has a 19inches length making it one of the lightest and most portable boards out there. The deck is 2.8 inches thick and made of polypropylene, whereas the 72x51mm wheels are made of polyurethane. This combination of materials gives the board great flexibility and shock-absorbing capabilities. On top of that, it has a cool built-in rear LED lights that give it a sleek look at night.
The 100W motor allows it to achieve a top speed of 9.3mph and climb up 5-degree hills. The 16V lithium-ion battery can be fully charged in 1 hour and it can give you 6 miles of range. It's pretty apparent that the NG3 falls short in the performance department and can only carry individuals who weigh no more than 150lbs. But considering its price-tag and the fact that it was tailored for kids, we highly recommend it for those who need a board for their kids.
Pros
Extremely affordable

Kids' best choice

Kick-to-cruise feature

Smart sensors

Extra lightweight and portable
Cons
Sub-optimal speed and range

150 lbs max load
Electric Skateboards Buying Guide
Just like any product on the market today, there are countless options available out there when it comes to electric skateboards, and they vary in terms of price, performance, and design. So choosing the right one can be a pain at times, especially if you're just getting started. Therefore, you need to be wary of several factors before buying your first E-skateboard, hence why in the section below we are going to go through these factors and explain how things work to simply help you determine which model meets your requirements and fits your bill. So let's delve straight into it!    
Size
There are three common sizes when it comes to electric skateboards; longboards, short or mini boards, and all-terrain boards. Each one has some advantages and disadvantages and caters towards a certain type of rider.
Longboards
They're the most popular boards featuring a deck length of 37-40 inches and an 80-100mm wheel diameter. They come in a wide variety, easy to set up and configure, they're also portable and very comfortable to ride making them perfect for beginners. On the other hand, most longboards come with small wheels making them inappropriate for bumpy and rough terrains.
Short Boards
Also referred to as mini-boards they generally measure 28-32 inches in length and they have a 70-90mm wheel diameter. Due to their small design, they're very portable and can be fitted inside lockers and other small places. Along with that, most of them feature a kicktail which improves turning and repositioning at lower speeds. On the flip side, the small size works against it in terms of stability and comfort, and they're the hardest to ride so they're designed for the more experienced riders.
All-terrain Boards
Usually, they're slightly longer than longboards with 38-42 inches long decks and 120-180mm wheel diameter. They're very durable, stable, and they can handle all types of terrains thanks to their two-in-one build which allows you to mount large off-road wheels for grass and dirt roads, as well as regular longboard wheels for smooth surfaces. Moreover, most all-terrains boards include a set of Kingpin trucks that greatly enhance mobility. As for the cons, they can be a pain to carry because they're so heavy and their wheels require careful balancing.
Hub motors vs. Belt drive
Most electric skateboards rely on either hub motors or belt drive motors for power and acceleration, and both of them have their fair share of negatives and positives.
Hub motors
Hub motors are located inside the wheels and it's unlikely that they'll get clogged by sand or dirt when you go off-road, they're quiet and easy to maintain and replace. However, they're less grippy and comfortable due to their lack of urethane and they have limited options when it comes to wheels.
Belt drive
They feature an exposed build making them loud and more vulnerable to debris. Nevertheless, they can be fitted with any sort of wheels giving you a variety of options regarding wheel size, color, durometer, and more. Also, their gear ratio is adjustable which can affect things like top speed and range. On top of that, belt drive-skateboards off more grip and comfort because they have way more urethane.
Wheels
If you plan on using your electric skateboard on smooth debris-free surfaces, you can usually get away with a longboard that is equipped with small wheels. If the roads are smooth but have a lot of pebbles and debris, a 120mm wheels will get the job done. Finally, if you'll be riding on dirt, bumpy roads, or uneven terrains, all-terrain wheels are a must.
Brakes & ESC
The braking system is a crucial factor that should never be overlooked, you should always go for an electric skateboard that comes with hard brakes, as they are a lot safer and more effective for avoiding accidents compared to soft brakes. There's another key aspect to note when it comes to braking; ESC which is short for Electronic Speed Control. To put that into context, it is the motherboard or the brain of electric skateboards and most of the E-boards today use either Lingyi ESC or Hobbywing ESC. With that said, let's go through their cons and pros.
Lingyi ESC: It automatically turns on with a gentle push and the wheels can be locked when you fully stop. But they're not very accurate when it comes to throttle and brake controls.
Hobbywing ESC: Unlike Lingyi controls, Hobbywing controls feel very intuitive and accurate. On the flip side, turning the board on or off requires bending down and clicking the on/off button.
Battery & Range:
Goes without saying, the bigger the more traveling range you have, but in some cases the weight of the rider, the way you ride the board, along with the surface you ride on play a major role of altering the range of the electric skateboard.
Tips for Riding an Electric Skateboard:
Electric Skateboards are different from hoverboards & electric scooters in many ways and they are safer. you might be interested in our top 10 list of the best electric scooters and also our electric bike reviews guide. So basically electric skateboards have drastically grown in popularity and the number of riders is gradually increasing every year. So if you already own an electric board or thought about buying one, you should consider following some of the upcoming tips.
Wear protective gear: always prepare for the worse so it is imperative that you wear some kind of protection like a helmet, knee and elbow pads, and wrist guards.

Practice before going out on the open: this is pretty much self-explanatory, find a safe place to practice and improve your riding skills prior to roaming the streets full of people and traffic.

Occasional kick pushing: that will help you save up on your battery so you can enjoy longer rides.

Learn how to brake: this sometimes can be a matter of life and death, so you must learn how to brake properly, and make sure to purchase a skateboard with a reliable braking system.

Be cautious of speed wobbles: disturbing your weight evenly and improving your stance on the board will help you prevent that.

Check battery status: you don't wanna walk home carrying a heavy board or stop your fun ride midway through, so make sure the battery is fully charged before cruising street.
Best Electric Skateboards 2022 – Top 10 Reviews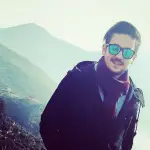 My name is Oussama Blackwell, 28 years old tech, and outdoor geek. I studied technology at the university along with finance and accounting. I love to write blogs related to my field of expertise.